March For Our Lives Riverside

Saturday, March 24, 2018 from 10:00 AM to 12:30 PM (PDT)
Event Details
March For Our Lives is a student organized movement that launches with a march on Washington D.C. on March 24, 2018.  Students and allies are organizing to demand Congress pass legislation to keep us safe from gun violence at our schools, on our streets and in our homes and places of worship.
There will be a huge rally and march in downtown Riverside on the same day, organized by teenagers from our local high schools, to support the Stoneman Douglass High School students' cause and their march in our nation's capital. There will be more than 500 marches happening simultaneously that day, across the country and around the world, demanding an end to gun violence and new legislation to make that happen.  
  Register for the "March For Our Lives Riverside" here on Eventbrite. 
We believe that students and staff have the right to teach and learn in an environment free from the worry of being gunned down in their classrooms or on their way home from school. Parents have the right to send their kids to school in the mornings and see them home alive at the end of the day.

We are not safe at school. We are not safe in our cities and towns. Congress must take meaningful action to keep us safe and pass federal gun reform legislation that addresses the public health crisis of gun violence. We want Congress to pay attention and take note: many of us will vote for the first time this November and many more will join us in 2020. 

  March with us to tell Congress and the nation:    #NeverAgain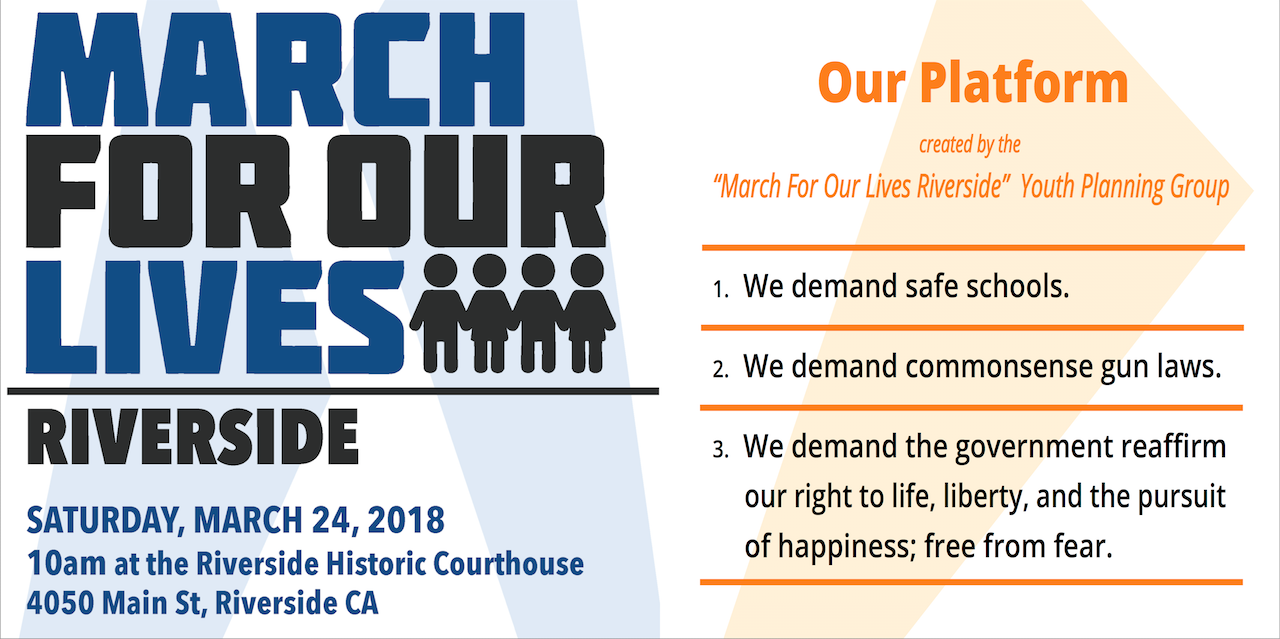 ––– FAQs –––
Who should come to this event? Is it only for high school students and teachers?
Everyone is welcome, not just students and teachers and their families. This is a family friendly event, and the more people who come together and show how strongly we feel about this issue, the better our voices will be heard.
What time should I get there?
Plan to arrive between 9 and 9:45 am. The rally will begin at 10 am and the march will lead off at about 10:45 am. The route will be a one-mile loop, beginning and ending in front of the courthouse steps. There will be musical performances and a memorial ceremony with a release of Monarch butterflies when the march returns.
Where can I park my vehicle?
Parking in downtown Riverside is free at the weekends. This includes parking structures, metered spaces along many of the streets, and parking lots. There will be lots of places to park. Here's a parking map: https://riversideca.gov/publicworks/parking/pdf/parking-downtown.pdf
Will the march be accessible?

A ––– There will be a large area reserved in front of the courthouse to the left side of the front steps  for people who need an accessible area to watch the speeches. We are in the process of arranging ASL interpreters.
What about the little kids?
A ––– There will be a "Kids Corner" in Judicial Plaza with coloring activities to keep small children occupied while the speeches are happening and while the march sets off. (No drop-offs.)
What should I bring to the march?
Protest signs, banners, flags, decorated umbrellas, anything that helps communicate the message. There are no restrictions in the City of Riverside on having your sign attached to a wooden stick if you want to, so you can hold it high for all to see. The march and rally will happen rain or shine, so an umbrella might be useful too.
How can I contact the organizers with any questions or offers of help?
Join the Facebook group and ask your questions there to get the fastest response: https://www.facebook.com/groups/MarchForOurLivesRiverside/
You can also email the march organizers at marchforourlivesriverside@gmail.com.
Where are your social media channels?
INSTAGRAM: marchforourlivesriverside    TWITTER: @MFOL_Riverside      Follow us!
Which hashtags can I use when I share this event with my friends on Instagram, Twitter, or Facebook?
#NeverAgain         #WhatIf         #MarchForOurLivesRiverside         #MarchForOurLives         #Riverside
Where can I find information on the national movement and the march in Washington DC?
The March For Our Lives website is here: https://www.marchforourlives.com and their Facebook page is here: https://www.facebook.com/MarchForOurLives/ – click on Like and Following while you are there to boost its reach. They also have a Twitter feed (@aMarch4OurLives) and an Instagram one (marchforourlives).
I would like to get a March For Our Lives Riverside t-shirt, will you have them?
The national movement has t-shirts and sweatshirts here: https://represent.com/store/MarchForOurLives/ and they will be adding hats, bumper stickers, and yard signs soon. Since sales from these items raise money to support the movement, we do not want to take away from that by selling different items designed for Riverside. We are a sister march, but it is all one nationwide movement with one goal, keeping our children safe in their schools, so we encourage people who want a march t-shirt to wear items obtained from this store.
Which groups are working together to organize this march?
High school students from Riverside, Moreno Valley, and Corona   supported by the
Riverside County Brady Campaign to End Gun Violence
http://www.bradycampaign.org/chapters/riverside-county-brady-campaign-chapter/
https://www.facebook.com/groups/1146119932065782/
Please join the Brady Campaign to continue to working on this issue after the march.
When & Where

Riverside Historic Courthouse
4050 Main Street
(X Streets are 10th and 11th)
Riverside, CA 92501


Saturday, March 24, 2018 from 10:00 AM to 12:30 PM (PDT)
Add to my calendar