Description
In the words of Stoneman Douglas High School shooting survivors; the fearless, faithful, resilient cries of those students, "This is it."

Emma Gonzalez, David Hogg, Alex Wind and Jaclyn Corin are just a few of those many Stoneman Douglas High School students who on February 14th, 2018 endured the tragic Parkland shooting that lost the lives of 17 of their beloved peers, faculty, teachers, and community members. But with an average of 96 Americans dying by gun homicides each day (CDC), they stand amongst fellow students, survivors, and fed-up citizens across the country in demanding just the same to lawmakers: "This is it."

So this must not just be a legislative turning point for our country in regards to gun control - but a social turning point, and a moral one. There has existed in the United States, in New England, in Massachusetts - communities plagued by gun violence for so long they have felt muted-out; rejected and neglected by our politicians and lawmakers. But we - as students, survivors; many of us members of these same communities - hear them here too. So together with fellow students, survivors, exhausted constituents from Broward County to Suffolk County, on March 24th, we "March for Our Lives." To finally reject, in all forms, this uniquely American epidemic.

All who stand against the senselessness of American gun violence are welcome to attend.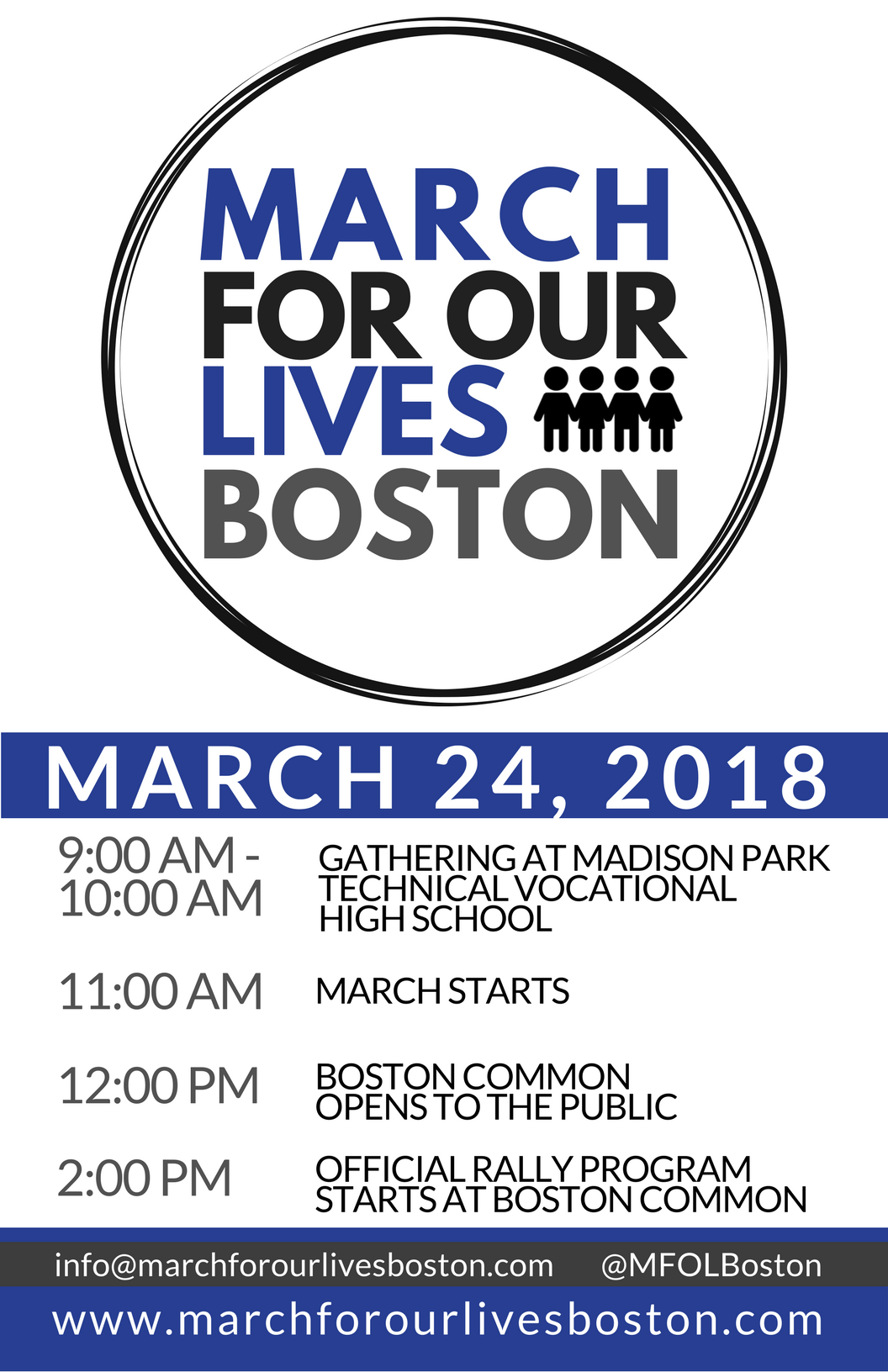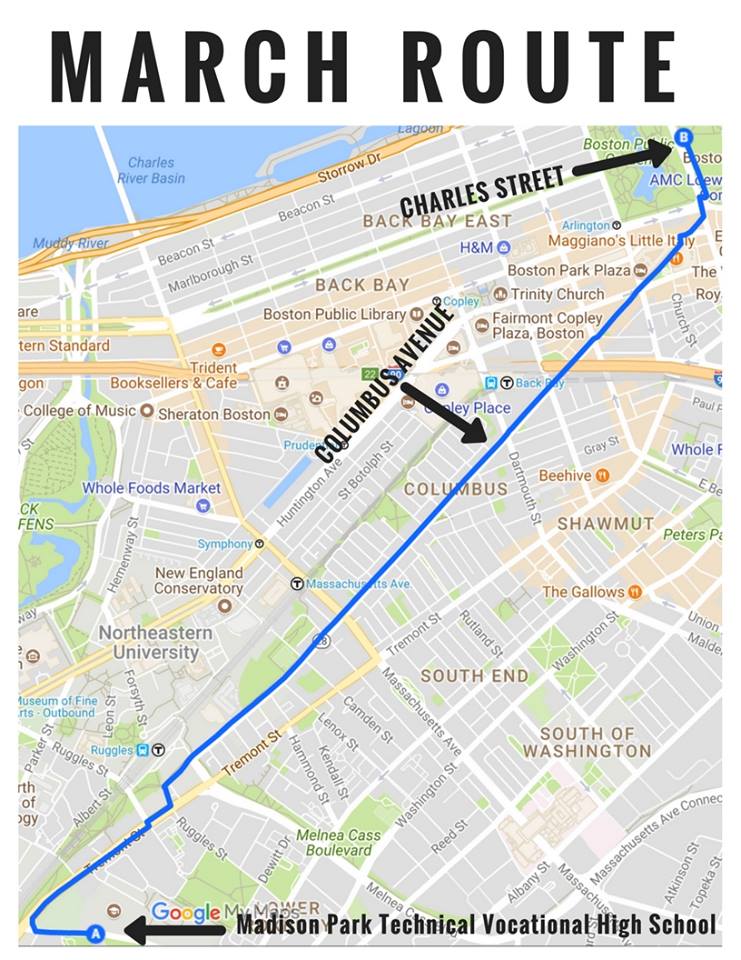 SCHEDULE
9-10 AM Gathering at Madison Park Technical Vocational High School 75 Malcolm X Blvd, Boston, MA 02120
11 AM March begins. Youth (under 25) should lineup along Tremont St and adult supporters and families should lineup along Malcolm X Blvd.
11-2 March to the Boston Common. Leaving Madison Park down Tremont, turn on Columbus, and turn on Charles Street to end at the Common.
12:00 PM The area for the rally on the Common opens to the public. Anyone not marching can arrive during this time. Marchers will arrive between 12-2.
2:00 PM Rally on the Boston Common begins at the stage.
Things to bring:
Snacks
Medicine
Water bottle
Power Bank
Extra Cash
Id + Emergency #S
Small First Aid Kit
Things NOT to bring:
Sticks/Stakes
Weapons, Masks or Shields
Lighters
Non ADA service pets
Drugs or Alcohol
Clothing w/ hate speech
Backpacks/large bags
Safety:
Have contact info for someone not attending & tell them where you will be
Have a buddy & exchange contact info
Have a meetup plan in case you are separated
This is a peaceful protest, but we do expect counter-protesters
If you're a minor and get arrested, you can only be released to a parent or guardian, so have their contact information available
Accessibility:
ASL interpreters will be at the Boston Common for the 2 PM rally onward
4 first aid tents - Charles Street Gate, crowd, Boylston Street Gate & Beacon Street Side
Quiet Space in First Baptist sanctuary at 66 Marlborough Street
Accessibility section with chairs near stage
St. Pauls on 138 Tremont Street & Old South Church 645 Boylston Street open for marchers at 11:30 AM
Website: www.marchforourlivesboston.com
Donations: www.youcaring.com/MFOLBoston
Posters & Guide: https://drive.google.com/drive/folders/1PaUueb5TfnN-CDzzCPPtk-TwV4TEaeOc?usp=sharing
Lyft Rides: https://blog.lyft.com/posts/mfol

Boston MFOL Twitter: @MFOLBoston #MarchforOurLivesBoston
Boston MFOL Snapchat: bostonmfol
Boston MFOL Instagram: mfolboston

Official Boston MFOL fundraising merchandise: https://shop.bonfire.com/marchforourlivesboston/

***Tickets are not required to attend but help us plan for attendance numbers***