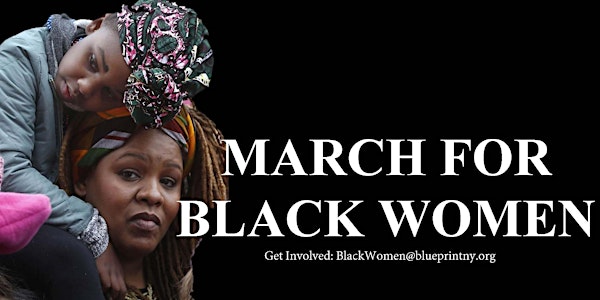 March For Black Women
Refund Policy
Contact the organizer to request a refund.
Description
On September 30, 2017 Black women in all their diversity will march on the National Mall and the Department of Justice in Washington, D.C. to denounce the propagation of state-violence and the widespread incarceration of Black women and girls, rape and all sexualized violence, the murders and brutalization of transwomen and the disappearances of our girls from our streets, our schools and our homes.
Moreover, in this highly political moment of the twentieth year anniversary of the Million Women March, we amplify the struggles of Black women in the rural South—the "Black Belt", and demand a cease and desist of all threats to those of us who are immigrant women across the country, living in fear of deportation.
On September 30, 2017 Black cis and trans women will remove the gags from our mouths, protest in collective action and lift the foot of imperialist white supremacist patriarchy off of our necks. We call on every Black woman from every American city, every walk of life, every demographic to rise together within our differences and face our common oppressors—the systems, and too often the very communities claiming civil and human rights for some, while invisibilizing, rejecting and relegating the rest of us to political backseats.
We call on women of the Global South to stand with us as we stand with them, in mutual resistance of the relentless, systematic extortion of lives, of land and other assets for the purpose of profit serving the interest of the economic elites, the racially privileged, and public officials. Our trauma should neither be bifurcated by national borders (the United States versus the Central or South America, the Caribbean and Africa) or by a false conception of time-space (the egregious conditions of the colonial past versus a seemingly utopic post-colonial or post-racial future).
Silenced no more, the March for Black Women will demand a particular brand of racial justice: a racial justice requiring we reject age-old divide and conquer tactics and center Black transwomen in all Black community struggles, bar-none. We want a brand of racial justice deployed, centering the trauma and complexity of Black cis women's lived experiences of atrocity across generations.
If you can't march with us, here is how to support Black women. Support at #M4BW
If you can't march with us, then ride with us. If you can't ride with us, then shout from your front yards, your kitchen tables and from your street corners. Shout from the pews of your churches and LGBTQ centers, from your HBCUs and healing circles, from the halls and stairwells of the public housing complex where they put you, and from your conferences and board room tables. Our differently-abled Black sisters, our grandmothers and great grandmothers, we ask you to rise with us in your hearts and in your bones.
Rise with us with all that is within you, in a March for Racial Justice that means justice for all genders.
---
FAQs
I'M NOT A WOMAN, AM I INVITED?
Yes, the March for Black Women is for any person and #EveryBlackWoman regardless of gender, sexuality or gender identity who believe the world is listening and watching, and that Black women should and must be seen. If you are witness to the complex ways racialized/sexualized violence and discrimination impact Black women while subsequently devastating generations of Black children, then join us in DC to and fight for liberation from imperialist, white supremacist patriarchy. March with us.
WILL IT BE SAFE? CAN I BRING MY KIDS?
The decision to bring your children is a personal one. The M4BW has a team of experienced and professional national organizers working to ensure that every safety protocol is followed. We will release specific details on how to stay safe during your time in Washington as we draw closer to the date. The decision to bring your children is a personal one.
I WANT MY ORGANIZATION TO BE INVOLVED. HOW CAN WE JOIN THE MOBILIZATION?
Please contact us at BlackWomen@BlueprintNY.org to discuss how your organization can join and support the March for Black Women. However, to act now, register and please donate.
WILL THE M4BW BE ACCESSIBLE FOR PEOPLE WITH DISABILITIES?
The M4BW is committed to ensuring that the national convening is accessible to people with disabilities. We are working with volunteers to ensure transportation assistance and translation for people with language and hearing disabilities and are committed to including access points for people with disabilities that require the use of a wheelchair. There will be an area with seating to accommodate people with disabilities, elderly people and pregnant women.
WHAT IS THE CURRENT STATUS WITH THE PERMIT FOR THE MARCH?
The permit is on its way. We started the process over a month and a half ago to obtain this permit.
Where can I get more information about the M4BW?
For Updates on March Route, Sister Cities, Toolkits, Speak-Outs, Volunteering, Selfcare, etc.
Please follow this link http://www.mamablack.org/march-for-black-women for addition information about the event.