March APNC Lifeguard Hiring Event

Saturday, March 12, 2016 from 11:00 AM to 4:00 PM (EST)
Event Details
New and Returning Employees!

Join us at the American Pool Service Office in Raleigh NC on
Saturday, March 12th from 11:00am to 4:00pm to secure a job position for the 2016 Summer Season!
New Applicants/ Potential Candidates: Come to this event to get more information about how to become a lifeguard or an attendant for the 2016 summer season and kick-start your application process!
Positions Available:
Pool Manager
Lifeguard
Pool Attendant: Must be at least 18 years old
Returning Employees: Come fill out an application to reserve your position for the 2016 summer season!
 This is an open event, you may arrive at anytime between 11:00am & 4:00pm the event will be held in our Conference room!  REMEMBER our office is located BEHIND the Hunt & Gather Building.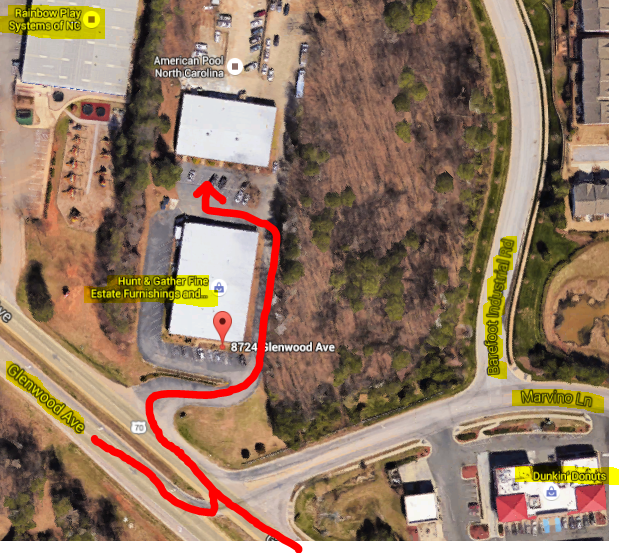 About the Hiring Event

This is an open event, meaning that anyone who is interested in a summer lifeguarding/attendant job can stop by and get more information about American Pool, the application process and Lifeguard Certification Classes (TBD).

Do you know any friends who may be interested in a summer lifeguarding job?
If yes, then bring them to the hiring event!
OR
Send them to the following link and have them check out American Pool's Guard for Life website for important updates and Hiring Event dates and locations. www.guardforlife.com


American Pool Service Address:
8724 Glenwood Ave, Suite D
Raleigh, NC 27617

Click the button at the top of the page to register for this event!
We look forward to seeing you there!

FAQ's
Do I need to bring anything to this event?
YES! Please bring a VALID driver's license (or passport), social security card, any current Lifeguard Certifications (i.e CPR & LGT). For new employee's please bring a resume if you have one!


Do I have to print my ticket to this event?
No, you do not have to print your ticket, but it might be a good idea to have it as a reference for time, location, and contact information.


Is there an age limit to become a lifeguard?
YES! You must be at least 15 years old. If you are younger than 15 and you would like more information about working for American Pool or Lifeguard Training classes please feel free to stop by during the hiring event or give our office a call at 919-878-3661 for more information!


What if I RSVP to an event and do not show?
If you RSVP to this event and for some reason you are not able to make it, please contact our office and let us know! This will show responsibility and good communication skills that are needed for any job!
Where can I contact the organizer with any questions?
For any questions, you may contact us at our office at 919-878-3661 or email Callie Hockman at chockman@americanpool.com


American Pool of NC
Guard For Life
Office: 919-878-3661
Fax: 919-787-4224
E: chockman@americanpool.com

When & Where

American Pool Service
8724 Glenwood Ave
Suite D
Raleigh, NC 27617


Saturday, March 12, 2016 from 11:00 AM to 4:00 PM (EST)
Add to my calendar
Organizer
American Pool North Carolina
Lifeguarding and Pool Attending are ideal positions for high school and college students. It offers the opportunity to hone your leadership skills, time & crisis management, as well as allow you to work both independantly and with a team.These fun and vital positions are primarily seasonal within our company, and available only during the summer months (May-September).
Guard For Life is a one-of-a-kind program from American Pool. Originally created as a recruiting program, Guard For Life has now grown to be a national program for lifeguards with over 6,500 participants. Our goals include building an exciting lifeguard culture based on empowerment and fun. We provide a friendly work environment where you can develop skills, gain professional confidence and even advance into an aquatics career.
Guard For Life is the largest provider of American Red Cross Lifeguard training in the US and has grown into a network where over 6,500 lifeguards are hired each year. Guard For Life companies offer opportunities for career advancement, including positions as head lifeguard, supervisor, staffing assistant, lifeguard instructor and other great aquatic positions. In fact, many of the highest level employees at our company — including the CEO — started out as lifeguards. Learn more about GFL at guardforlife.com or connect with us on Facebook or Twitter. 
We are ALWAYS hiring and there are many positions available in upcoming Summer Seasons. Get your start in the aquatics industry by applying to a lifeguard position or attending an open house near you today!
American Pool North Carolina is a subsidiary of American Pool Enterprises, Inc.
American Pool North Carolina
8724 Glenwood Avenue, Suite D
Raleigh, NC 27617
Toll Free: 1-877-719-7665
Phone: 919-878-3661
Fax: 919-787-4224
March APNC Lifeguard Hiring Event