March 24-26 the 9th Shenzhen Startup Salad

Friday, March 24, 2017 at 5:30 PM

-

Sunday, March 26, 2017 at 11:00 PM (CST)
Event Details
Are your countless ideas buried by life?
Are your infinite desires being diluted into mediocrity?
You only need 52 hours!
To regain your dreams and create value within a fun experience!
In this 52 hours,
You'll be surrounded by fresh hot ideas,
Witness the clash of thinking, continue on to uncover problems, and then resolve all!
You'll form or join a "Team"
And together working hard with fellow partners,
You'll be inspired into making it happen, in the end!
Act now, unlimited possibilities to create await you!
52hrs Startup Salad
Enjoy creating!
What you can gain from Startup Salad?
Find partners that cherish the same ideals    
Exposure to Angle VC & Equity investors,    
Receive guidance from different industry gurus & mentors.    
No talk, all actions!     
52 hours, a whole new team and a prototype.    
Fresh startups get first hand feedback, media attention and exposure.    

Who will you spend this holiday with?
Participants            
They are product managers (PM), marketers (MKT), Designers, programmers and engineers.    
Mentors            
They are experienced innovators, investors, and professors who bring you expertise.     
Judges              
They are the elite in different business, successful entrepreneurs and investors; they will give you & your project the most direct feedback.      
Organizers & Volunteers            
Startup Salad organizers and volunteers are truly special people who use their own free time and with tremendous passion ensure your Startup Salad events are well organized and professionally run world class events.    
Audience            
Supporters pay to join the events. They are the audience and potential users for the startups offerings.    
52-hours Startup Salad Workflow
What is Startup Salad?
Startup Salad brings together interesting, powerful and genuine people who want to change things, to connect, learn and collaborate in an offline manner, creating an innovative project that actively promotes social development globally.
Startup Salad, with brands including '52-hour Startup Salad', 'Big Salad' and 'Salad Pro', now cover more than 50 cities around the world such as Shenzhen, San Francisco Shanghai, Montreal, Beijing, Hong Kong, Bangkok and Guangzhou. At the same time Startup Salad is connecting hundreds of thousands of like-minded entrepreneurs globally. Startup Salad ultimate goal is to build a city of convergent Change Makers and inspire Change Maker is all cities.
Testimonials
Outstanding Projects Graduating From Startup Salad

Participant Instructions
Check-in Time:Friday Afternoon (March 24th) 17:30—18:30
The fee includes:Breakfast x2, Lunch x2, Dinner x3, T-shirt x1, Stationery, Internet access.
Participant Handbook:If you would like to have a more meaningful experience over the weekend, we have prepared a 52-hour Salad Participant's Handbook for you to view (Please open the URL:http://m.salad.co/ for downloading ). 
If you have an Idea to Pitch on Friday night:
Please submit your Idea PPT before March 23rd to shenzhen@salad.co
You MUST use our template, and you can only make a 1-page-powerpoint to show your ideas. Remember that you ONLY HAVE 1 MINUTE for your initial pitch on Friday evening.
The download link of our template:https://pan.baidu.com/s/1i4SZZP7
If you don't have an idea:
You can choose your favorite idea after the 1-minute idea pitches on Friday night and join one of the teams.
If you are an Sunday evening audience member: 
Check-in time:Sunday Evening (March 26th) 18:00---18:40.
All the teams will present their product demos or prototypes, which have been completed over the previous 48 hours, to a panel of judges and the audience.
About This Startup Salad Event
Event Networking Group in WeChat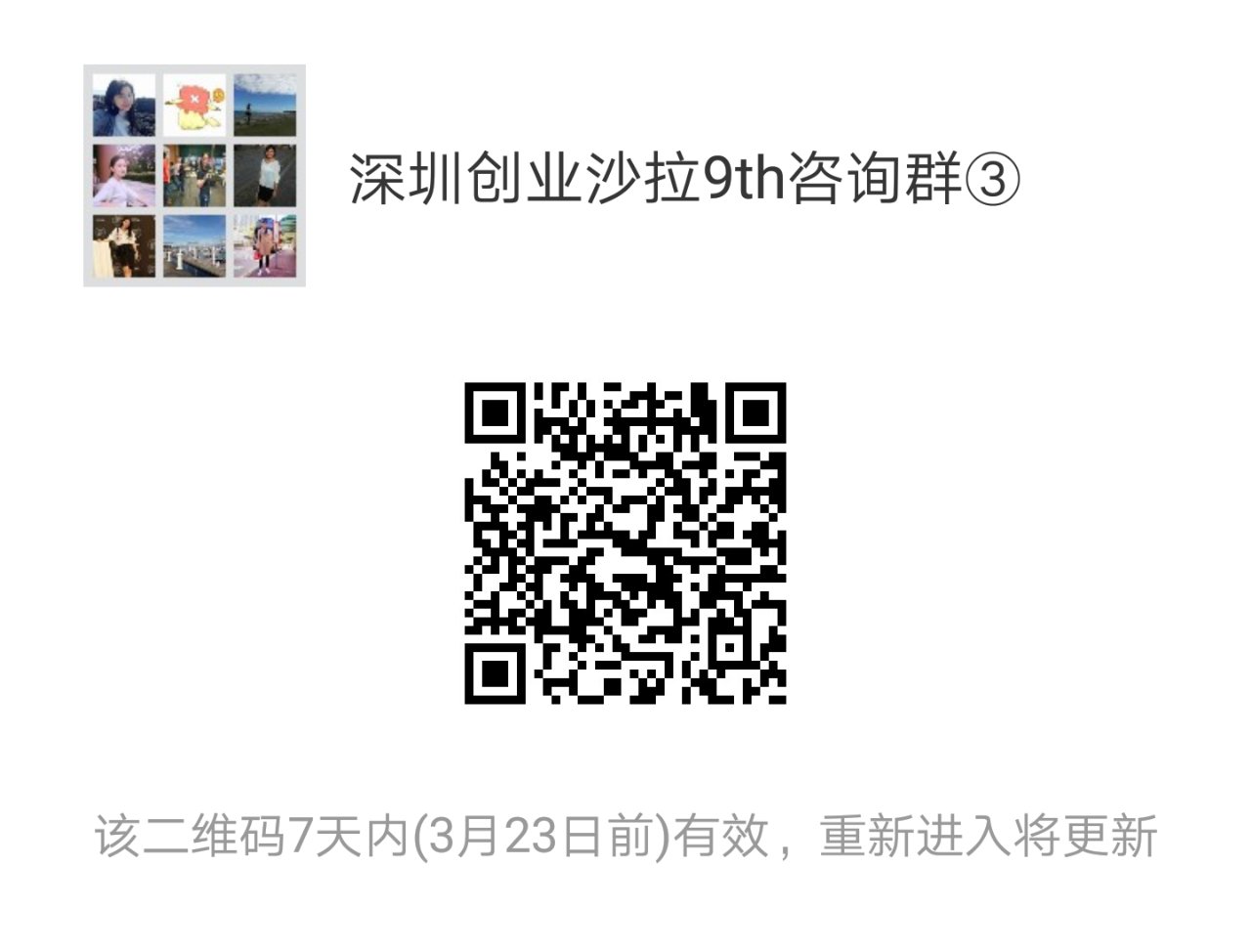 Organizers and Volunteers
Mandy, Heidi, Jojo, Yajun, Zoe, John, Michael, Denise, Alex, Eva, Suzy   
Collaboration Contact 
If you have any questions and/or collaboration requests, please contact with the organizer.
Organizer: Heidi
E-Mail: heidi@salad.co
Our cooperation partners and sponsors

Q&A

Q:Does the organizer provide meals and accommodations?
A:We provide seven meals (including Friday dinner) per person in total, and one event T-shirt. Unfortunately we are not able to provide accommodations at this point.    
Q:What's the language being used at the event?
A:Chinese and English. Chinese will be the first language but we will provide English translation in core sections. You don't have to worry too much about language disparities.    
Q:Who goes to the event?
A:Anyone who is interested in the Internet and startups, all types of geeks, and those from backgrounds in developing, designing, marketing, makers or related fields.    
Q:Do we have to have an idea ready in order to participate?
A:Having an idea prepared would be the best scenario. But it's OK to not have one on hand and join other teams.    
Q:We have existing teams and products, can we still participate?
A:Everyone should participate as individuals. The event is exclusively aiming for making products, not promoting them.    
Q:Will the teams stay together after the event?
A: Some will disperse, others will register companies and get funded, it depends entirely on you and your team. Recently the successful cases of upgrading into a company after the event is MYOtee (has received thousands of funds in RMB and won the first place at App Store), and SixBot (VYLYV) (A wearable devices ideal for men's health). 
Q:What characteristics does my idea have to fit?
A:Since this event is specifically hosted for Makers, related to Maker is fine.    
Q:For example?
A:Making something that's awesome for humans to use! Any making idea is warmly welcome! Brainstorm now, and make it happened with us! Mobile phone applications such as NFC discount coupons, oral translation, O2O, HTML5, etc., hardware such as VR glasses, BB-8, Sensor canes for the blind, bike GPS smart navigation tools, etc. ; there are even more within the Green-Tech, games, high-tech and other types including Websites like clothing-match-making, local guides, family tree, longevity aids and the like.    
Q:What products should we be making?
A:The best scenario would be code-compiled prototypes (even it's simple), in combination of PPT that includes your business model and market research.    
Q:Do I need to be onsite for the whole weekend?
A:Yes. For emergency reasons, please contact your team and the event staff in advance.    
Q:I am still working or has formed a startup company, am I suitable for the event? 
A:That's OK. You can get some in-depth industry insights and meet potential collaborators, make new friends through the event.    
Q:I don't want to participate for the entire event, can I just look around?
A:Best is that you buy the audience tickets for Sunday night.    
Q:Can I participate as a coder, and work as a product manager/marketing?
A:No. The entire event is carefully calculated regarding of all the job positions, in order to divide into groups, it will affect the quality of team work and the performance on the spot of the event.    
Q:How can I know more about Startup Salad?
A:You could search the wechat id: startupsalad, or scan the following QR code, or view the website: http://salad.co/.
Wechat and Weibo
Cooperation Contact
Contact: Alex
Wechat: fangguoan11
E-Mail: alex@salad.co
Official Website: www.salad.co
When & Where

Tech Temple
2F , China University of Geosciences Building
Keyuan Road, Nanshan District,
Shenzhen, Guangdong 518000
China

Friday, March 24, 2017 at 5:30 PM

-

Sunday, March 26, 2017 at 11:00 PM (CST)
Add to my calendar
Organizer
Startup Salad is a premier Startup Event organizer in Asia. Startup Salad offers people the chance to make their ideas a reality. It's an intense weekend, where you'll be able to meet new people, pitch an idea or join someone else's, get help from mentors, network with investors and form a startup, all in 52 hours!
Startup Salad itself is startup, with the goal of helping people in Asia jumpstart their ideas into startups. In less than a year, Startup Salad has become Asia's biggest Startup Event organizer with Startup Events hosted in over 30 cities and we are expanding to you!