March 21, 2013 - HDI Charlotte - State of the ITSM Market Research

Thursday, March 21, 2013 from 11:30 AM to 1:30 PM (EDT)
Event Details
Topic:              State of the ITSM Market Research
Date:               Thursday, March 21, 2013
Time:               11:30 AM – 1:30 PM
Location:      Johnson & Wales University, Academic Center, 5th Floor, Classroom 536
(Directions and information on FREE Parking is below)

Our next HDI Charlotte meeting will be on Thursday, March 21, 2013 over lunch from 11:30 AM – 1:30 PM featuring Tyler Jones with Northcraft Analytics.  We encourage all helpdesk, technical support, vendor, and customer service professionals to attend. 
Featuring a Microsoft Surface Tablet Giveaway!

Northcraft Analytics will also be hosting a happy hour at "Good Food on Montford" later that afternoon for anyone in attendance. 
 
Topic:  State of the ITSM Market Research

State of the ITSM Market is the most organically searched research in the world for enterprise ITSM technology platform selection.  The research covers the top 5 vendors in the ITSM Market (by market share) from a technological, financial and market perspective, so you'll be able to learn in-depth about who the current and future leaders of this $1.5 Billion (2012 est.) market are… in order to make the right decision for your "unique" requirements.

This presentation and research is published with the permission and backing of ITSM University, an ITSM implementation and technical training company built from the ground up to be ITSM vendor agnostic.

Speaker Bio:


Tyler Jones has been passionate about delighting customers in his 15 years as an IT professional. From his start in help desk support through executive leadership in larger enterprises, taking care of the customer has always been central to Tyler's philosophy. Before joining Northcraft Analytics, Tyler was the Vice President of Service Operations for Ceridian. He is a Certified Support Manager by the SCP as well as the SSPA. He is also Green Belt trained and has received his ITIL certification in IT Service Management. Tyler was the host of his own technology show, Random Access Radio, on WGST in Atlanta, GA from 1998 until 2003. He is also a published author on small business technology. Tyler is an avid technologist, loves music, and is a Deacon in his church. He and his wife, Lee, have two children and live in the suburbs of north Atlanta.

______



Meeting Sponsor:  Northcraft Analytics    (www.northcraftanalytics.com)
Why Northcraft Analytics?
- A complete application for ana-lytic reporting and dashboards for Service Management
- Maintenance plan covers multi-ple ITSM Platforms, no license fees to switch
- 900+ metrics and 140+ KPIs covering the eight ITIL process areas, plus ACD
- Quick implementation
- Unlimited user licensing
- Unlimited data size
- NO BI development required
- Supports all major database platforms
- Lower end-user training by lev-eraging familiar service man-agement terminology
- Accommodates service man-agement platform customiza-tions
- Data Warehouse included, no ETL heavy lifting
- Incredible performance
- Based on proven BI Technology from Microsoft

______
In our opinion, the market has enough ITIL trainers and training offerings.
At ITSM University, we believe that the world could use some more solid, affordable and practical education and consulting on the major IT Service Management suites. Also, since many times corporate budgets may not allow for you, the IT professional, to get the training you need to stay current on the skillsets you need to advance your career.
With more than 60 major customers in North America, Europe and Oceania, ITSMU has the ability to deliver ITSM implementation excellence wherever it is needed.
 ______
Johnson & Wales University, Academic Center, 5th Floor, Classroom 536
 
Directions & Parking:
801 West Trade Street, Charlotte, NC 28202
Free parking is provided at JWU "Lot B" (gravel lot located adjacent to Mt. Moriah Baptist Church) at 709 West Trade St. Please follow the blue and white "Johnson & Wales University/HDI Charlotte" signs to the main entrance of the Academic Center.  There will be signs directing you to the appropriate floor and room number: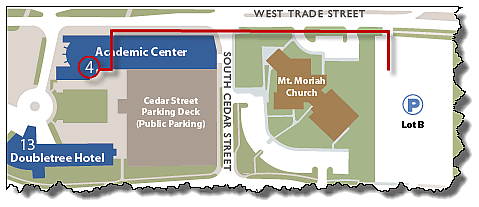 General directions and a campus map are also available at:
www.jwu.edu/charlotte/directions
Have questions about March 21, 2013 - HDI Charlotte - State of the ITSM Market Research?
Contact HDI Charlotte
When & Where

Johnson & Wales University
Academic Center
801 West Trade Street
Charlotte, NC 28202


Thursday, March 21, 2013 from 11:30 AM to 1:30 PM (EDT)
Add to my calendar
March 21, 2013 - HDI Charlotte - State of the ITSM Market Research