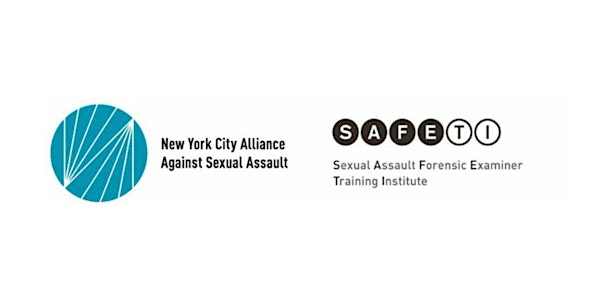 March 2023 Adult/Adolescent Sexual Assault Forensic Examiner Course
March 2023 NYS DOH Approved 40-Hour Adult/Adolescent Sexual Assault Forensic Examiner Course (Intro Level)
Refund Policy
Contact the organizer to request a refund.
Eventbrite's fee is nonrefundable.
About this event
Course Description
This comprehensive, 40-hour SAFE certification course called, "The Assessment and Evaluation of Adult/Adolescent Survivors of Sexual Assault and Intimate Partner Violence", trains medical professionals to provide competent, compassionate and prompt care to sexual assault victims, while using the most advanced technology associated with DNA and other sexual assault forensic evidence collection and preservation. Upon completion of all course requirements, course participants will be able to use the Certificate of Completion in order to be certified as a SAFE with the NYS Department of Health.
Course Director, Karen Carroll
Karen Carroll, RN, SANE-A, SANE-P, NY-SAFE
Karen D. Carroll has been a licensed Registered Nurse in the State of New York for 39 years. She has held management positions in nursing administration, emergency departments, pediatrics units, and medical-surgical units in several hospitals. She received her training to become a Forensic Nurse in 1997 and she has been nationally certified to perform forensic examinations since 2003. Ms. Carroll has made numerous presentations and provided training throughout New York, the United States, Canada, Colombia, Jordan and Kenya on the topics of sexual assault, forensic examiner programs and her personal experience as a survivor of marital rape. She has appeared in a documentary on Lifetime Television, as an expert commentator on Court TV and has served several times as a technical advisor on the Law & Order: SVU television show.
Course Director, Wanda Dikiy
Wanda Dikiy is a Registered Nurse in the State of New York and course facilitator for the Crime Victims Treatment Center (CVTC). She brings many years of experience in nursing leadership, clinical care, and as a sexual assault forensic examiner. Wanda is committed to increasing health care access for survivors of sexual assault and diverse populations. Through teamwork facilitation, staff education, and implementation of innovative workflows, she helped decrease wait times for sexual assault survivors in the emergency department.
Wanda's leadership and work extends to other areas of patient care and include emergency pediatric care, recovery of cancer patients from complex surgical procedures, and care of the patient undergoing cardiac catheterization at major hospitals in New York City. She has shared her insights with peer review committees, interdisciplinary teams, and emergency preparedness team. In 2017, Wanda volunteered her work as a registered nurse and traveled to Puerto Rico in the immediate aftermath of Hurricane Maria, as part of New York State emergency response teams. She earned a recognition as nurse of the year at a major health system for her efforts in Puerto Rico.
Wanda received her Bachelor's degree in nursing from Chamberlain College of Nursing and is currently pursuing a Master's degree in Public Health with a concentration in Global Health at New York University. Her professional interests include data driven health policy development for vulnerable populations, compassionate care for sexual assault survivors, and the study of climate change impact on global health.
Who Should Take This Course
The course prepares physicians, physician assistants, nurses, nurse practitioners, and nurse-midwives to provide comprehensive evaluation, treatment, and evidence collection for survivors of sexual violence.
Objectives
The objectives of this course address the development of skillful assessment techniques, thorough understanding of the dynamics of rape and intimate partner violence, and the mechanics of injury which provide a solid foundation for working with survivors. This course combines the knowledge and expertise of a nationally recognized faculty with a variety of educational methods to give participants the maximum opportunity for professional growth in this advanced practice role. In addition, this course will combine online instruction with a clinical session.
Date/Time:
March 8, 2023: Day 1 of Virtual Classroom Training 9:00am-6:00pm
March 9, 2023: Day 2 of Classroom Virtual Training 9:00am-6:00pm
March 10, 2023: Day 3 of Classroom Virtual Training 9:00am–6:00pm
March 23, 2023: In Person Clinical Training Day, hours dependent upon modules needed: Location: Albert Einstein Hospital 1300 Morris Park Ave, Bronx, NY 10461
***Please note: that in addition to classroom training, participants are required to complete online work to receive a certificate of completion.  Online work is reviewed and certified by SAFETI staff for accuracy and competency. Attendance of the clinical day is mandatory for RNs to pass the course/receive a certificate of completion. The clinical day is optional for advanced practitioners (NPs, MDs, PAs, DOs, CNMs). Proof of COVID vaccination is required.***
Zoom information will be sent out before the trainings.
If you have any questions, please contact Anita Krasniqi at Anita@svfreenyc.org
*Please note: We cannot offer refunds, however, please contact coordinator as we can reschedule the training date in advance to a later date.*
Disclaimer: This activity has been approved to award 40 contact hours by the International Association of Forensic Nurses. The International Association of Forensic Nurses is accredited as an approver of nursing continuing professional development by the American Nurses Credentialing Center's Commission on Accreditation.