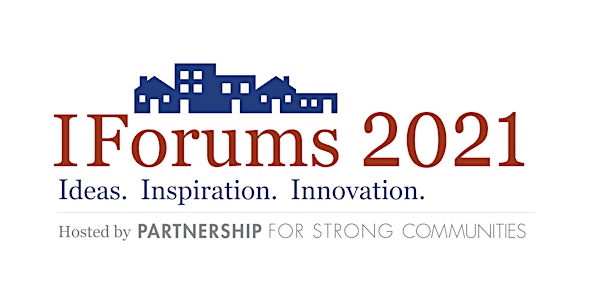 March 2021 IForum: Innovation and Success in Homelessness Prevention
Highlighting innovative strategies at the local and national levels to provide key insights into future prevention efforts.
Refund Policy
Contact the organizer to request a refund.
About this event
On Tuesday, March 30th from 10:00 am-11:30 am the Partnership for Strong Communities will be hosting its first IForum of 2021, "Innovation and Success in Homelessness Prevention: What's Happening Now and What's Next." This IForum will highlight innovative strategies going on at the local and national level that can provide key insights into future upstream prevention efforts in our state.
State agencies, healthcare systems, and community providers that have contact with people at risk of becoming homeless play a vital role in prevention. Collaborating across sectors is critical to creating a network of resources that can lead to a greater chance of success – especially for those most vulnerable. This IForum will explore new and innovative upstream prevention efforts designed to support people before they experience crisis. Participants will hear from Court Support Services Division, Greater Waterbury Health Network, the CT Department of Children & Families, and the Coalition for Juvenile Justice on innovative initiatives recently launched in Connecticut. Come to learn more about these initiatives and engage in a dialogue on how to best align these efforts.
We're excited to announce the presenters and panel speakers for the March 2021 IForum!
Introduction and Moderation by:
Sharon McDonald, Senior Fellow for Families and Children, National Alliance to End Homelessness
Sharon McDonald is Senior Fellow for Families and Children with a focus on policy and program strategies to address family homelessness. Ms. McDonald joined the Alliance in 2001. Before that, she was a direct practitioner in a Richmond, Va., community-based service center for people who are homeless for nearly seven years. Ms. McDonald has been a Licensed Clinical Social Worker since 1991 and holds a Ph.D. in Social Work and Social Policy from Virginia Commonwealth University.
Featuring a Panel Discussion with:
State of Connecticut Judicial Branch Court Support Services Division
Coalition for Juvenile Justice
Greater Waterbury Health Partnership
Connecticut Department of Children and Families