Description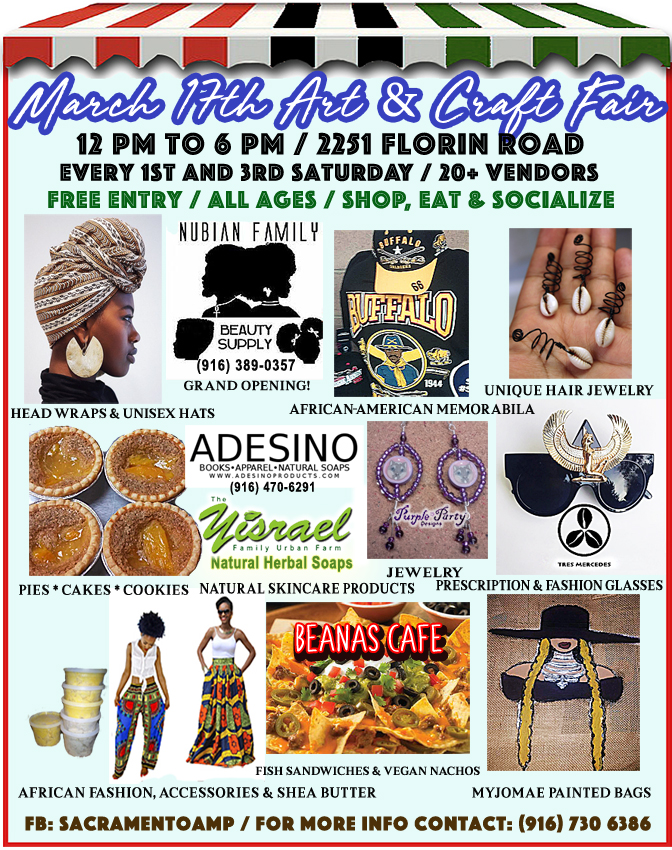 If you would like to be a VENDOR at the marketplace please call Ra West at (916) 730 6386 , Thank you!
----------------------------------------------------
Special Speaker: LENON HONOR will be doing a free lecture in the Skylight area of the Marketplace from 2 pm to 5 pm
---------------------------
Come out and shop Saturday March 17th 2018 from 12 pm to 6 pm / Free Admission to shop and eat / Enjoy this indoor shopping bazaar rain or shine every 1st and 3rd Saturday of the month.
Also visit the new beauty supply store: Nubian Family Beauty Supply that opened at the same location! Same place, Monday through Saturday 11 AM to 6 PM ( closed on Tuesdays) and Sundays 12 PM to 3 PM. Call (916) 389-0357 or (916) 562-0503 with your questions and what they have in stock.
Every 1st and 3rd Saturday is the African Marketplace located at 2251 Florin Road inside of the beautiful Sojourner Truth Museum
Every 1st and 3rd Saturday is the African Marketplace located at 2251 Florin Road inside of the beautiful Sojourner Truth Museum
All are welcome, please bring your family and friends so you can shop with many vendors, all under 1 roof.
Please feel free to print out the flyers in the comment section of this event page, post them in high traffic areas and share the news with at least 3 of your friends so they know there is a place to buy unique items in Sacramento, not just in the bay area.
The Sac African Market is a great place to find affordable handmade natural soaps and other skincare items, perfume oils, African-American memorabila, books, shea butter, handmade jewelry, local music, african fashion and jewelry, food vendors, various styles of hats, self-defense products, handmade dolls, hand bags and much more!
There are different vendors that participate each market as well as the usuals so each time you shop at the African Marketplace in Sacramento is a unique experience. Come to network with other small business owners.
Why buy in big stores that all see the same items when you can get a truly unique item and support some great local artists at the same time. It's also a great place to network and be sure to check out the beautiful artwork on the walls.
Come Check out these great local vendors::
Afrakans In Exile LLC
JoMae JoMae
Custom bags, Purple Party Designs,
Teesha Spagner
jewelry
Heka Ma'at Kemet
(Shea of Life)
Glorious Accessories and Fragrances
,
Sacramento City College Black Student Union
,
Beana's Cafe
(Fish Sandwichs, bean pies and more) http://www.naturallyyoursholistic.com,
Hat Daddy
, Those Brothers jewelrs,
Everyone's-Place
Jay Robb
Banaco Butter Cakez, Shirley's Sugar N Spice,
Gloria Grandy
Dolls, Accessories from Tanzania, Ameena Azzaboor accessories, Banana Pudding With A Ginger Twist, Full Body Motions, I-N-Spire(Beading & Jewelry), N &N Accessories, Nor Cal Fashions , Pampered Chef, Sankofa African Youth Consciousness Workshops, Sojourner Truth Multicultural Art Museum, Traci Lynn Fashion Jewelry, Younique Eye Lashes,
The Yisrael Family Farm
, Voices of Our Youth, Z Boutique,
Kasha's Creations
and many more ….
Come support your Local Vendors and share this post to a friend's timeline to spread the word.
-------------------------------------
Other Businesses inside the building you can check out while your visiting:
-----------------------------------
The African House
selling Shea Butter, African Fashion and various other African imports
Nikki's Dollar Jewelry & More
selling jewelry and other beauty and fashion items (also providing hair braiding/weave services)
Adesino Products
selling Moringa soap, bath salts, incense and other natural skincare products a