March 16 Tea & a Rosary for Mothers Featuring the Visit of Saint Joseph
Description
On Saturday, March 16, 2019 from 9:45 am to 12:00 pm, we're excited to invite all women ages 18 and up to the Shrine again for a gathering focused on the gift of motherhood. As always, a light breakfast will be provided, plus we will continue to offer the opportunity for Confession and the Rosary with meditations. In lieu of babysitting, this event will also feature the Visit of Saint Joseph for children and fathers. A part of our Visit of the Saints series, this is a catechetical event for fathers and children, where Saint Joseph will come teach the children about his life. Please reserve your Eventbrite tickets at teaandarosary.eventbrite.com for you and your children by March 15, 2019. Please make sure your children will be accompanied by an adult during the Visit of Saint Joseph (babysitting will not be provided for this event).
This March we will hear from Dr. Jeanne Schindler.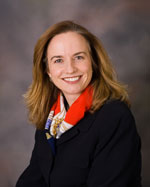 In this talk, Dr. Jeanne Schindler will share her experience of the transition from professional life as a university professor to full-time homemaker, highlighting the reasons that prompted her to "come home" and the unexpected richness of domestic life she discovered when she did. Dr. Schindler will discuss the ways in which the Church's understanding of marriage and family life has helped her to embrace the duties—and experience the delights—of mothering and homemaking.
Dr. Jeanne Schindler is a Fellow of the John Paul II Institute. Until 2013 she was an associate professor at Villanova University. Dr. Schindler's intellectual interests are interdisciplinary, integrating philosophy, theology, and political science. She has lectured and published in a variety of areas, including Catholic social thought and democratic theory. She edited Christianity and Civil Society: Catholic and Neo-Calvinist Perspectives (2008) and co-edited with her husband, D.C. Schindler, A Robert Spaemann Reader (Oxford University Press, 2015). Dr. Schindler is a homeschooling mother of three children.
Although this is a free event, would you consider making a small donation of $5-10? If you would like to donate online, please do so on the registration page. Otherwise, feel free to share your donation in person.
Questions? Email us at marys.mantle@jp2shrine.org.
For those of you on social media, we encourage you to join our Facebook group, Mothers Under Mary's Mantle. It is a nice spot to share prayer intentions, inspiring quotes, and other interesting info. We're looking forward to spending the morning with you, and any mothers in your life that you would like to invite to join us. May Mary keep you under her mantle until then!