Event Information
Location
Sister Esther's Church And Entertainment Emporium
2708 North Mesa Street
El Paso, TX 79902
Marc Houle Live at Sister Esther's. Sunday, May 15th
About this event
MARC HOULE
Live ( ITEMS & THINGS )
#OnSundaysWeParty
Venue: Sister Esther's
05.15.22
Doors Open at 7pm
LIMITED FREE W/RSVP BEFORE 8 pm arrival:
Set Times
10pm Marc Houle
TBA 9-11pm
TBA 7-9pm
Event TIME 6:30pm-2am
Labels :
Items & Things
Bio:
Marc Houle has been wowing audiences for over a decade with a live performance that is constantly evolving night after night, in city after city, at clubs and festivals worldwide. The skill and effort that goes into creating these truly 'live' sets is the result of an entire lifetime dedicated to electronic music and a deep love of the machines that make it.
Raised adjacent to Detroit in Windsor, Ontario, in the same fertile music community that spawned Richie Hawtin, Houle's obsession with electronic sounds goes back to the noise of '80s video games and vintage synthesizers. And while too many electronic artists use their machines as merely tools of convenience, Houle regards his with a dedication found in few producers.
The results have been extraordinary. A decade-long career of seminal records on Hawtin's Minus label, as well as his own Items & Things imprint, that not only helped define the beloved minimal sound of the mid-'00s ("On It"), but had a laugh at its expense ("Techno Vocals"), before transcending the limits of the sub-genre completely by incorporating industrial, disco and new wave influences ("Undercover").
A committed live performer, he arrives at each gig equipped six superb albums worth of material, whilst the inception of his new project alongside Octopus Recordings founder Sian sees this number multiply extensively, as the duo weave together hypnotic, warping soundscapes as they deliver Marsian (Live), with their 2018 debut tour which began in Detroit and navigated throughout the Americas setting the tone and vision from the off.
VIP & Bottle Reservations call/text 915.790.9334
FREE W/RSVP BEFORE 8PM
FREE RSVP TICKETS ONLY VALID BEFORE 8PM. FREE RSVP TICKETS WILL NOT BE VALID AFTER 8PM. MUST ARRIVE BEFORE 8PM. By RSVPing you understand that this ticket can not be sold, or transferred. You also acknowledge that 1 valid ticket per person per email and that multiple tickets will be voided. You must be 21 & Over. This RSVP does not guarantee entry as we will be on as "first come first serve" system. So please make arrangements to get into venue early and have your ID.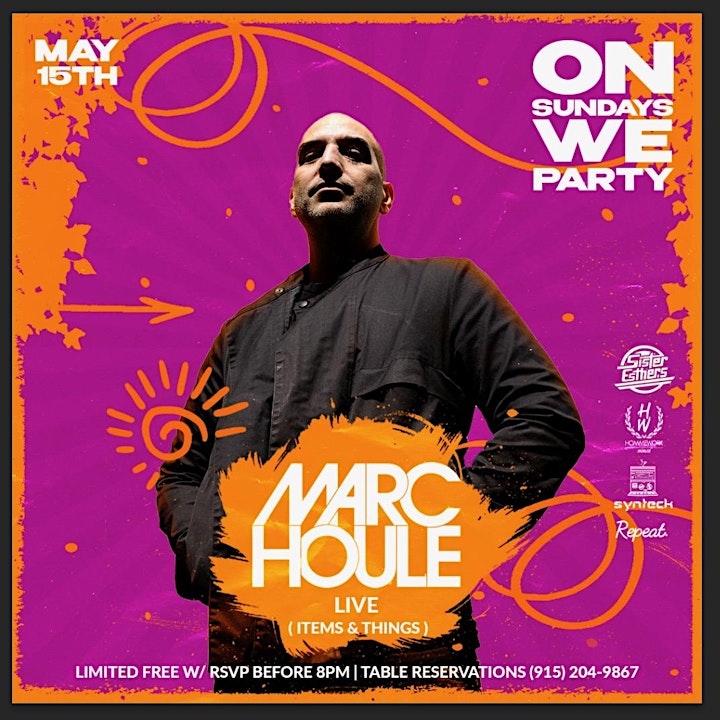 Date and time
Location
Sister Esther's Church And Entertainment Emporium
2708 North Mesa Street
El Paso, TX 79902
Refund policy