Marc Ford w/ Neptune Blues Club plus Nathan James in concert

Saturday, March 19, 2016 from 7:30 PM to 11:30 PM (PDT)
Event Details
MARC FORD is one of the most gifted, celebrated and in-demand rock guitarists of his generation.
Ford's  time with the Black Crowes, including a second stint in the mid-2000s, are so well documented as to need little repetition here. Except for Ford to say that he can look back on his musical passage with them, and on all of his other stops along the way, with real satisfaction. "I'm proud of all the music that's been made," he says. "I think that stands, and the Crowes was a fantastic band. Ben Harper's music was great, 'There Will Be A Light' [on which he plays, as he does the later 'Both Sides Of The Gun'] is a fantastic record. Ryan Bingham, I heard at a club at one in the morning and it was like 'Please let me record you.'" He did so, for Bingham's lauded Lost Highway albums 'Mescalito' and 'Roadhouse Sun.'
And more recently, he has created one of the finest Americana albums of 2014, Holy Ghost.
'Holy Ghost' has plenty of space for Ford to demonstrate that his guitar sorcery is as powerful as ever. But it's textured in a different setting that will also delight a legion of admirers who never knew he could embrace the wide open spaces of American roots music so brilliantly.
"Reinvention" is an overused word in the creative arts, but 'Holy Ghost' overflows with subtle and surprising pleasures, liberal use of pedal steel, Fender Rhodes, mellotron and banjo, and the best songwriting of Ford's career. It shows off an artist refreshed and refuelled, taking life at a slower pace at home in California these days – and it's the next chapter in a unique Anglo-American collaboration.
In concert Sat. March 19 at Don the Beachcomber, Ford has put together another all-star band for the occasion, the Neptune Blues Club, with the Blaster's Bill Barret and John Bazz,  keyboard impresario Mike Malone, and Antoine Arevizu rounding out the group.
Nathan James with special guest Greg Carroll opens the show. 
Dinner avail. Free self-parking. 18+ show.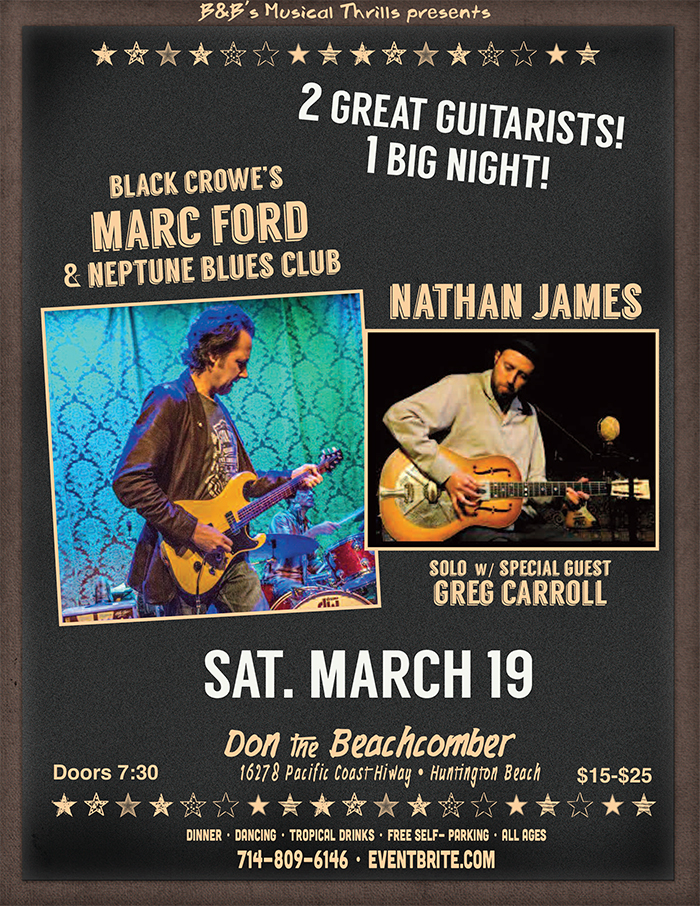 Organizer
B&B's Musical Thrills
Text to 714-809-6146 for more info and a fast reply!
Marc Ford w/ Neptune Blues Club plus Nathan James in concert