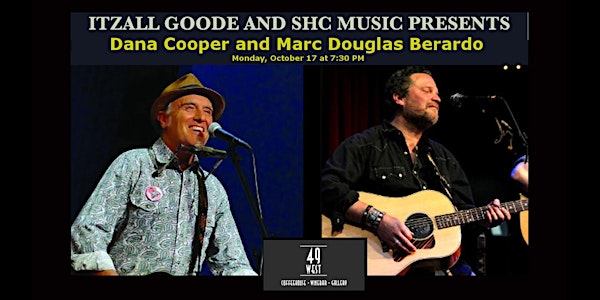 Marc Douglas Berardo and Dana Cooper at 49 West Coffeehouse in Annapolis
Marc Douglas Berardo and Dana Cooper in Annapolis, MD
When and where
Location
49 West Coffeehouse, Winebar & Gallery 49 West Street Annapolis, MD 21401
Refund Policy
Contact the organizer to request a refund.
Eventbrite's fee is nonrefundable.
About this event
ITZALL Goode Music & SHC Music Tribe Present
Marc Douglas Berardo and Dana Cooper Advanced Tickets $17 - Door $20
You can reserve by purchasing an advanced ticket or by calling 49 West at 410-626-9796. Do not do both.
ABOUT MARC DOUGLAS BERARDO
Website: https://www.marcdouglas.com
Videos: The Hard Part - https://www.youtube.com/watch?v=hn-47D94g18
Waiting on a Brand New Day - https://www.youtube.com/watch?v=FODSMUfeofI
"Marc Douglas Berardo writes songs that are witty without being superficial, intelligent without being ponderous, fun without being silly. He performs them with an infectious verve. On top of that, he doesn't seem to have the slightest idea of just how good he is. David Olney, Legendary Songwriter and Performer, Nashville, TN
"High-quality story-telling picking and playing." Rob Ellen - The Medicine Show Radio Moose Mobile, U.K.
Rhode Island-based Marc Douglas Berardo is a hardworking, fast-moving, adventure-seeking, keen observer who lives for the story and the song. He is nationally recognized for his music and performances (Rocky Mountain Folks Fest Song contest, Telluride Troubadour Contest, Sisters Folk Festival, South Florida Folk Fest, 2013 Rams Head Onstage Rammie for Show of the Year.)
No Depression Magazine called his latest CD Whalebone: a highly polished personal collection with songs that are on the delicate trapeze of poignancy.
In May of 2014, Berardo won the 2014 Wildflower Art and Music Festival Song Contest in Texas. The following week he performed as a finalist in the legendary Kerrville New Folk Contest at the Kerrville Folk Festival.
In early 2015, Berardo's interview and live performance feature on Sirius/XM Satellite Radio's The Village was voted one of the best of the year by listeners.
Marc Douglas Berardo has shared the stage with heavyweights such as The New Riders of The Purple Sage, The Doobie Brothers, Jimmy LaFave, Martin Sexton, Terri Hendrix, Kevin Welch, Red Molly, Eric Taylor, The Pousette Dart Band, John Hiatt, and Livingston Taylor.
About his music, Marc says ... I try to write about people and situations that interest and entertain me. Subjects and places that I feel a connection with and that are unique in a quiet way. Real people and places caught in the moment, almost like a documentary film or a novel.
On February 25, Marc released a single and official video for "The Hard Part", a track from his upcoming record, and his second single and video for "Waiting on a Brand New Day" on August 26.
Bravery. The new song The Hard Part from Marc Douglas Berardo's forthcoming album inspires you to be brave in the darkest time. With a folk-rock groove, he takes you to a place within yourself to make changes you want to see in the world. Compassion is one of Berardo's superpower ingredients in his songwriting. MarySue Twohy, SiriusXM Program Director, SiriusXM Satellite Radio
ABOUT DANA COOPER
Website: https://www.danacoopermusic.com
Video: Dream Darling - https://www.youtube.com/watch?v=rDMFOnHwCf8
Cooper's lifelong passion & devotion to music began at age 2 in Kansas City. His father, George, was a huge influence. One of Dana's earliest memories is of his father taking him to the Calico Cat, popping a coin in the jukebox, and listening to Dana sing along with Hank Williams & Ernest Tubb.
At age 20 a move to LA resulted in a record deal with Elektra Records where he recorded his first album with members of The Section Russ Kunkel and Leland Sklar, as well as other luminary players Jim Horn, Al Perkins, Jim Gordon, Joe Osborne, and Lee Holdridge. This album still wins accolades today and was recently reissued on the Warner/Japan label.
After several years in California and a year recording in Seattle, Cooper moved to Texas where he wrote and performed with Shake Russell. They released several independent albums and one album for Southcoast/MCA.
Dana formed his own experimental bands, DC3, and Nuclear Family, and released his first solo project Complicated Stuff. In 1988 he moved to Nashville, TN to pursue his songwriting career collaborating with other songwriters including, Tom Kimmel, Sally Barris, Don Henry, Pat Alger, Hal Ketchum, Kim Carnes, Josh Leo, Pierce Pettis, Kim Richey, and Allen Shamblin
His years as a Troubadour is measured by his impressive 28 Albums