A luxury event bringing food & conversation together; curated for a one of a kind experience.
About this event
I'm excited to invite you to Marbie's Kitchen's first ever supperclub; where you'll enjoy a three-course meal, inspiring and authentic conversations with some special guests and a whole lot more! This time, our theme is "Make Room" and we'll be focusing on creating space internally for the things we truly desire.
We will be taking inventory of the mindsets we have around finances,well-being and business, that can often serve as a hindrance to our growth & development.
Essentially, we're Spring cleaning in October.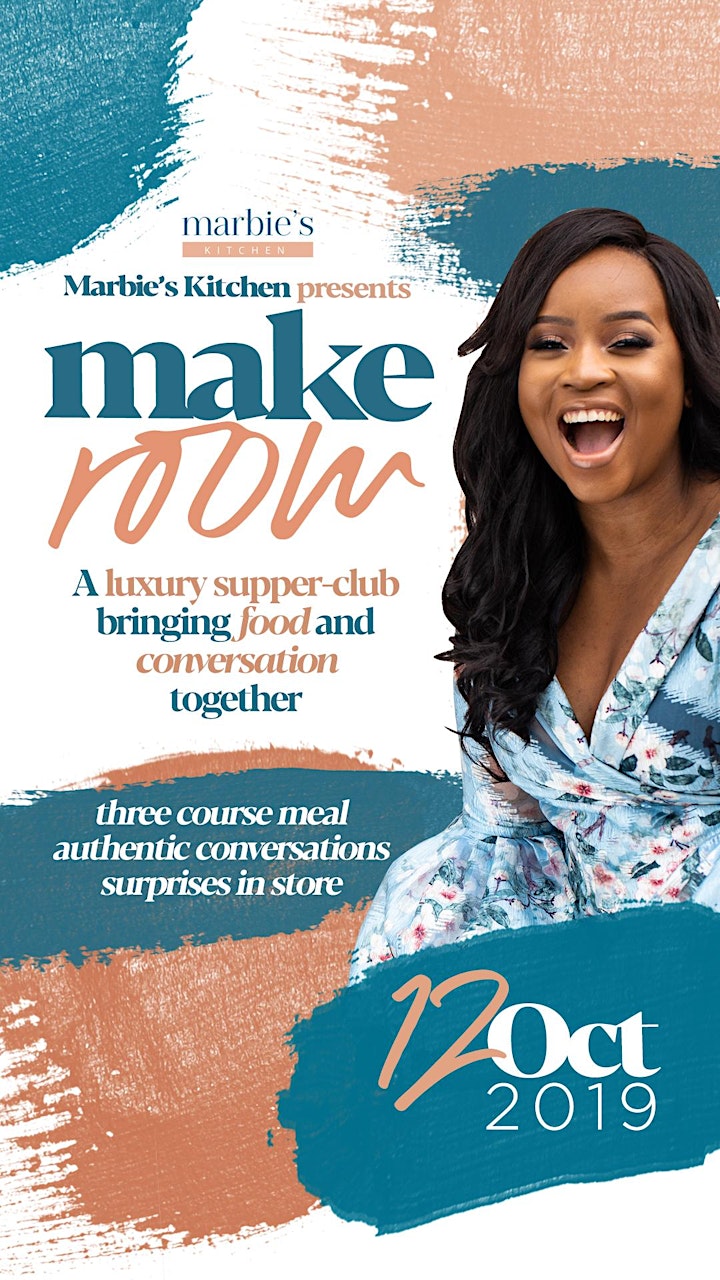 MENU
You'll get to enjoy a few of my favourite things accompanied by some amazing wine & drinks.
Starter
- Marry Me Marinade Chicken, Plantain Croquettes, Summer Salad Garnish with Scotch Bonnet Jam
Main
- Lamb Shank Tagine with Moroccan-style Steamed Couscous
Dessert

- Salted Caramel Cake, Chocolate Soil, Ganache, Vanilla ice cream
During checkout, please advise us of any food intolerances prior to the event and we'll make sure you're catered to.
SPEAKERS
During the event, we'll be having amazing conversations with some special guests. Each person has been chosen based on their expertise in a particular area.
Melanie Eusebe (Finances)
Melanie is an entrepreneur, author and co-founder of the Black British Business Awards. Featured on the BBC, Huffington Post, Sky News and many more, Melanie has a wealth of insight to offer on money mindsets. Through her content & membership forums, she is an advocate for economic empowerment and financial wellness one step at a time.
Sutra (Well-being)
Sutra is a writer, an artist and a medical doctor who is passionate about wellbeing & holistic health. Through her work with Poll Therapy, Sutra encourages introspection and also focuses on vulnerability that creates space for community healing, sharing our stories and rising out of the challenges we all face.
Fioye Laniyan (Business/Career)
As co-founder of Virgos Lounge, Fioye Laniyan has a wealth of experience in running a successful business. After leaving her HR role in 2011, Fioye worked with her sister to launch the fashion brand that is known and loved across the world, with a signature style that is now a staple for many celebs, stylists and wedding guests.
Debra Chosen (Your Host)
Debra Chosen is a writer, blogger and podcast host of Trusting the Process. Through her platforms, she enjoys celebrating black women and sharing their stories to encourage us all, as well as curating meaningful conversations in authentic spaces. Debra will be our host for the day, setting the mood/tone & keeping our spirits high -we promise, you're in for a treat!
More special guests will be announced soon!
IMPORTANT INFORMATION
Your ticket price includes food & drink throughout the event.
No tickets will be sold on the door, this is a pre-ticketed event
Dress Code: Dress like you're heading to a luxury experience!
Date: Saturday 12th October 2019
Ticket Price: £45
Location: Exhibition Hall, Lighthouse Camberwell, Camberwell Road, SE5 0DP
Closest stations: - Denmark Hill (Overground), Elephant & Castle (Underground), Brixton (Underground), Oval (Underground)
Parking - Free On site parking
Time: Doors open at 1.30pm. Each course will be served on time & it's plated so please do not be late as you'll miss your food.