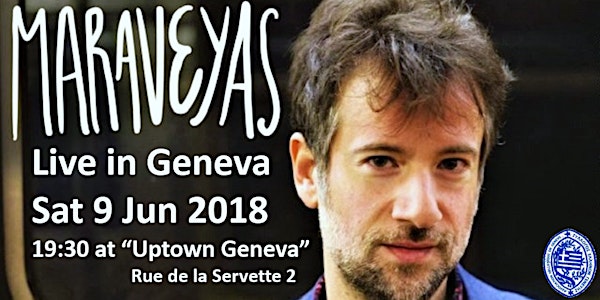 Maraveyas Live in Geneva - 9 June
When and where
Location
Uptown Geneva 2 Rue de la Servette 1201 Genève Switzerland
Description
Maraveyas Live in Geneva, Saturday 9th of June 2018, Uptown Geneva at 19h30
Kostis Maraveyas needs little introduction. The most favorite coach of the Voice of Greece is an artist who loves to express himself through his music and enjoys performing as much as his loyal audience love to see him perform! Armed with his smile and charm but also his tremendous talent and beautiful music Kostis and his band will bring us together with beloved songs, old and new, in a magical atmosphere at the Uptown Geneva stage. Let him take you to faraway lands, with the joy and optimism of his songs and stories in this amazing concert in the heart of Geneva!
Please make sure you book your tickets as soon as possible.
Where to buy your tickets:
- Online with Credit Card (no PayPal account required): https://genevagreeks.ch/maraveyas-tickets/ (electronic ticket will be sent to you by email within 24 hours)
- Online with PayPal: https://maraveyas-geneva.eventbrite.com
- Melia Delices Grecques, rue du Grand-Pré 57, 1202 Genève, tel. 022 733 09 74
- Maximum Value, Avenue Cardinal-Mermillod 46, 1227 Carouge, tel. 022 735 41 54
Presale of tickets:
- Student/Youth Ticket: 30.- CHF
- Presale Ticket (Rows > 5): 50.- CHF
- Front Seat (Rows 1-5): 70.- CHF
Tickets at the door: 60.- CHF
Doors open at 19:00.
Association Hellénique de Genève - Σύλλογος Ελλήνων Γενεύης:
info@genevagreeks.ch
With the support of:
- Maximum Value - www.maximumvalue.ch - Avenue Cardinal-Mermillod 46, 1227 Carouge, 022 735 4154
- The MindEscape - www.themindescape.com - Rue Butini 15, 1202 Genève, 022 900 1419
- MySmile Cabinet Dentaire - www.mysmile.swiss - Alexandre-Gavard 30, 1227 Carouge, 022 300 0077