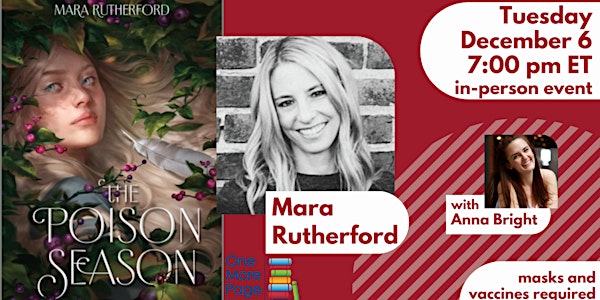 Mara Rutherford Discusses THE POISON SEASON with Anna Bright | In-store
Mara Rutherford will join us in the store to celebrate the release of her new novel, THE POISON SEASON, this December!
When and where
Location
One More Page Books 2200 North Westmoreland Street Arlington, VA 22213
About this event
This will be an in-person event. Proof of vaccine will be required.
Mara Rutherford will join us in the store to celebrate the release of her new novel, THE POISON SEASON, this December! Our own Anna Bright will join her in conversation.
Mara Rutherford began her writing career as a journalist but quickly discovered she far preferred fantasy to reality. Originally from California, Mara has since lived all over the world with her diplomat husband and two sons. A triplet born on Leap Day, Mara holds a Master's degree in Cultural Studies from the University of London. Her favorite days involve books, tea, and Mishka (a small red muppet often mistaken for a dog). She is the author of the CROWN OF CORAL AND PEARL duology, LUMINOUS, and THE POISON SEASON.
Anna Bright is an indie bookseller by day and an author by night who still gets in trouble for reading when she's supposed to be doing other things. When not hiding out among books, she loves concerts, roller coasters, and adventures at home and abroad. Anna lives with her husband and cat in a charming cobblestoned neighborhood in Washington, DC.
Registration is free. Order signed copies of THE POISON SEASON on our website.
COVID Safety Precautions for Author Events at One More Page Books
As always, we continue to take the safety of our customers, authors and staff seriously. We continue to following these measures to promote the health and well-being of attendees and staff at in-person events at One More Page Books:
1) All attendees will be required to show proof of vaccination status to join us for in-person author events at One More Page Books. Registration is required via the website, including confirmation that you are vaccinated. Please be prepared to show your vaccine card, photo thereof, or government-provided digital record. (If you live in VA, you may be able to get your QR code record here.)
2) Because our store is small, with no windows, masks will also still be required of all attendees. We leave it to the discretion of authors to keep or remove their masks while speaking to the crowd. Everyone will again be wearing masks during book signings.
3) We will also limit the number of attendees, again because of the size of our space. We will close registration once 50 people have signed up to attend. Once registered, if you decide you can no longer attend, please update your registration or let us know so we can update our numbers.
4) If authors are signing books as part of the event, we will manage the lines with a wristband system. Please follow the instructions given at the conclusion of the author talk. Masks are required throughout the event.
If you are experiencing any COVID symptoms or know of a recent exposure, we ask that you do not attend any in-person events.