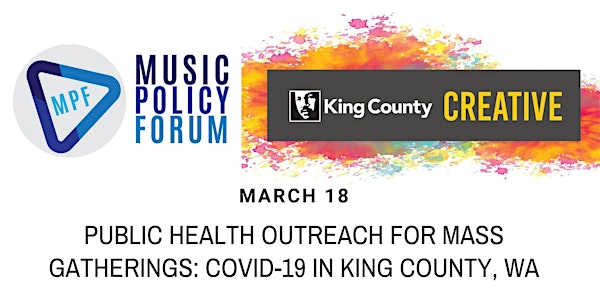 Mar. 18: Public Health Outreach for Mass Gatherings: King County, WA
Kate Becker, Creative Economy Strategist for King County, WA, shares experiences in coordinating Public Health Outreach for Mass Gatherings
About this event
Last Friday, Music Policy Forum (MFP) Board Member Kate Becker, the Creative Economy Strategist for King County, Washington, hosted a conference call to share her experience in coordinating Public Health Outreach for Mass Gatherings in response to the COVID-19 virus.
In response to numerous inquiries, we are hosting a second meeting – this one via zoom videoconference – that is intended for interested people in our networks who were not able to join that first session. It will be Wednesday, March 18 at 4 PM Eastern (1 PM Pacific).
We will cover similar ground to last week's conference call with some updates. Of course, if you attended last Friday's meeting you are still welcome to join – just be aware the content will have a similar focus on how King County is responding to the virus, what they are telling their music venues, businesses, artists and venues and generally share her perspective on lessons learned throughout this process. Feel free to circulate this invitation across your organizations and networks.
Huge thanks to our friend Gigi Johnson who is helping navigate our webcasting platform. With Gigi's help, the session will be recorded and available to other interested parties who are not available at that time.
WHAT: Conference call with King County Creative Economy Strategist Kate Becker, Music Policy Forum co-founder Michael Bracy and Dr. Gigi Louisa Johnson from the UCLA Herb Alpert School of Music. Kate will lead a discussion on King County's efforts to date and answer questions as time allows.
WHEN: Wednesday, March 18 at 4 PM Eastern, 1 PM Pacific
PLEASE RSVP so we know both how many spots to plan for and who wants the link to the recorded replay.
*****
Option 1: click http://bit.ly/MassGatheringsKingCounty
You should be prompted by Zoom to update your download software briefly, and then will be added to a waiting room until we start.
Option 2: Join Zoom Meeting - https://us04web.zoom.us/j/531552596
Meeting ID: 531 552 596
Option 3: One tap mobile (phone only)
+13462487799,,531552596# US (Houston)
+17207072699,,531552596# US (Denver)