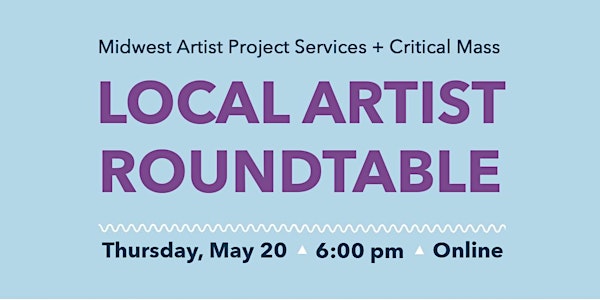 MAPS + Critical Mass present Local Artist Roundtable
Join MAPS and Critical Mass for a virtual roundtable to discuss the impact of the pandemic and reimagining life after with local artists.
About this event
Midwest Artist Project Services (MAPS) and Critical Mass are partnering to present a virtual local artist roundtable on Thursday, May 20 at 6:00 pm. The conversation will center on the impact of the pandemic on artists and reimagining creative life after. It will ask the following questions: How have artists adapted their practices? What are valuable resources? How do artists think creatively about the future, especially reimagining systems? It is our sincere hope this is a meaningful opportunity to share stories and ideas, connect, and deeply reflect. 
The conversation will be moderated by Vanity Gee—writer, musician, cultural producer, mother—and includes the following panelists: 
Simiya Sudduth, Visual Artist and Wellness Practitioner
Sahara Sista S.O.L.S will capture the conversation with live poetry that she will share at the conclusion of the roundtable. 
Submit topics for discussion or questions for the panel in advance by emailing info@midwestarts.org. The virtual discussion is free to attend, but you must register in advance.
About the Panelists
Vanity Gee is an explorer who finds her joy in being a multi-instrumentalist, writer, bibliophile, and mother. She is also an arts administrator, advocate for young people, and music educator. Throughout her career, Vanity has worked in various capacities for arts and culture organizations including COCA, the Saint Louis Art Museum, Theaster Gates' Rebuild Foundation, Craft Alliance Center for Art + Design, Youth Speaks, and BRIC Arts Media. During her studies, she journeyed through music, economics, and education, resulting in a BS and an MS in Economics and an Arts-in-Education EdM. Though the library is pretty much the only place Vanity truly feels at home, her roots go back to Southern Illinois. She currently resides with her husband and sons in St. Louis, Missouri. Instagram: @vanitykgee I Website: vanitykgee.com.
As a designer, Jayvn Solomon's intent resides on a spectrum between story, impact, progress, and connection. Hence, his work often takes on many forms! At times, he works with businesses and organizations to design murals for their space. Other times he deals with complex projects that take on specific, nuanced challenges. No matter the project, his process is rooted in understanding nuance, pushing the limits of what progress looks like, environmental sustainability, and social equity. Instagram: @jayvnize I Twitter: @StLoutopia.
Simiya Sudduth is a mother, multidisciplinary artist, and wellness practitioner. She maintains a fluid creative practice that explores the intersections of social practice, health, wellness, ecology, social justice, and spirituality. Her expansive creative practice ranges from creating illustrations to artist-farming and experimental sound healing performances. She holds several wellness credentials as an Usui Reiki Master, full spectrum birth worker, yoga and meditation teacher in addition to her formal visual arts background in sculpture and studies in landscape architecture. Her current studio practice is centered on several public art projects. Simiya is the founder of Tha Muthaship Mobile Wellness Studio + Urban Farm and the co-founder of the Afrofuturist Farm Collaborative. Simiya is a 2021 Teaching Artist in Residence at CAMSTL, and she will be attending a residency at ACRE this summer. Her recent awards include the 2021 Critical Mass Award, 2021 Future's Fund Grant, Women's Studio Workshop Artist Relief Grant and ACRE's Artist-Parent Scholarship. Instagram: @sagemoondoula and @tha_muthaship.
Rachel Youn is an artist living and working in St. Louis. They use sculpture and new media to poke fun at hierarchical narratives embedded in objects and lifestyle. Youn received their BFA from the Sam Fox School of Design & Visual Arts at Washington University in St. Louis in 2017. They are a recipient of the Regional Arts Commission Artist Support Grant, the Vermont Studio Center Fellowship, and the 2020 Great Rivers Biennial Award. Instagram: @rachelyoun.
About Critical Mass for the Visual Arts
Critical Mass for the Visual Arts is a nonprofit, self-formed visual arts collaborative dedicated to promoting, enhancing and initiating contemporary visual art in the St. Louis region. criticalmassart.org
About Midwest Artist Project Services
Founded in 2012, MAPS offers low-cost resources for working artists in all disciplines, collectives, and emerging arts organizations in the St. Louis region and beyond. MAPS aims to promote new and sustainable growth in the arts through fiscal sponsorship, consultation, education, and providing access to best solutions for the current issues that affect artists. midwestarts.org