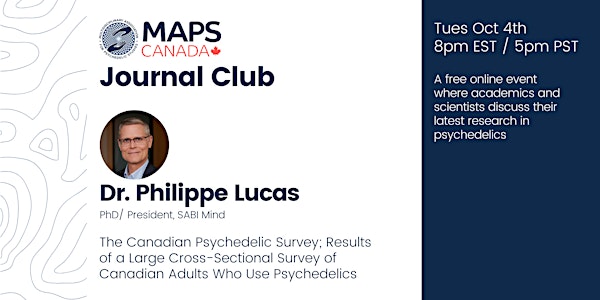 MAPS Canada October Journal Club (with Philippe Lucas PhD, SABI Mind)
The Canadian Psychedelic Survey; Results of a Large Cross-Sectional Survey of Canadian Adults Who Use Psychedelics
About this event
At this MAPS Canada Journal Club, Dr. Philippe Lucas, the president of SABI Mind, will present a study that he and his team conducted on the use of psychedelics in Canada. Dr. Philippe will discuss the results of their study, which gathered data from 2393 respondents, and will highlight some of the key findings. They will also discuss the implications of their findings and how they may help inform policy developments related to access to psychedelics and treatment options for both patients and physicians. This study provides valuable insights into the use of psychedelics in Canada, and other jurisdictions and its associated impacts on public health and the use of other substances and will be of interest to anyone who is interested in this topic.
Dr. PhilippeLucas
President of SABI Mind
Philippe Lucas PhD is a psychedelic and cannabis researcher and President of SABI Mind, a clinic group providing access to psychedelic-assisted therapy in the treatment of mental health, pain and problematic substance use. Philippe was founder and Executive Director of the Vancouver Island Compassion Society, one of Canada's first medical cannabis dispensaries, a founding Board member of the Multidisciplinary Association of Psychedelic Studies Canada, and co-founder of the Victoria Association of Psychedelic Studies. More recently he worked as VP, Global Patient Research & Access at Tilray, where he oversaw a comprehensive international clinical and observational cannabis research program.
Philippe has received a number of accolades for his patient research and advocacy, including the Americans for Safe Access Researcher of the Year Award 2021, the Cannabis Council of Canada Lifetime Achievement Award, and the Queen Elizabeth II Diamond Jubilee Medal.