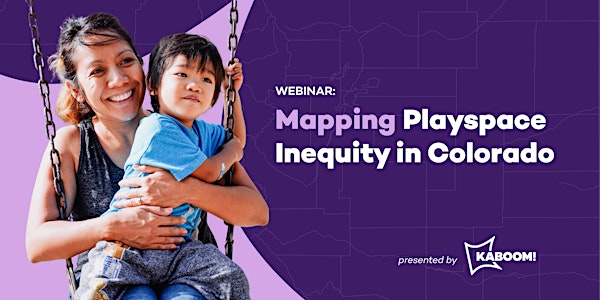 Mapping Playspace Inequity in Colorado
KABOOM! will share the results of a recent mapping project that identified inequities in playspace access and quality in Colorado!
Date and time
Starts on Thursday, July 13 · 10am PDT
About this event
Does your neighborhood have a quality playground within reach? The answer might depend on your socio-economic status, race, and ethnicity. In this webinar, KABOOM! will share the results of a recent playspace mapping project that identified inequities in access and quality across three communities in Colorado.
The findings include recommendations and a new index developed by KABOOM! that estimates playspace inequity using nationally available data across 21 population, inequity, and environmental indicators. This project and the interactive report were completed by KABOOM!, North Carolina State University, and College of Charleston with the generous support of The Colorado Health Foundation.
The three communities included in the report are East Colfax Corridor (i.e., the area between downtown Denver and City of Aurora), Otero County and Rio Grande County (two rural counties in Colorado).
Join Isaac Castillo, Senior Advisor of Learning and Evaluation and Collen Coyne, Senior Analyst of Evidence and Insights with KABOOM! and Monique Johnson, Program Officer of the Locally-Focused Communities Program at the Colorado Health Foundation, as they facilitate a conversation about the overarching goal of the mapping project and its findings followed by a Q&A session.