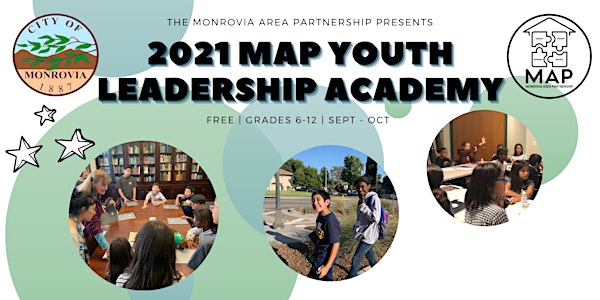 MAP Youth Leadership Academy
The Monrovia Area Partnership (MAP) is a program that builds a strong community by creating a network of strong individuals.
When and where
Location
City of Monrovia 415 South Ivy Ave Monrovia, CA 91016
About this event
WHAT IS THE MAP YOUTH LEADERSHIP ACADEMY?
Through education, training, networking, and activism, Monrovia Area Partners work together to make Monrovia a fun, safe, and vibrant place to live. MAP hosts workshops & events to train and guide community members who are ready to be community leaders. The MAP Youth Leadership Academy Program is designed specifically to help youth learn, develop and grow so they, in turn, can take active roles in the health of their community.
CLASS SCHEDULE & TOPICS:
The 8-week Youth Leadership Academy starts on September 8 and goes until October 27. Every class is held on Wednesdays from 3:30 PM - 5:00 PM. Participants must be in grades 6-12.
Class 1 | Get to Know MAP & Each Other
Class 2 | Caring for Yourself & Others
Class 3 | How to be a Leader
Class 4 | Tour of Monrovia
Class 5 | Getting to Know Monrovia PD & FD
Class 6 | Public Speaking Do's & Don'ts
Class 7 | Career Day
Class 8 | Action!
QUESTIONS?
Please email map@ci.monrovia.ca.us