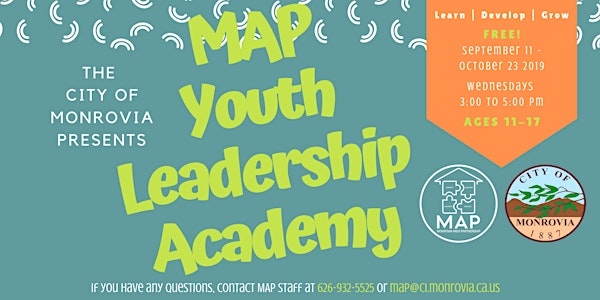 MAP Youth Leadership Academy
DON'T WAIT TO BE TOLD HOW TO CHANGE THE WORLD!
When and where
Location
Monrovia Public Library | Library Community Room 321 South Myrtle Avenue Monrovia, CA 91016
About this event
SEPT- OCT 2019 | WEDNESDAYS | 3:00 PM - 5:00 PM | AGES 11-17 | FREE!
The MAP Youth Leadership Academy has been created to assist teens in...
Learning
Developing
Growing
We start by exploring how we ourselves are leaders (even if we don't know it, yet!); then move on to seeing how other people use their skills to make a difference. After learning from others, the Academy moves on to how we as a community can work together and then we end the Academy by putting all that we learned into ACTION.
WHAT DO YOU GAIN FROM THIS?
Networking with various City officials, staff and community organizations
Networking with various City officials, staff and community organizations
Develop leadership skills
Volunteer and service opportunities
Lots of fun and new friends
SCHEDULE & MEETING TOPICS
September 11 | All About You + Your Community
September 18 | Walking Tour of Monrovia
September 25 | The Volunteer and the Importance of #SelfCare
October 2 | Meet Your Police Department + Conflict Resolution
October 9 | Resumes and Interviews
October 16 | Public Speaking
October 23 | ACTION!
At the end of this wonderful process, we will have a graduation ceremony at the Monrovia City Hall in the City Council Chambers on November 5, 2019!
CONTACT
Email | map@ci.monrovia.ca.us
Phone | (626) 932-5525
Website | cityofmonrovia.org/MAP
Facebook | Facebook.com/MonroviaAreaPartnership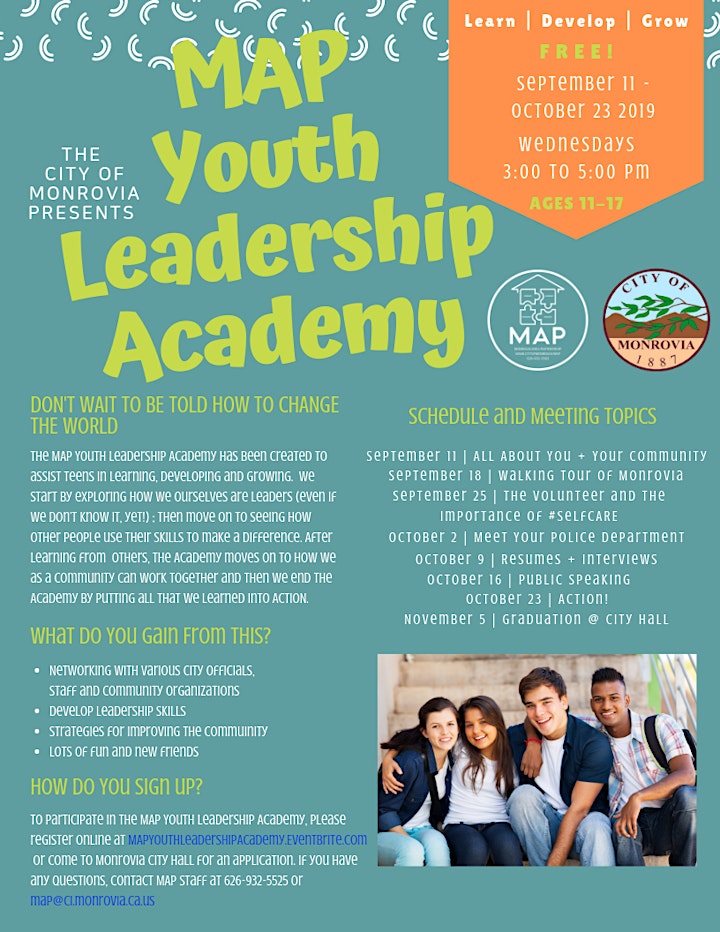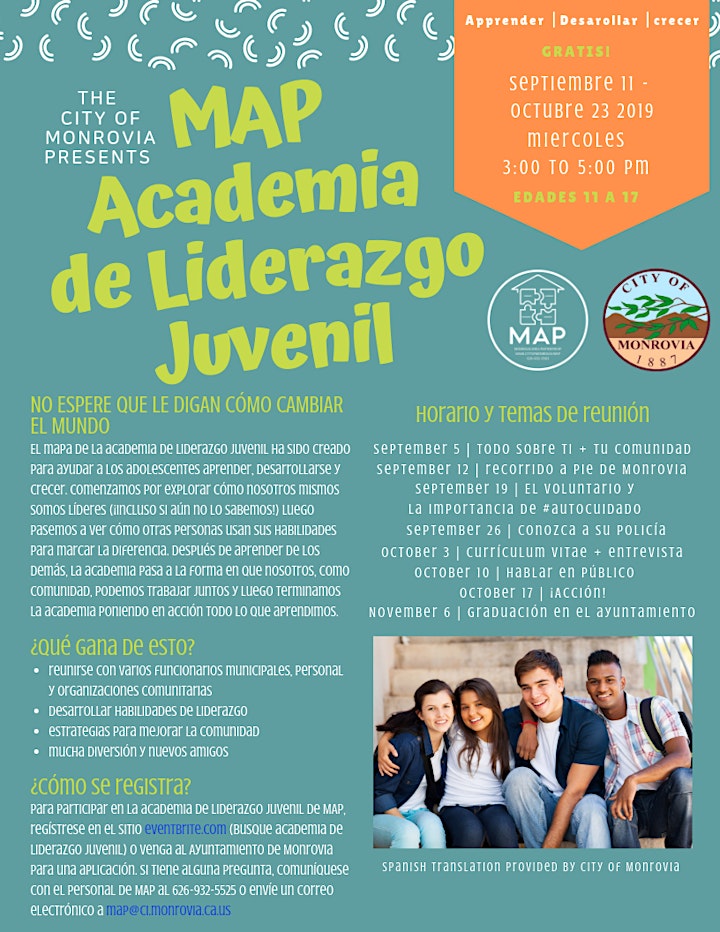 CHECK OUT LAST YEARS 2018 YOUTH LEADERSHIP ACADEMY!