Description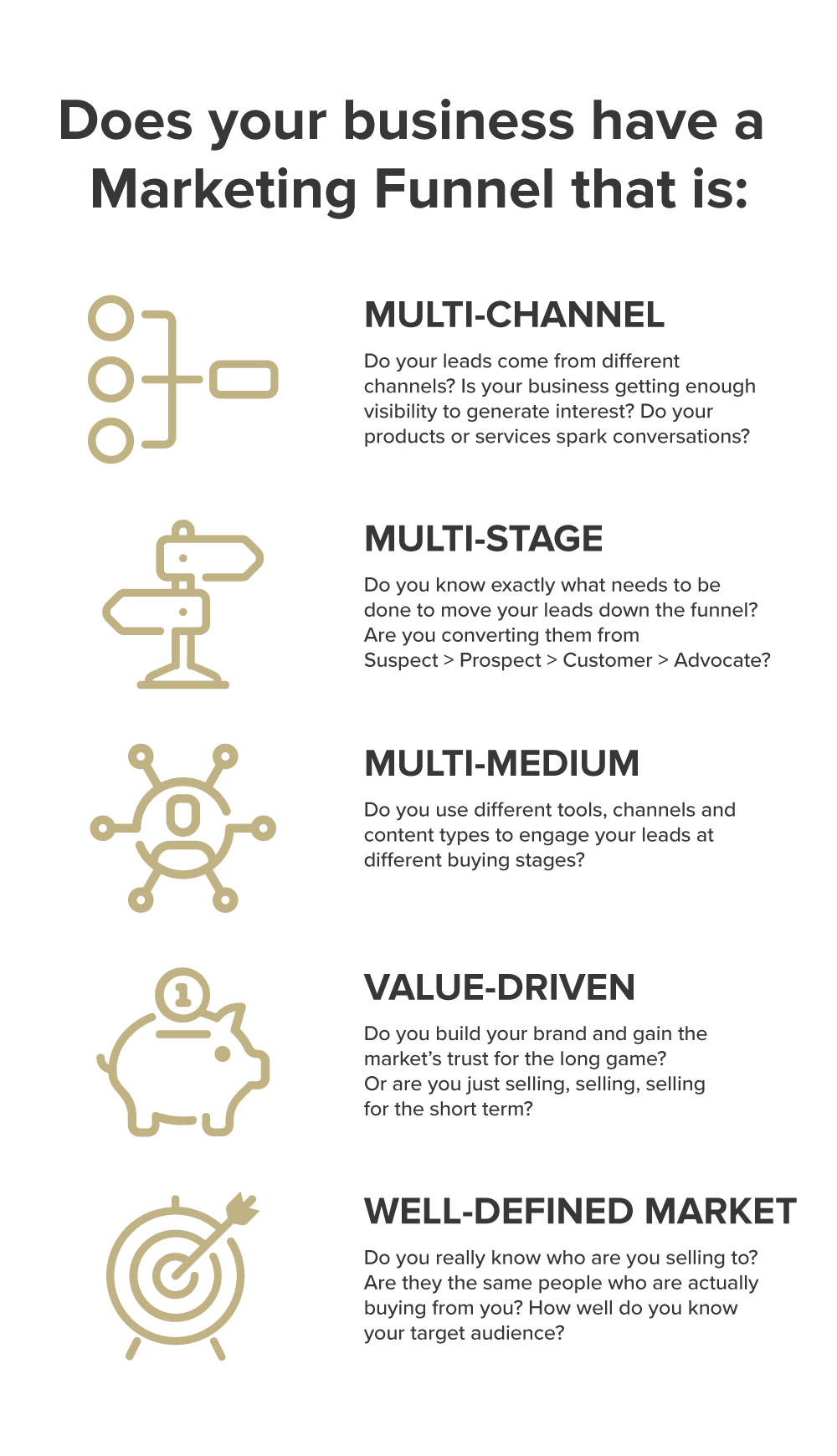 Over our years of working with clients, we realized most businesses suffer marketing problems like:
Customers only buy once
No proper systems to follow-up or keep-in-touch with prospects
No "pull" factor to bring in sales
Lack of online presence and branding
Business owners and founders are experts, but not the authority, in their industry
Don't know how to set marketing budget, or how to define costs-per-acquisition
Tried working with lead generation agencies with poor or no results
Tried hiring "experts" but end up not creating desirable results
95% of them also have one thing in common:
They do not have a clear marketing strategy or sales funnel.
And one of the first things we do with them? Map Out Their Marketing Funnel.
Which is what we are going to do with you in this half-day workshop.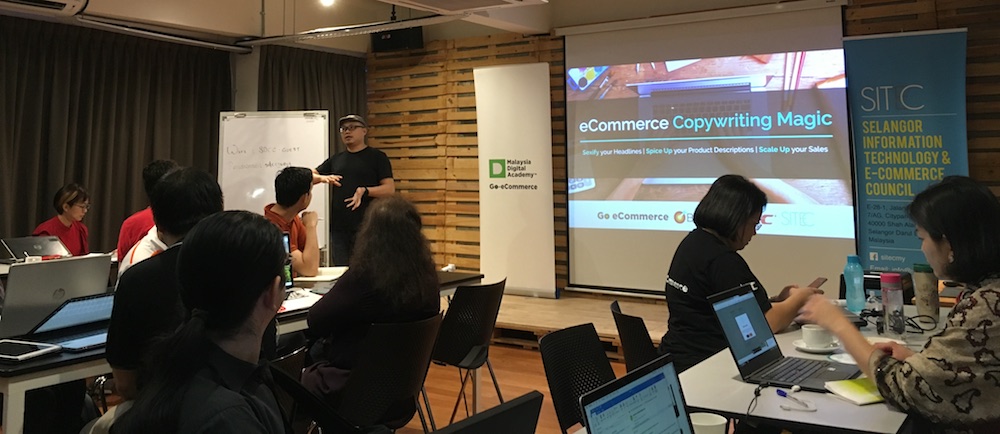 WORKSHOP BENEFITS
Craft a marketing funnel that works for you, complete with the key components for every stage
Know what to outsource, what to insource, what you can do without, and what you must never, ever let go of
Explore a myriad of mediums, channels, technologies and tools that you can use to build your funnel immediately
Define your target markets accurately, get into their psyche and know how to attract them
Boost your brand's visibility and start conversations that lead to enquiries
Generate interest for your business offerings by utilising the right content marketing strategy
Walk home with a marketing funnel that you can implement immediately!
BONUS FOR THIS SESSION ONLY!
Up-close and Personal with Dato James Foo, who has founded over 80 startups, on crafting your niche, designing a compelling offer, or just anything (on business please) you want to ask!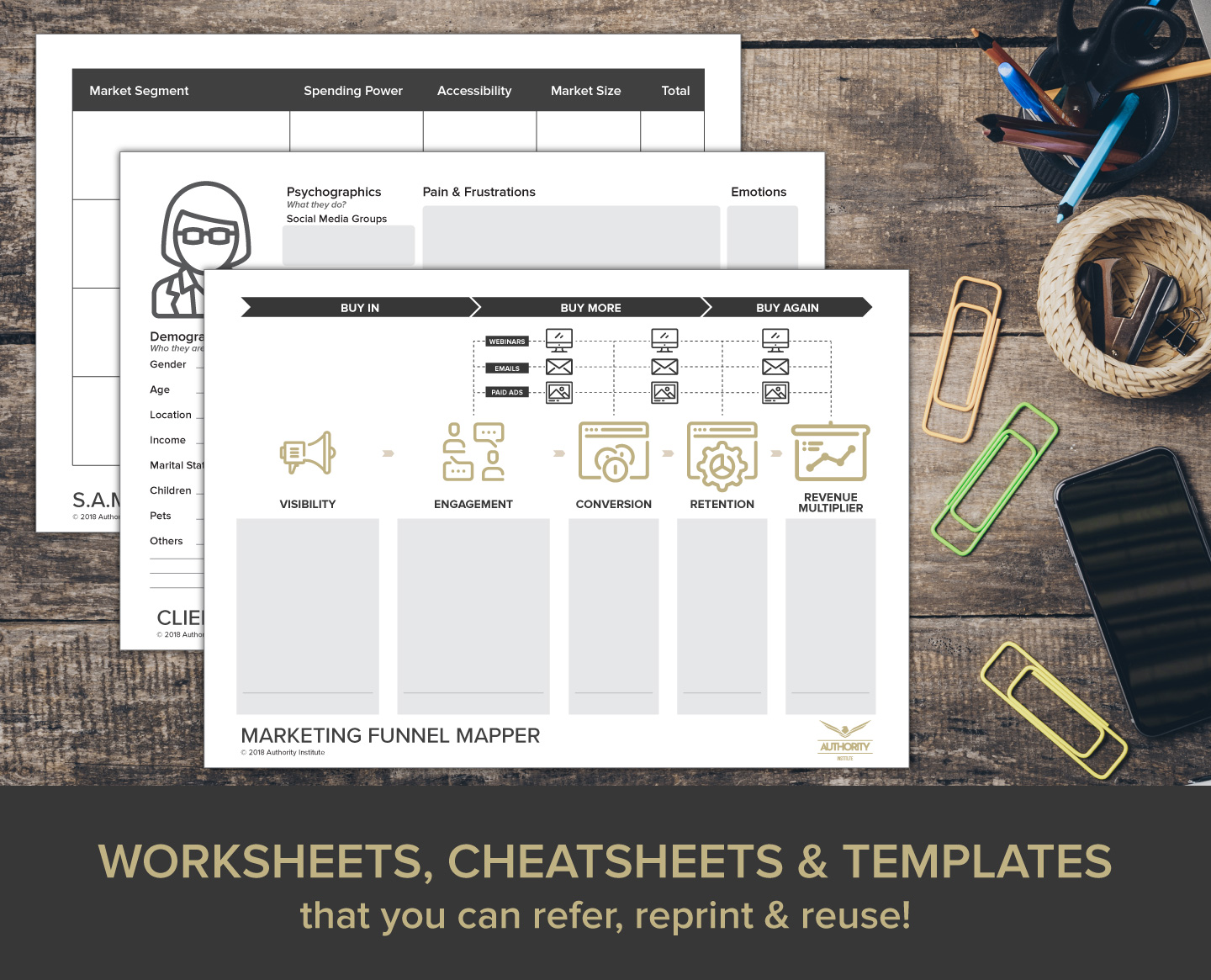 WORKSHOP CONTENT
0900 | REGISTRATION
0930 | FUNDAMENTALS, FOUNDATIONALS & FRAMEWORKS
Context Setting & Fundamental Principles
The Triad of Modern Marketing
The Authority Amplifier Framework
Your Marketing Dream Team
Sales Flow Crash Course
1000 | YOUR PERFECT CUSTOMER AVATAR
The Rich is in The Niche
The S.A.M. Test
Getting To Know Your Customers (Demographics vs. Psychographics)
Identifying Your Customers' Pain/Pleasure, Problem/Solution, Dominant Emotions, Value-Add

Activity: Defining Your Ideal Customers

Activity: Market Sizing & Insights
1100 | FUNNEL OVERVIEW
The Modern 5-Stage Funnel
Marketing Tools & Channels (Traffic vs. Non-Traffic)
Content Format
Activity: Funnel Mapping
Key Metrics & Cost Calculation
1145 | CONTENT STRATEGY
Content Matrix x2
Content Ideation for Your Avatar
Own vs. 3rd Party
The Four Content Gap
1230 | BONUS SESSION - LESSONS FROM STARTING OVER 80 STARTUPS BY DATO JAMES FOO
1300 | Q&A & WRAP UP
1330 | NETWORKING & BYE!
LEAD FACILITATOR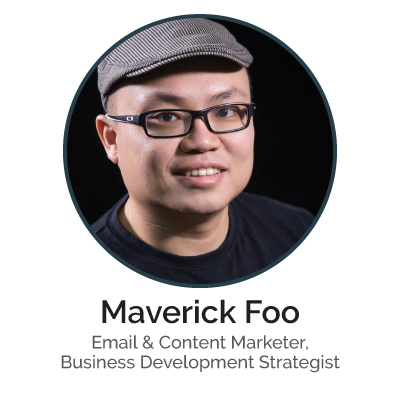 Hi, I'm Maverick, and over the past 15 years, I've been involved in marketing, especially for B2B & high-ticket B2C items. I've worked with and marketed high profile individuals like America's Premier Leadership Authority, Dr. John Maxwell, Renowned Marketing Professor Dr. Philip Kotler, World's #1 Small Business Guru Michael Gerber, International Business Coach Brad Sugars, The Trainer's Trainer Bob Pike, The Man Who Would Not Be Defeated, W Mitchell and more.
I've also worked with local and regional trainers like Richard La Faber and Dr. Billy Kueek, helping them boost their brand in their target markets and establish their authority in their space.
On top of that, I've also the privilege to work with MNCs and local SMEs in the areas of marketing and talent development.
Combining my years of marketing across different channels (print ads, email, content, social media and events), together with my profound interest in applied-marketing technologies, I'll let you map out your marketing funnel that is practical for you, something you can act on immediately. And I'll be using a few frameworks and templates, because it speeds up the learning, and you can have immediate clarity on the big picture.
Looking forward to work with you and your team at the workshop.

FAQ:

Q: Is this a preview to something another (pricier) program? Are you gonna upsell me something?
A: No, no upsells. Can't stop you from buying us coffee though. :) Jokes aside, Authority Institute is a relationship marketing consultancy, and we work with clients who usually do not have a marketing department, or wish to outsource some of the functions to us. We may be able to help you in those areas of your business. If you like what we do, and more importantly if you like us, then let's talk.
Q: Am I gonna walk out with a marketing funnel/framework that I can use immediately?
A: Yup, that's the idea. Of course, you will need to refine it after testing a bit here and there, but I dare say it's at least 80% complete. You will also have the building blocks necessary to build other marketing funnels for your other/future products and services.
Q: Will you be giving out any notes or slides?
A: Yes, there will be a slide download for sure, and we'll print some worksheets and templates for you to use during the session. You'll have the PDF copies of those worksheets so you can use them again.
Q: Hmph, I kinda like the way you guys wrote this copy. Do you provide copywriting services?
A: Hey, thanks for the compliment. Yeah, we do. Let's talk more at mav@authority.institute.