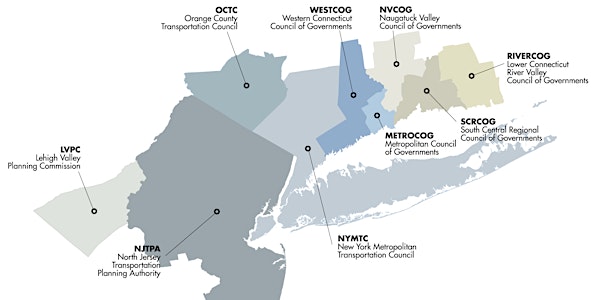 MAP Forum's Multi-State Freight Working Group Meeting - 2nd Meeting
By New York Metropolitan Transportation Council
Date and time
Tuesday, April 3, 2018 · 10:30am - 12:30pm EDT
Location
North Jersey Transportation Planning Authority One Newark Center, 17th floor Newark, New Jersey 07102
Description
The Metropolitan Area Planning (MAP) Forum announces the second meeting of its Multi-State Freight Working Group on April 3, 2018 at 10:30 am. at the North Jersey Transportation Planning Authority (One Newark Center, 17th Floor, Newark, N.J. 07102).
For security purposes, anyone interested in attending in person should RSVP no later than noon on Monday April 2nd. Please be sure and have a photo ID at the meeting location.
---
MEETING AGENDA
1) Welcome and Introductions (10:30 am - 10:40 am) – Mary K. Murphy, NJTPA
2) Organizational Issues (10:40 am – 10:50 am)
a) Draft Charge to the Working Group – Gerry Bogacz, NYMTC
3) Presentations on Regional Activities (10:50 am – 11:30 am)
a) National Freight Fluidity Monitoring Program Implementation – Marygrace M. Parker, I-95 Corridor Coalition
b) Planning for Freight Development – Becky A. Bradley, AICP, Lehigh Valley Planning Commission
4) Roundtable Update of Freight Planning Activities (11:30 am - 12:20 pm) – Group
a) State Departments of Transportation
b) Metropolitan Planning Organizations
c) Federal agencies
d) Other agencies/organizations
5) Future Working Group Activities (12:20 pm – 12:30 pm)
6) Adjourn (no later than 12:30 pm)
Please note that the meeting also will be available as a webinar if you cannot attend in person:
https://njtpa.webex.com/njtpa/j.php?MTID=m46a4d7befa2a752bdd698fbc26a9110f
Meeting number (access code): 734 307 262
Meeting password: BkWmKb8p
---
The MAP Forum is a consortium of metropolitan planning organizations and councils of government in New York, New Jersey, Connecticut and Pennsylvania that have signed a Memorandum of Understanding for the coordination of planning activities in the multi-state metropolitan region.
About the organizer
The New York Metropolitan Transportation Council (NYMTC)  is a regional council of governments that is the Metropolitan Planning Organization for New York City, Long Island and the lower Hudson Valley. Our 10-county region includes the five boroughs of New York City as well as Nassau, Suffolk, Westchester, Putnam and Rockland counties.