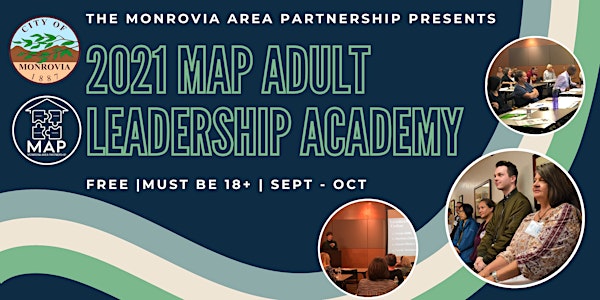 MAP Adult Leadership Academy
The Monrovia Area Partnership (MAP) is a program that builds a strong community by creating a network of strong individuals.
About this event
WHAT IS THE MAP ADULT LEADERSHIP ACADEMY?
The Adult MAP Leadership Academy was formed to educate our residents about City Government and how it functions, to provide leadership skills and resources to assist them in becoming connected and active in the community. To be part of positive solutions. This academy is held annually from September to October for eight consecutive Thursdays and provides graduates with a solid foundation of knowledge to jump-start their work in the community. Many MAP graduates (MAP Neighborhood Leaders) have and/or are currently serving in the community in various roles in their neighborhoods, in various organizations, on boards and commissions, and City Council. We have 290+ MAP Adult Leaders.
CLASS SCHEDULE & TOPICS:
The 8-week Adult Leadership Academy starts on September 9 and goes until October 28. Every class is held on Thursdays from 7:00 PM - 9:00 PM.
Class 1 | Get to Know MAP & Each Other
Class 2 | History of Monrovia
Class 3 | How to be a Leader
Class 4 | Local Government 101
Class 5 | Get to Know Your Monrovia PD
Class 6 |Community Tools & Resources
Class 7 | Public Speaking in Local Government
Class 8 | Action!
QUESTIONS?
Please email map@ci.monrovia.ca.us