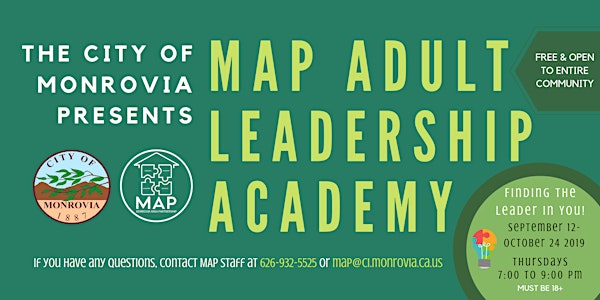 MAP Adult Leadership Academy
GET ACTIVE IN YOUR COMMUNITY!
When and where
Location
Monrovia Public Library | Library Community Room 321 South Myrtle Avenue Monrovia, CA 91016
About this event
SEPT- OCT 2019 | THURSDAYS | 7:00 PM - 9:00 PM | AGES 18+ | FREE!
The Monrovia Area Partnership (MAP) is a city program facilitated by Neighborhood Services Staff. One major goal of the MAP Program is to encourage residents' involvement in their neighborhood and in the community. Through the MAP Leadership Academy, we train residents to recognize and utilize city resources; provide leadership skills; and encouragement to become engaged in the community.
WHAT DO YOU GAIN FROM THIS?
Networking with various City officials, staff and community organizations
Develop leadership skills
Strategies for improving the community
Lots of fun and new friends
SCHEDULE & MEETING TOPICS
September 12 | MAP, Monrovia, & You
September 19 | Connecting in the Community
September 26 | Local Government
October 3 | Achieving Community Trust
October 10 | Tools & Resources
October 17 | Public Speaking & Facilitation
October 24 | Putting Theory into Practice!
At the end of this wonderful process, we will have a graduation ceremony at the Monrovia City Hall in the City Council Chambers on November 5, 2019!
CONTACT
Email | map@ci.monrovia.ca.us
Phone | (626) 932-5525
Website | cityofmonrovia.org/MAP
Facebook | Facebook.com/MonroviaAreaPartnership