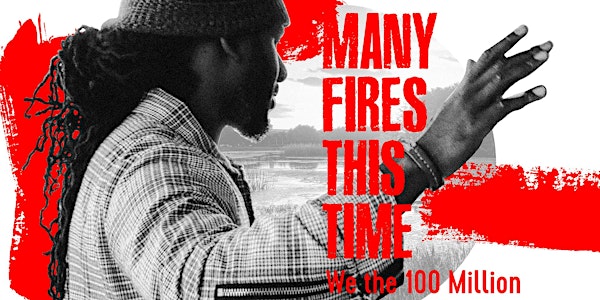 "Many Fires This Time: We the 100 Million" Film Premiere
Live online event hosted by PolicyLink, a national research & action institute advancing racial and economic equity by lifting up what works
About this event
REGISTRATION IS NOW CLOSED
"Many Fires This Time: We the 100 Million" is a poetic docudrama about the 1 in 3 Americans and counting, living in economic insecurity. It follows the journey of poet and activist A Scribe Called Quess? as he connects with fellow activist poets and the communities they represent from Oakland to Chicago to Kentucky to his hometown of New Orleans.
Along the way, we glimpse into the worlds of everyday people fighting for equity and justice in issues ranging from housing and gentrification, to police violence, to environmental crises and job security, to education, to LGBTQIA equality. In the spirit of the impending fire that James Baldwin prophetically spoke of in this country's last season of major uprising, "Many Fires" employs spoken word poetry, choreography and community interviews, to form a poetic love letter to the many revolutionary struggles aflame in today's America.
Produced by PolicyLink featuring poetry performances from Tongo Eisen-Martin, Kendria "K-Love" Harris, Misty Skaggs, Diana Cervera, Marvin White and A Scribe Called Quess?, along with a dynamic score from musician free feral and transformative movement from choreographer Jeremy Guyton, and directed by Jason R.A. Foster, this genre bending film is a game changer for our times.
Check out our social media toolkit and help spread the word!
This film was created with funding from a Hewlett Foundation 50 Arts Commission and funding from The Kresge Foundation.
What to Expect
Tune in for an evening full of offerings including:
Moderated panel with the poets featured in the film
Winning on Equity remarks from PolicyLink's CEO, Michael McAfee
Post event dance party on Twitch
PolicyLink believes that integrating arts and cultural strategies across all areas of equitable development is essential to unlocking the power and imagination of communities to forge their own paths to justice and liberation. "Many Fires" was born from an intentional creative and cultural process. Through stories, theater and poetry, community members grounded themselves in their commonalities and differences and their complex relationship to systemic inequities.
Join us for the premiere of the film that captures how stories, narrative and cultural power can help create a just and liberatory vision for today and for the future.
Together, we fight, we grieve, we lose, we dream, we create, we win, we celebrate, we thrive.
The event will be hosted on Airmeet. Once you register via Eventbrite, you will receive an access link.
ASL ACCESS PROVIDED