Description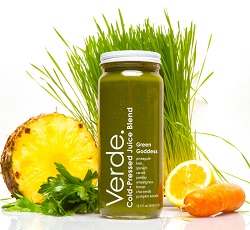 Verde Food Company is dedicated to organic and nutritious foods without compromise. The company supports local and sustainable farming and strives for zero-waste every day. Verde's cold-pressed juice is made from scratch with organic and locally grown produce, and their food is made from scratch, using only whole ingredients. You won't find preservatives, emulsifiers or empty calories on their menu.
There will be two 45-minute tours (9:00 am & 10:00 am) on Tuesday, October 24. See Verde's juice manufacturing and bottling processes, and explore Verde's zero-waste commitment. The minimum age accompanied by an adult is 13. Closed-toe non-slip shoes should be worn.
Register here for a Manufacturing Day tour and get a behind-the-scenes look at their facility!