Description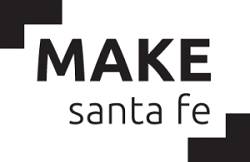 MAKE Santa Fe is a 501(c)3 non-profit community workspace where people can access tools, resources and workshops in order to make, repair, invent or create anything they can dream. It's like a gym, but with powerful tools instead of exercise equipment and skilled craftspeople instead of personal trainers.
There will be one 30-minute tour at 2:30 pm on Tuesday, October 24. The minimum age accompanied by an adult is 8. Tour participants will learn about the maker movement, how MAKE Santa Fe operates as an economic development and workforce training-oriented makerspac, and they will hear about the makerspace's operations and membership. The tour will showcase makerspace facilities, including technology demonstrations and a discussion of MAKE Santa Fe's vision for a co-manufacturing facility co-located with the upcoming Siler Yard project in Santa Fe.
Register here for a Manufacturing Day tour and get a behind-the-scenes look at their facility!

> And take an Extraordinary Structures tour at 10:30 am or 1:30 pm -- it's on the same property! RSVP here