Description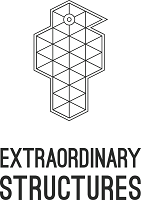 Extraordinary Structures is a design/build manufacturing company based in Santa Fe, New Mexico. The company employs a combination of proven CNC equipment and traditional techniques to produce beautiful, versatile structures, modular components for owner-assembled architecture and innovative flat-packable products.
Focused on producing tiny houses, small structures, sheds, studios, accessory dwellings, accessory buildings and outbuildings, Extraordinary Structures also has the capability to produce a wide range of furniture, utilitarian objects, architectural designs and art and exhibition elements.

There will be two 30-minute tours (10:30 am and 1:30 pm) on Tuesday, October 24. The minimum age accompanied by an adult is 8. Tour participants will hear about process, product iterations and target markets; and they will get to see the company's panelized construction panels, CNC router and CNC plasma cutter operations, as well as assembly demonstrations. Further discussion will explore the potential industry impact of digital fabrication on a local level, especially in tandem with mass customization and advanced, distributed manufacturing.
Register here for a Manufacturing Day tour and get a behind-the-scenes look at their facility!

> And take the MAKE Santa Fe tour at 2:30 pm -- it's on the same property! RSVP here