Description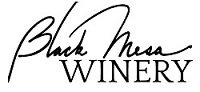 First and foremost is the winery's commitment to quality. Each small batch is carefully handcrafted, with bottlings running in the 30-60 case range. If the owners are not passionate about a release, they won't bottle it! Throughout their 20+ years, they have insisted on using only the finest New Mexico grapes, carefully nurturing them through the fermentation process with the utmost care, using more traditional than technological means.
Black Mesa Winery is proud to use only New Mexico-grown grapes for their wines, working with the greatest diversity of grape sources of any winery in the state. Some of their proprietary growers' vineyards produce ​only a few tons of fruit per year. Black Mesa's partnerships are with more than a dozen vineyards statewide, from the most northerly commercial vineyard in Abiquiu, New Mexico, to the "boot heel" outside El Paso in Las Cruces. All grapes are brought to the winery where they begin the long process from grape to bottle.
Half-hour tours followed by half-hour wine-tastings on October 28 start at 11:00 am, 2:00 pm and 4:00 pm. Visitors will walk through the winery production and barrel storage areas​, finishing in the vineyard and then the Tasting Room, where there will be six wine tastings -- all wines made at the winery from 100% New Mexico grapes.
Comfortable shoes are advisable, as walking surfaces are uneven. Minimum allowable age for tour is 12, and for wine-tasting it's 21 (must have photo ID)! Location tip: Once you're on Hwy 68, look for Mile Marker 15 .