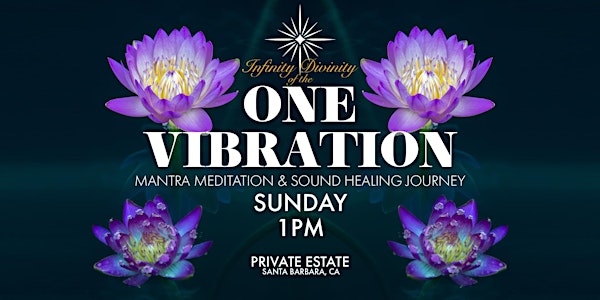 Mantra Meditation & Sound Healing Journey in Santa Barbara
Experience a profound level of peace and oneness through the power of mantra meditation as taught by the masters of the East.
When and where
Location
Private Estate N/A Montecito, CA 93108
About this event
We will be at a beautiful private estate in Montecito, CA to get to know ourselves better through self inquiry, to learn the authentic spiritual practices and teachings of the East to improve our daily lives, and to melt away all our worries while being taken on a magical sound healing journey.
All while being in the company of like minded and hearted individuals with delicious snacks and tea to share after all is said and done.
The beauty about mantra meditation is that the technique is so simple and easy that anyone can do it, young, old, and everyone in between.
It brings the mind to a serene state of tranquility allowing each person to experience a break from all the noise of daily life where we are constantly bombarded with distractions vying for our attention.
This practice has helped millions of people's find more peace in their lives and it will change the lives of those who incorporate it into their daily routine as they will experience a level of peace that they never thought was possible.
No prior experience necessary.
:: WHAT TO BRING ::
Meditation Cushion or Pillow (If you don't have one we can provide one for you.)
Yoga Mat and/or Blanket (Optional - For the sound healing)
Loose and Comfortable Clothing
(We will be sitting for at least 30 minutes.)
Before Mantra Meditation traditionally the Gurus would bathe in the river, so a modern spin on that is to take a shower. If you can and wish to practice in the authentic way we encourage you take a shower before arrival to the event.
:: COST ::
Suggested donation of $21. Donations are not required to participate and 100% of donations go towards making more events like this for our community.
:: LOCATION & RSVP ::
Private Estate in Montecito, CA
RSVP closes 24 hours before start of the event. Address to event sent 24 hours before start of the event.
:: EVENT ::
Self Inquiry Practice & Sound Healing
1PM - 2PM
Mantra Meditation & Discourse
2PM - 3PM
Integration & CommuniTEA
3PM-4PM
If you RSVP to the event, please arrive on time as we will start at 1PM.
:: Health & Wellness ::
If you are experiencing any symptoms at all please stay home and rest up out of the respect for the health and safety of all of us including yourself.