Mannix College Gala Evening 'Celebrating 45 Years'

Saturday, 6 September 2014 from 5:00 pm to 11:00 pm (AEST)
Event Details

It has been 45 years since Mannix College first opened it's doors and we want you to come and help us celebrate!
WHAT: The Mannix College 45th Anniversary Gala, an evening devoted to remembering the past, reveling in the present and looking towards the future of our much-loved college.
With Mannix recently undergoing stunning renovations we invite all former residents to return to Mannix to catch up with one another and help mark its 45th anniversary.
WHEN: September 6th, 2014.
DRESS: Cocktail (suit for him, dress for her)
YOU WILL GET:
The chance to spend an evening with with your College friends;

A three course dinner and drinks for the evening;

Tours of the $16m College developments with current residents (you won't believe how the place has changed!);

An exciting trip down memory lane in the 'Mannix Through the Ages' exhibition where photos and artefacts will bring your College years back to life; and

Entertainment by the Mannix student band.
COST: $55 per person plus booking fee. 
WHAT YOU NEED TO DO: Book your seat by Sept 2 using the ticket information menu above.
We encourage you to get in touch with your Mannix friends and book together as a table. This means you can spend the entire night catching up with those you most want to see.
I'VE BOOKED, WHAT NOW? 
1. Share this event with your Mannix friends so that they too can join in on the fun!
2. As part of the Mannix Archiving Program we invite you to bring along any of your old College photos so that we can scan them on the night and include them in the College's pictorial history. Alternatively, feel free to email your photos for submission to moca.committee@gmail.com now. 
So bring your photos, your memories and come raise a glass to the past 45 years and exciting future of Mannix College.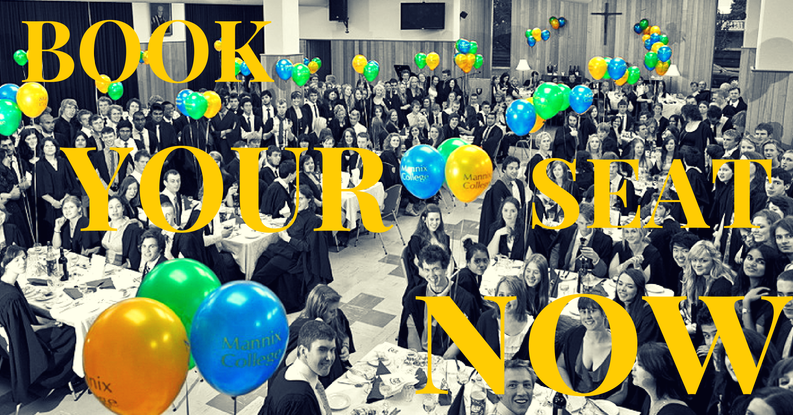 When & Where

Mannix College
Monash University Clayton Campus
Wellington Rd
Clayton, VIC 3800
Australia

Saturday, 6 September 2014 from 5:00 pm to 11:00 pm (AEST)
Add to my calendar
Organiser
Mannix Old Collegians Association
As the representative body for all College alumni, the Mannix Old Collegians Association (MOCA) is dedicated to keeping the spirit of Mannix alive among those who have had the privilege of living and studying in its collegiate environment.
Membership is automatic for students who resided at Mannix for at least one semester.
All members are encouraged to participate in a range of opportunities to socialise, network, contribute to student life, and to participate in the rich collegiate experience that Mannix provides.
Mannix College Gala Evening 'Celebrating 45 Years'