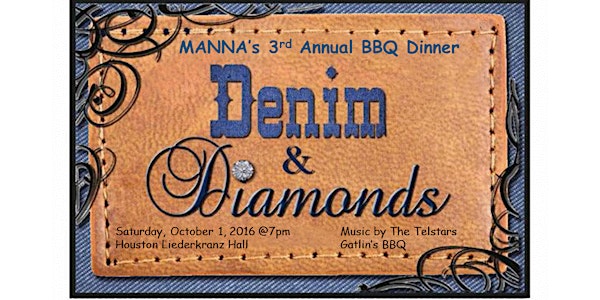 MANNA's 3rd Annual BBQ & Auction - A Community of Friends-Denim & Diamonds
Description
We hope you can join us at MANNA's 3rd Annual BBQ & Auction - A Community of Friends-Denim & Diamonds on Saturday, October 1st, at Houston Liederkranz! We will enjoy live music from The Telstars, Gatlin's BBQ, as well as the company of many other supporters, friends and neighbors!
Celebrating 27 years in the community, MANNA currently serves nearly 1,000 individuals each month with one or more of its services. It is a leading agency in the area helping those who are rebuilding their lives. MANNA is unique as a ministry in that it has operated with an all-volunteer workforce for nearly 27 years. Volunteers come from more than 30 different congregations and the community at large. Serving 13 zip codes, MANNA is supported by its thrift store on 43rd Street, donations from local congregations and from individuals in the community.
All funds raised will be used to help support the operations of MANNA's programs!
Organizer of MANNA's 3rd Annual BBQ & Auction - A Community of Friends-Denim & Diamonds