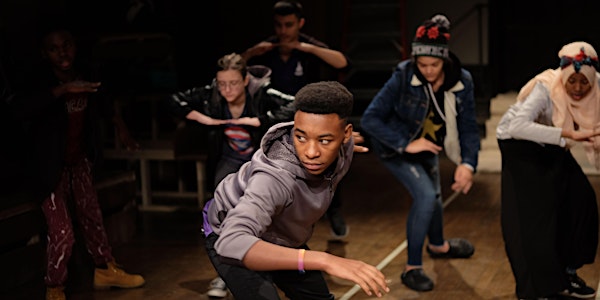 Manmade Earth by 600 HIGHWAYMEN
When and where
Location
The Invisible Dog Art Center 51 Bergen Street Brooklyn, NY 11201
Description
In Manmade Earth, eight teenagers from the Congo, Egypt, Malaysia, Somalia, Syria, Tanzania, and the United States—each with a unique path into this country—come together to create a new landscape on stage. With an abundance of materials, including cardboard, rope, buckets, and wood, Manmade Earth binds the audience and performers in an experiment of communal construction.
An investigation of permanence, stability, guts, and endurance, this new work from Obie Award–winning 600 HIGHWAYMEN asks what can we build from here and where will we go next?
Manmade Earth is presented as part of Crossing the Line Festival, produced by the French Institute Alliance Française (FIAF).
Created by Abigail Browde and Michael Silverstone of 600 HIGHWAYMEN, along with Nic Adams, Nur Aisyah, Nasra Ali, Raiza Almonte, Dimyana Angelo, Amanda Barsi, Augustin Bonane, Marisa Caruso, Michael Costagliola, Glo McDonald, Jeanvier Nkurunziza, Deb O, Eric Southern, and Diaaeddin Zabadani.
With Design by Michael Costagliola, Deb O, and Eric Southern.
Co-produced by Torn Space Theater.
Developed through University at Buffalo's Creative Arts Initiative in partnership with Torn Space Theater, as well a developmental residency with Lumberyard Arts Center in Catskill, NY.
---
About 600 HIGHWAYMEN
600 HIGHWAYMEN, under the direction of Abigail Browde and Michael Silverstone, makes performances that offer a new way of seeing for today. They explore a radical approach to making live art, constructing events that create intimacy among a group of strangers. Developed using creative methods ranging from the mainstream to the peculiar, their work is a rigorously tuned investigation of presence and humanity, not only in performance, but in process and aftermath. Since 2009 their performances have included The Fever, Employee of the Year, The Record, This Great Country, Everyone Was Chanting Your Name, Empire City, and This Time Tomorrow. 600 HWM received an Obie Award in 2014, Zurich's ZKB Patronage Prize in 2015, and a Bessie Nomination for Outstanding Production of 2015. In 2016, Browde and Silverstone were named artist fellows by the New York Foundation for the Arts.
Website: www.600highwaymen.org
Facebook: @600HIGHWAYMEN
Twitter: @600HWM