Liquor tasting festival at Lulu's Downstairs in Manitou Springs featuring Colorado distilleries, live music, food and holiday spirit vibes!
About this event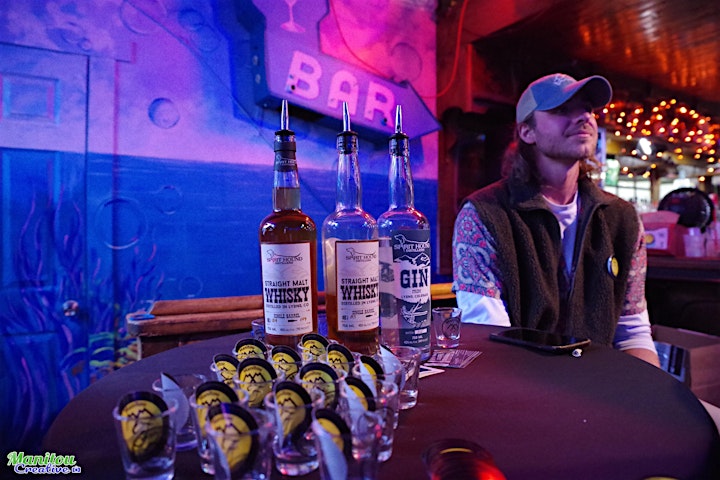 The Manitou Music Foundation is hosting the 3rd annual Manitou Holiday Spirits Fest on December 18th, 2021 at Lulu's Downstairs in Manitou Springs, CO. Formerly known as Castaways, Lulu's Downstairs is a historical and prominent live music venue in Manitou Springs with an absolutely cool vibe and the perfect location to hold this year's event. Live music will be performed by All Aboard and Steely Dead!
Admission to the event includes open liquor tasting from all of the wonderful Colorado based distilleries that will be in attendance and enjoying live music at the fantastic and unique venue of Lulu's Downstairs. Lulu's will be selling pizza, salads, sides, sweets and beer.
Manitou Holiday Spirits Fest Schedule
VIP Early Admission 4pm
All Aboard Performs 4pm - 6pm
Open to General Admission and VIP ticket holders 5:30pm - 8:30pm
Steely Dead Performs 6:30pm - 8:30pm
TASTERS FROM COLORADO DISTILLERIES 4pm - 8pm
Distillery 291
Blackhat Distillery
1350 Distilling
Laws Whiskey House
Branch & Barrel
Abbott & Wallace Distilling
3Hundered Days Distilling
Cockpit Craft Distillery
Spirit Hound Distillers
Bear Creek Distillery
10th Mountain Whiskey
*21 AND OLDER ONLY
ABOUT THE MUSIC!>>>>>>>>>>>>>>>>>>
STEELY DEAD
Steely Dead is a musical hybrid of the Grateful Dead and Steely Dan. Sonic worlds collide, between the structure, arrangement, and precision studio recordings of rock legends Steely Dan, cross-pollinated with the Grateful Dead's free-flowing, melodic improvisation and masterful song segues. Steely Dead merges these major concepts together while infusing the influence unto each band. For example, taking the Grateful Dead's rocking set ender Deal and Steely Dan's Reelin' In the Years creating the mashup Dealin' in the Years. Steely Dead is committed to the nuance of both bands while remaining playful with jam segues between songs and delivering a unique musical blend. For fans of both or either one of these great bands.
ALL ABOARD
We are happy to present All Aboard, a jazz/funk/pop fusion project. Formerly known as Unlok the Band, a grassroots group of Manitou Springs musicians have taken the original works of Kip Ehrke, and made an 8-10 piece, original music band.