Event Information
Refund Policy
Contact the organizer to request a refund.
Eventbrite's fee is nonrefundable.
Please join us for the "Pinoy Jazz & Nico's Sampaguita" Online Watch Party and Community Discussion
About this Event
Please join the Manilatown Heritage Foundation for an Online Manilatown MovieTime Watch Party of two films: PINOY JAZZ (2006) and NICO'S SAMPAGUITA (2012) followed by a Community Discussion with two of the producers of PINOY JAZZ, Richie Quirino and Collis Davis, and Aaron Woolfolk, director of NICO'S SAMPAGUITA, along with Esperanza Catubig, one of the writers and an actress in the same film. Upon registration on EventBrite you will receive a link to watch the film at 6:00pm and another link to join the Panel Discussion on Zoom at 7:30pm.
PINOY JAZZ The Story of Jazz in the Philippines is based on Richie Quirino's 3 books namely – "Pinoy Jazz Traditions" which won the Philippine 2004 National Book Award in the music category, "Mabuhay Jazz" in 2008, and "Contemporary Jazz in the Philippines" in 2011 all published by Anvil. PINOY JAZZ is a 70 minute video documentary that provides the first-ever documentation of the development of jazz in the Philippines, from its infancy in 1898, when Filipinos were first exposed to Black music performed by African-American soldiers, to its present-day maturity in which musicians are turning to indigenous sources for inspiration. Incorporating historical still photography, turn-of-the century film footage, maps, old recordings, present-day performances and interviews with veteran and contemporary musicians, the video presents an eye-opening view into the history and art of jazz as it developed in the Philippines over the 20th century.
In 2006, the Filipino Channel of ABS-CBN Global, broadcasted the documentary on its worldwide network reaching over a million Filipinos. In the next three years, the documentary was screened at the U.S. Embassy's 3-day Jazz Festival called "60 Years of Harmony". It has also been shown at the Java Jazz Festival, Jakarta, Indonesia; FACINE Festival, San Francisco; the Chicago Fil-Am Festival; the 3rd Fil-Am Jazz Festival, Los Angeles; the JZ School, Shanghai, China; and Culture Unplugged in India.
This new 2012 Limited Edition features updated material which includes interviews and/or performances with club owner-singer Myra "Skarlet" Ruaro, bluesman Binky Lampano, and Filipino American vocalist Charmaine Clamor of JazzPhil USA, and pianist Bobby Enriquez. Bonus items include rare footage of drummer Danny Barcelona (8 min) and also-saxophonist Gabe Baltazar, Jr. (9 ½ min).
~
Set in San Francisco's Fillmore jazz district, NICO'S SAMPAGUITA is about a grieving woman's struggle with the death of her husband, a jazz saxophonist, as she tries to prevent her teenage son from making the same mistakes his father did. The film was directed by Aaron Woolfolk, and written by Esperanza Catubig, Aaron Woolfolk, and Jenny Pauer. The cast includes Esperanza Catubig, Darion Basco, Jon Jon Briones, and JD Charisma. The World Premiere was held at the Clay Theatre in San Francisco in 2012. The soundtrack for the short film features Jonathan Bautista, Tom Lattan, Mitch Marcus and Ben Luis.
NICO'S SAMPAGUITA was an Official Selection of the Texas Independent Film Festival and was screened in April 2015 in Bryant, TX. In 2013, during Filipino American History Month, it was shown at the Koret Auditorium in the San Francisco Main Library and presented by Pilipino-American Writers & Artists, Inc., San Francisco Public Library, & The Philippine Consulate of SF at the 2nd Annual Filipino-American International Book Festival. The film launched the festival and preceded the PINOY JAZZ documentary by Richie Quirino. NICO'S SAMPAGUITA was also shown at The Reel Black Men Film Festival at the Raleigh Studios in Los Angeles in 2013. The film has been an official selection for 13 Film Festivals, in several different countries.
We are deeply honored and pleased to present both of these groundbreaking films to our jazz kababayans here in the San Francisco Bay Area and beyond, and we thank Richie Quirino, Collis Davis, Aaron Woolfolk, and Esperanza Catubig for creating relevant films about the shared culture between Filipinos and Filipino Americans that we can all watch, understand and enjoy.
ABOUT MANILATOWN MOVIETIME:
The Manilatown Heritage Foundation is proud to present Manilatown MovieTime a series of specially programmed Filipino film screenings and community discussions. Hosted by Carlos Zialcita, Manilatown MovieTime is designed to showcase Philippine and Filipino-American related movies, filmmakers, actors and crews, infusing their art and insight into our vibrant, diverse community through film. Each Manilatown MovieTime screening will features the following:
A community discussion led by writer, poet, actor and Ethnic Studies Professor Oscar Peñaranda
A presentation on the importance of Filipino Films in the Filipino-American Community
Meet & Greets with Actors, Directors, Cinematographers, and Filipino movie enthusiasts
For more information about Manilatown MovieTime or the Manilatown Heritage Foundation please contact us at mhf@manilatown.org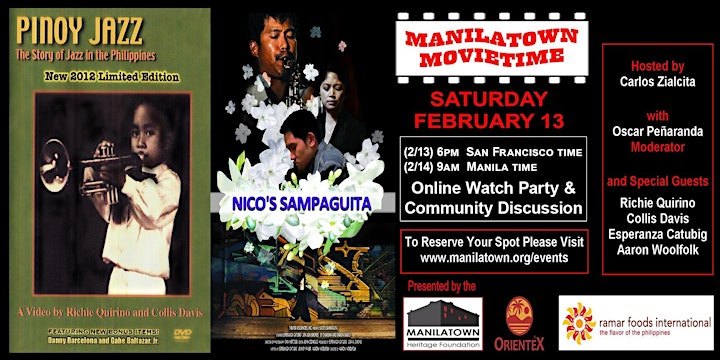 Date and Time
Location
Refund Policy
Contact the organizer to request a refund.
Eventbrite's fee is nonrefundable.