Event Information
Refund Policy
Contact the organizer to request a refund.
Eventbrite's fee is nonrefundable.
Please join us for the "Busong" Online Watch Party and Community Discussion
About this Event
Please join the Manilatown Heritage Foundation for an Online Manilatown MovieTime Watch Party of BUSONG (2011) followed by a Panel Discussion and Community Discussion with film director and the executive producer, Auraeus Solito and Jong DeCastro. Upon registration on EventBrite you will receive a link to watch the film at 6:00pm and another link to join the Panel Discussion on Zoom at 7:30pm.
NOTE: The Panel Discussion on Zoom is only shown LIVE at that time and will not be available to watch afterwards.
"Busong" is the first Palawanon indigenous film. Busong is the indigenous Palawan concept of "fate" or "instant karma", where nature reacts instantly to man's disrespect of nature and other men. In the film, Punay (Alessandra de Rossi), was born with wounds on her feet so that she cannot step on the earth. Her brother, Angkadang, (Rodrigo Santikan) carries her on a hammock, as he searches the changing landscape of Palawan hoping to find a healer. Different people help him carry his sister along the way: a woman looking for her husband, a fisherman who lost his boat, and a young man who is searching for himself. Each one meets their fate or "busong".
Auraeus Solito comes from a lineage of Shaman-Kings from the Palawan tribe. He is one of the first born outside of his tribal land and is one of the leading independent filmmakers from the Philippines. He is also known as "Kanakan-Balintagos", his tribal spirit name dreamt by a shaman which means "Hunter of Truths".
Auraeus Solito was recently chosen in Take 100, The Future of Film a publication which presents an emerging generation of the most talented filmmakers around the world and is a survey featuring 100 of the most exceptional film directors from around the world selected by ten internationally prominent film festival directors. Auraeus's films have been screened in major festivals around the world including Cannes, Berlin, Sundance, Montreal, Pusan, Toronto and Rotterdam.
Auraeus credited his mom, who is from the Palawan tribe, for inspiring him to make "Busong": "She told me the stories and myths of her homeland when I was a kid. I grew up imagining this world—of shamans and magic; of spells and golden sea turtles, of shape shifters and stick-like demons. She told me stories that nobody knew of. It was a world that was magical and pure."
The film is divided into three landscapes in Palawan, an island on the southwestern area of the Philippines: Forest, Sea and Mountain. Palawan itself is the main character of this film and Nature is the co-director. The people of Palawan are also called Palawan. Palawan is a landscape; Palawan is a tribe. The landscape and the people are one. Man and nature are one. When man is one with nature, nature respects man. Man respectfully talks to nature, and nature complies. The Palawan landscape is made of pristine islands, sandbars, rainforests, mountains and mangroves surrounded by brackish lakes and the vast sea. That is why the Palawan people developed great magic, to protect the great Palawan landscape. "Busong" serves as a warning. If Filipinos forget what Palawan is all about, its nature and its indigenous people, then the Philippines may end up getting its most tragic "busong"!
"Busong (Palawan Fate)" was officially selected to the Quinzaine des Realisateurs (Cannes Directors' Fortnight, May 2011) and was featured in the Directors' Showcase at the Cinemalaya Philippine Independent Film Festival in July 2011 where it won Best Director, Best Sound Design and Best Original Music Score. "Busong" won the FIPRESCI Prize at the Eurasia International Film Festival, the Emile Cantillon Tomorrow's Cinema Award at the Brussels International Festival of Independent Film, and the Merata Mita "Best of All Stories" Award at National Geographic's All Roads Film Festival.
We are deeply honored and pleased to present this highly acclaimed and groundbreaking film to our kababayans here in the San Francisco Bay Area and beyond, and we thank Auraeus Solito and Jong De Castro for creating relevant films about the shared culture between Filipinos and Filipino Americans that we can all watch, understand and enjoy.
MANILATOWN MOVIETIME:
The Manilatown Heritage Foundation is proud to present Manilatown MovieTime a series of specially programmed Filipino film screenings and community discussions. Hosted by Carlos Zialcita, Manilatown MovieTime is designed to showcase Philippine and Filipino-American related movies, filmmakers, actors and crews, infusing their art and insight into our vibrant, diverse community through film. Each Manilatown MovieTime screening will features the following:
A community discussion led by writer, poet, actor and Ethnic Studies Professor Oscar Peñaranda
A presentation on the importance of Filipino Films in the Filipino-American Community
Meet & Greets with Actors, Directors, Cinematographers, and Filipino movie enthusiasts.
For more information about Manilatown MovieTime or the Manilatown Heritage Foundation please contact us at mhf@manilatown.org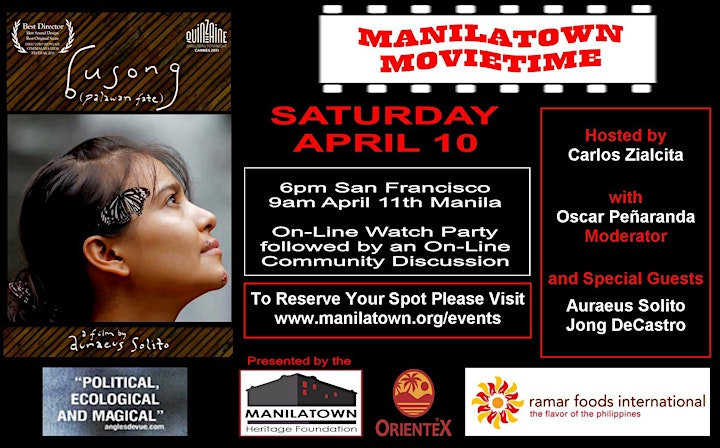 Date and Time
Location
Refund Policy
Contact the organizer to request a refund.
Eventbrite's fee is nonrefundable.