Manila Virtual Forum on Inclusion, Diversity, Equality: RECOVER with PRIDE
CIPE and the Philippines LGBT Chamber of Commerce host a special virtual forum in celebration of Pride Month 2021.
About this event
The Center for International Private Enterprise (CIPE) in partnership with the Philippines LGBT Chamber of Commerce (PLCC) cordially invites your participation in a special webinar on Inclusion, Diversity, and Equality in celebration of Pride Month 2021. The Manila virtual forum is an opportunity to bring together voices in government, business, the development community, academe, and civil society across Asia-Pacific to discuss the important governance, economic, workplace, health, and social issues and policies affecting LGBTQI+ entrepreneurs and professionals especially in light of the COVID-19 pandemic. Through this virtual forum, CIPE aims to enable multi-stakeholder voices, amplify lessons learned, and mainstream policy advocacy dialogues and democratic engagement in support of "Recovering with Pride" toward a more resilient but inclusive global economy.
The COVID-19 pandemic has exacerbated global inequality, and its impact is especially detrimental to the LGBTQI+ community. Around the world, LGBTQI+ people are more vulnerable to the pandemic, especially where their status overlaps with poverty and loss in economic opportunities while these intersect with human rights abuses and discrimination. Violence and discrimination against LGBTQI+ people hinder economic development and impede the global economy with opportunities from the potential contribution by the LGBTQI+ talents to the global recovery effort as micro and small entrepreneurs, business operators, productive change agents, and economic drivers.
Recognizing the need to develop policies, programs, and venues for democratic engagement is an important step to comprehend how best to position inclusivity towards supporting LGBTQI+ community in governance, economy, workplace, health, and social ecosystems to "Recover with Pride" post-COVID-19 pandemic.
Agenda
Welcome Remarks by Andrew Wilson, Executive Director, CIPE
Introductory Statements by the Panelists and Resource Speakers
Panel Discussion and Open Forum moderated by Gibson Haynes, Asia Program Officer, CIPE
Synthesis by the Philippine LBGT Chamber of Commerce
Closing Remarks by Ryan Patrick Evangelista, Country Director, CIPE Philippines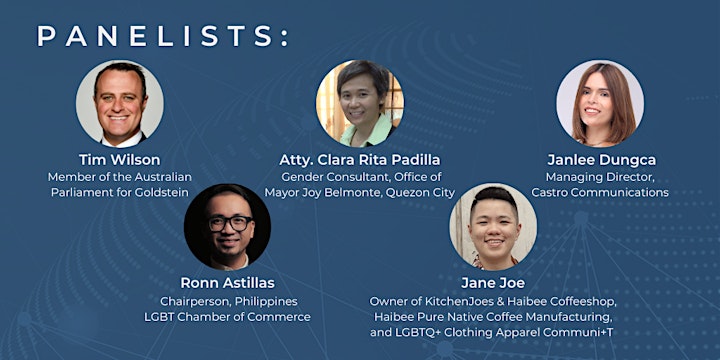 About the Speakers
Andrew Wilson is the Executive Director of the Center for International Private Enterprise (CIPE) in Washington, D.C. Wilson has extensive experience working with the private sector on development issues in conflict and post-conflict settings, crafting successful business strategies to reduce corruption, encouraging entrepreneurship development, strengthening business advocacy, improving corporate governance standards, and promoting economic reform. He is called on frequently to speak about the linkages between democracy and business, as well as the challenges to growth in emerging markets, including corruption and the threat of corrosive capital.
Tim Wilson, has served as the Federal Liberal Member for Goldstein since 2016, currently serves as Chair of the House of Representatives Standing Committee on Economics, is member of the Parliamentary Joint Committee on Intelligence and Security and Treaties, and is the author of The New Social Contract: Renewing the Liberal Vision for Australia. Tim was formerly Australia's Human Rights Commissioner. In that role he worked with all layers of government to reform laws to stop and prevent terrorism and to improve economic opportunities for Indigenous Australians. He also stood up for marginalised communities against public harassment. Tim is a strong advocate for protecting free speech and freedom of religion. He has postgraduate qualifications in energy and carbon management from Murdoch University, a Masters of Diplomacy and Trade from Monash University, as well as a Bachelor of Arts. Tim has been consistently recognised for his contribution to Australian public life, including as one of The Australian's ten emerging leaders of Australian society in 2009, as well as one of Australia's men of influence by Men's Style magazine in 2016.
Atty. Clara Rita "Claire" A. Padilla is the founder and executive director of EnGendeRights. She has been acting as Executive Director since December 2003 up to the present. She is an internationally known lawyer who has worked in the Philippines and in New York, defending women's and lesbian, gay, bisexual, transgender, intersex, queer and asexual (LGBTIQA) persons' rights for over 27 years. She has expertise in the fields of gender, gender-based violence, sexual and reproductive health and rights (SRHR), sexual orientation, gender identity and expression (SOGIE) and jurisprudence on the Committee on the Elimination of Discrimination Against Women (CEDAW) and other treaty monitoring bodies. After graduating from law school, she has dedicated her life in changing laws, policies, and practices that discriminate against women and LGBTIQA persons. She has been a Gender Consultant of the Quezon City Office of Vice Mayor Joy Belmonte (2011-2019) and Office of the City Mayor Joy Belmonte (2019-present). As consultant of the Office of the Vice Mayor Joy Belmonte, she co-drafted the QC Gender-Fair Ordinance prohibiting discrimination based on sexual orientation, gender identity and expression (SOGIE) and providing affirmative acts passed in 2014 and the ordinance creating the Quezon City Protection Center (QCPC) for Women, Children, and LGBT Survivors of Gender-based Violence (2012). As part of her consultancy work, she provides free legal counseling for women, girls, and LGBT survivors of gender-based violence at QCPC which she helped establish in 2011.
Janlee Dungca is the Managing Director of Castro Castro PR, a gender-progressive, LGBTQ-led Public Relations firm that handles local and international lifestyle brands. As a proud transgender woman, she is an advocate for LGBTQIA+ rights and HIV-AIDS awareness, volunteering as an HIV counselor and the PR Lead of LoveYourself Inc., a non-profit organization that promotes the said advocacies. Under her helm, Castro PR is now LoveYourself's official PR partner. She is also the National Director of Miss Trans Global Philippines, an international, digital pageant that champions trans rights through a celebration of beauty that is diverse, inclusive and purposive. LoveYourself and Transcend by LoveYourself, the organization's arm that prioritizes trans health, are also the advocacy partners of the Miss Trans Global Philippines Organization. Janlee finished her degree in Bachelor of Arts in Psychology at the Ateneo de Manila University, Manila, Philippines in 2010. Apart from her roles at work, she also does social media content and hosts online live streams that promote LGTBQ+ rights and HIV-AIDS awareness. Her online platforms serve as safe spaces for the said communities she belongs to.
Ronn Astillas is an advocate for greater inclusion, diversity and equality. He provides guidance and vision on businesses as the current chair of the Philippines LGBT Chamber of Commerce, a non-stock, non-profit industry organization of businesses of, by, and for Philippine LGBT. He also considers himself as an ally of sustainable farming and urges communities to support locally made and grown products and food. Ronn has more than 15 years of experience in international trade relations and public policy development. As a former Philippine lead trade negotiator in ASEAN services sector, he supported the promotion of competitive and innovative industries to deepen the country's engagement in regional cooperation and integration. He obtained his master's degree in International Political Economy from the University of Manchester (UK) as a British Chevening scholar, and currently serves as a consultant for multi-sectoral organizations/ entities and provides advice on public policy, stakeholder engagement, and external economic relations. ,
Jane Joe is the owner of KitchenJoes & Haibee Coffee shop , owner of Haibee Pure Native Coffee Manufaturing, and co-founder and owner of LGBTQ+ Clothing Apparel - Communi+T. Food has always been her art and the restaurants she has are her canvass, she has a very open mind when it comes to food and she has been in this business for more than 7 years now. She is also a nomadic wanderer, she gained her knowledge and training for food out of the places she travelled to and through the experiences with people and culture she's encountered and she writes about them. She also co-founded COMMUNI+T, an online LGBTQ+ Apparel brand through their E-commerce site and she is responsible for the marketing and PR of the brand. This business is dear to her heart because she is able to represent my gender identity and proudly decorate our advocacy and designs through the merchandises they produce.
Gibson Haynes is an Asia-Pacific Program Officer and a member of the Anti-Corruption and Governance Center at the Center for International Private Enterprise. He is responsible for program development, management, performance reporting, partnership management, and developing CIPE's regional expertise in maritime Southeast Asia. His portfolio of projects covers Thailand, Malaysia, Indonesia, Timor-Leste, and the Maldives, developing ethical business movements through private sector anti-corruption and corporate compliance collective action. Additionally, his programs emphasize democratic governance beyond the ballot box through government performance monitoring, right to information, and economic inclusion initiatives. He holds Masters degrees in International Relations from the Johns Hopkins University School for Advanced International Studies (SAIS) and Tsinghua University.
Ryan Evangelista is the Philippines Country Director of the Center for International Private Enterprise. He has more than two decades of professional experience as development specialist, and chamber of commerce executive. Ryan also serves as chairperson of the PCCI Corporate Governance Committee, a trainer at the ITC-SME and Trade Academy in Geneva, and faculty member of the joint ISA-University of Asia and Pacific Young Leadership Program. He previously worked with IFC-World Bank, USAID, ASEAN Secretariat, ERIA, Australian-New Zealand Chamber of Commerce, and Philippine Chamber of Commerce and Industry. Ryan's expertise include institutional strengthening and benchmarking, stakeholder engagement, advocacy, governance, and international trade policy. He obtained his MA in International Relations from the Fletcher School of Law and Diplomacy-Tufts University, in Boston, Massachusetts, and BS in Business Economics from De La Salle University-Dasmarinas. Ryan was recognized by Development Executives (Devex) as one of Manila's 40 most influential international development leaders under the age of 40.
About CIPE
The Center for International Private Enterprise works to strengthen democracy around the globe through private enterprise and market-oriented reform.
Its office in the Philippines serves as a regional hub for programming activities throughout the Asia-Pacific, working with local partners to support economic inclusion for all citizens.
Key areas of focus include: anti-corruption efforts, procurement transparency, digital transformation, freedom of information issues, and strengthening democratic governance.
About PLCC
The Philippine LGBT Chamber of Commerce is an industry organization of businesses of, by, and for Philippine LGBT. The focus of the organization is business excellence and national economic development via the efforts of its LGBT members and allies. The Chamber's three point mission include: 1) Promote Sexual Orientation, Gender Identity and Expression (SOGIE) Diversity and Inclusion in the workplace; 2) Champion LGBT+ leadership in business, across industries; and, 3) Recognize organization role models of SOGIE Diversity and Inclusion.
Organizer of Manila Virtual Forum on Inclusion, Diversity, Equality: RECOVER with PRIDE
The Center for International Private Enterprise (CIPE) strengthens democracy around the globe through private enterprise and market-oriented reform. CIPE is one of the four core institutes of the National Endowment for Democracy and a non-profit affiliate of the U.S. Chamber of Commerce. Since 1983, CIPE has worked with business leaders, policymakers, and journalists to build the civic institutions vital to a democratic society.