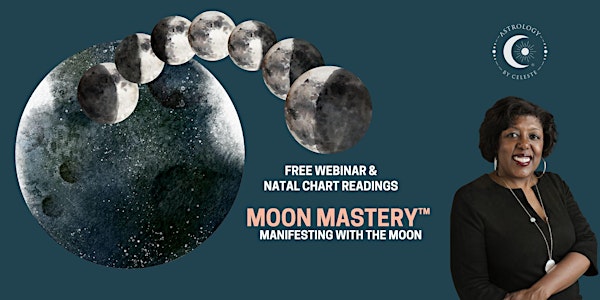 Manifesting with the Moon Webinar
Ready to manifest a life you love? Learn how lunation cycles invite us to connect our inner and outer worlds and make our dreams a reality.
About this event
You are invited to a  FREE  astrology webinar: Manifesting with the Moon
Join me for a fun and interactive discussion on the Manifesting with the Moon. The lunation cycles invite us to connect our inner and outer worlds. Celeste used the Moon cycles to retire from her corporate career and will share some of her experience.
During this webinar, you will learn:
🌑 The basics of the lunation cycles.
🌓 The benefits of working with the Moon.
🌕 Astrology in Action examples
🌓 Hot Take chart readings
The more, the merrier; please invite your astrology-curious friends to join the fun!
Have your birth information available if you would like Celeste to use your chart as an example.
ABOUT CELESTE BROOKS:
Celeste is the founder of Astrology by Celeste and the host of the Celestial Insights podcast. She utilized the Moon cycles to manifest early retirement from a successful sales and marketing career at Fortune 500 companies. She has an undergraduate degree in Integrative Biology from UC Berkeley and an M.B.A. from St. Mary's College.
She combines her professional business experience with her astrological knowledge to help people expand their lives, ignite their passion, and find their purpose. The Celestial Insights podcast offers weekly guidance to help people surf the transits like a boss.  Astrology by Celeste provides personal readings, coaching, group events, and classes to guide people to higher levels of fulfillment. More at www.astrologybyceleste.com
#astrologybyceleste #webinar #freewebinars #Zodiac #zodiacsigns #Astrology #astrologer #NewMoon #FullMoon #lunarwisdom #mundaneastrology #lunarcycle #moon #astrologyinaction #lifecoach #personaldevelopment #personalgrowth #goals #spirituality #spiritual #manifestation #manifestingmagic #manifestationcoach #moonlovers #selenophile #coaching #personalcoach #manifestation #successcoach #readysetgoal #dreambig #soulspurpose #bringthebliss #podcast
Please note that the Zoom will be recorded and may be available on YouTube for future viewing. 
Disclaimer:
Astrology readings are for entertainment purposes only and should NEVER take the place of psychological, medical, legal, or financial professional services. Astrology by Celeste accepts no liability or responsibility for any action a client chooses to take.