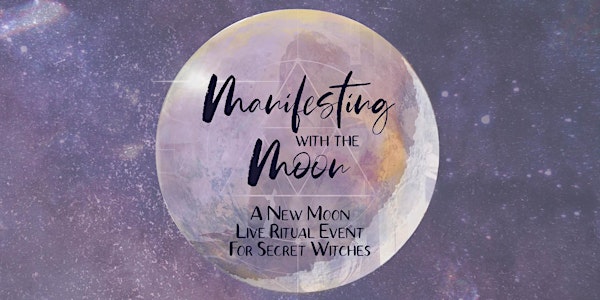 Manifesting with the Moon - Live Ritual Event
Manifesting with the Moon - a Live New Moon Ritual Event for Secret Witches
About this event
Manifesting with the Moon is a Live Ritual Event for our sisterhood of Secret Witches, held via Facebook on or around New Moon each month, to guide you into beginning to powerfully vision the magical life you came here for.
MWTM is where you can get up-close and intimate with Nicole Barton (Coach, Creatrix and Host of the Secret Witch Show) as she shares her wild alchemy wisdom, whilst holding you as you take your tender first steps into the path of liberating your Witch Queen and manifesting the magical life your unique soul longs for.
This is for you if:
you're so used to giving your time away to others, and you know it's time to create a little bit more space for you - and a New Moon ritual is calling to your heart
you are used to disconnecting from your body and emotions, and could do with a bit more self-love
you often feel a bit outcast in society, and you're longing to meet likeminded sisters who are drawn to all things magical
you're not entirely sure you are capable of visioning and creating your dream life, but you *long* to create more magic
you're drawn to a magical and soul-led path, but you feel you keep failing at manifesting your dreams, and you'd like to learn what's stopping you
you have a feeling you're here for a life of more, but you're not sure what it is, and you long to find out
Nicole creates a sacred and alchemical altar space for the Secret Witch to begin listening into her heart, tuning into her body, witnessing her vision, honouring her soul, loving herself completely, opening into her radiance and reclaiming her power and magic. Step into the community of our group live ritual space to learn more about how to harness *real* magic and begin dreaming and visioning your heart's desires into reality to create life on your terms.
If you join us, you'll begin to become a woman who:
is learning to prioritise the call of her heart
is stepping into visioning a magical life
is beginning to re-connect to the wild rhythms of her body
is connecting to likeminded Souls, and feels safe to show up as herself
is learning to harness real, magical technology
is getting the first glimpses of her power and the possibility of her unique gifts
If this is who you long to become, come and sit by the virtual fire with us for a beautiful New Moon ritual - soaking up the energy of the ritual, the sisterhood and learning more from Nicole about the path of manifesting real magic. Share what's coming up for you, ask questions and discover your deepest, most potent Soul vision so you can bring it to life. And, if you choose to, you might then complete your ritual by going outdoors to soak up the energy of the moon and declare your intention! Each month will be uniquely tailored to energetic requirements.
Important: You must order a ticket via Eventbrite to receive details of how to prepare for the ritual.
It is also a requirement of joining that you are devoted to showing up - please *only* book to join if your heart is completely devoted to joining us live. To express your full devotion to joining, and for a deeper initiation into the Secret Witch Sisterhood - which will continue beyond this event - please join us over in our Facebook group: https://www.facebook.com/groups/secretwitch.
See you there loves.
Nicole and Team Secret Witch xox