2020 is not the start of a new year, it's the start of a new decade. Coach Melony wants to help you create the life you desire & deserve.
About this event
Are you one of those people who every year screams "new year, new me" and then spends the whole year doing the same things you've done previously?
Do you join the gym every January, only to stop going by March?
Are you still trying to start that business or write that book?
If you answered yes to any of the questions I asked above, don't be discouraged. I too, used to be that person. Then I realized the power of manifestation, focus and faith in the fact that I was worthy of the life I wanted to live.
In just 14 months, I self-published eight books, became a public speaker and when I launched My coaching business, hit My first 10k month in ONLY six months. I've never looked back; I find Myself constantly surpassing My goals and YOU can too.
Are you ready to get out of your own way and get everything you 've been longing for?
Are you willing to take a hard look at your lifestyle and make the necessary changes to get to the happiness you desire?
Do you have a hard time setting & sticking to your goals?
Do you think your past life prevents you from the life you really want?
Coach Melony can help you navigate these obstacles, create a plan of action to take the reigns and in this new decade and start your new year with purpose and passion.
Don't stay stuck in a life not meant for you. Take the leap and chart out your path to happiness and success on your own terms.
*Ticket price includes 4 hour workshop, refreshments, wine, craft supplies
LIMITED SEATING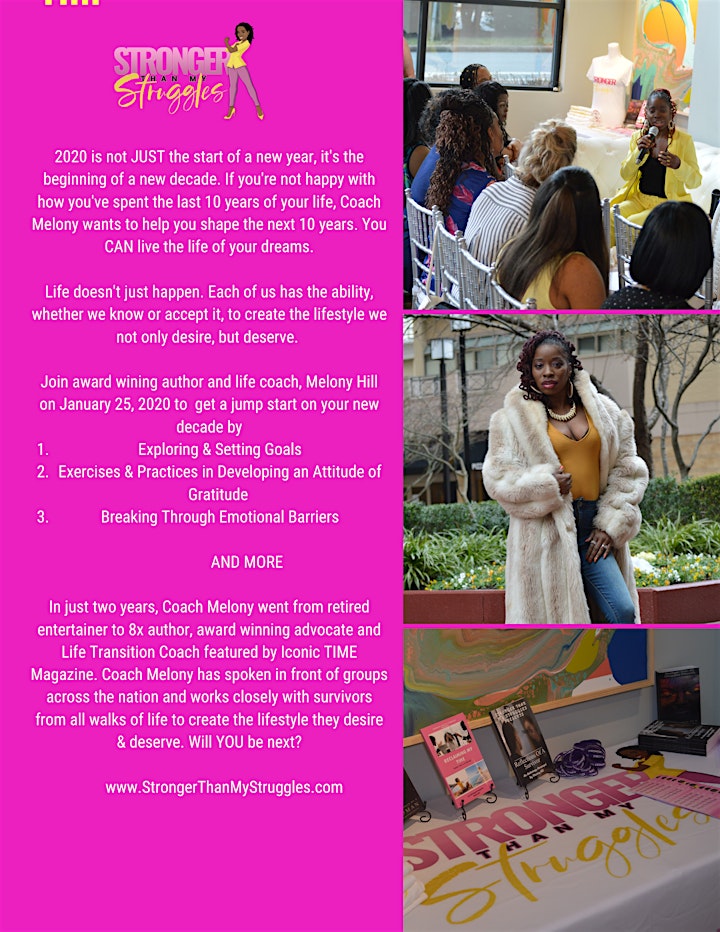 Organizer of Manifesting Reality w/ Coach Melony Hill
Melony Hill is the definition of woman in control of her life and career. Constantly counted out by society due to emotional instabilities and a traumatic upbringing stemming domestic violence, sexual assault and childhood abuse, Melony has reclaimed her life and inspires others to do the same.
In 2010, Melony was diagnosed with a slew of emotional illnesses such as depression, anxiety disorder, PTSD, and dissociative identity disorder. To add to her daily struggles, Melony also was diagnosed with chronic pain from Fibromyalgia.
Never one to let an obstacle deter her from her goals, Melony has thrived, despite her mental, physical and emotional limitations. A full-time entrepreneur since 2007, after multiple career paths, she found he true calling as a Curator of Safe Spaces to have hard conversations. Over the last two years, Melony has self-published 8 books, spoken at colleges and universities, became a Life Transition Coach and launched Stronger Than My Struggles to connect other survivors like herself.
Stronger Than My Struggles, was created to heal through the written and spoken word, offering resources, support and services to survivors from all walks of life. Coach Melony hosts a series of workshops in the Baltimore area including a free weekly therapeutic writing workshop, Writing for My Sanity, which she named after her book of poetry.
 In May 2019, Melony made history as she launched the first ever Black Mental Health Awareness Tour, Crazy Like a Fox: Black Mental Health Matters.
 Melony looks forward to helping you achieve your dreams as well. She is stronger than her struggles and wants you to know you are too.