Description
Manifesting Beyond Belief: 3 Ancient Attraction Attunements
This 3-Day Intensive Will Sell out!!!
Manifesting Beyond Belief: Ancient Attraction Attunements is a 3-day intensive to clear your energy blocks and awaken your manifestation powers. You will learn how to manifest whatever you desire. Manifesting Beyond Belief is about learning the ancient Law of Attraction secrets. You will experience powerful, unique ancient attraction energy attunements. You will leave knowing a variety of ancient Law of Attraction techniques that empower, attune, and awaken personal power and guidance. Attendees will learn how to amplify, magnify and focus Universal Energy. Learn ancient techniques to protect yourself from unwanted negative energy. Learn to eradicate disease, emotional imbalances, and energetic depletion/congestion in your life. Return to your daily life to attract more love, abundance, health, wealth, and the fulfillment of your deepest desires. Watch your life blossom like a flower as you live your life from a new balance of internal energy and wisdom.
---
The Manifesting Beyond Belief: Ancient Attraction Attunement Intensive
is a 3-day event at El Monte Sagrado Resort in Taos, NM
Dates:
Friday, May 19, 2017 – 6 PM to 9 PM
Saturday, May 20, 2017 – 10:00 AM to 6:00 PM
Sunday, May 21, 2017 – 11:00 AM to 4:00 PM
Location:
El Monte Sagrado – 317 Kit Carson Road – Taos, New Mexico 87571
These are not separate dates it is a 3-day intensive so make plans to attend all days.
---
You will receive 3 Ancient Attraction Attunements to empower the manifestation of your desires. Get empowered in the Law of Attraction TODAY!
Nestled in the magical heart of New Mexico is beautiful Taos. Spend three days with internationally celebrated Miracle Mentors & authors Robert & Rachael Zink. Expect nothing less than an astonishing weekend of magic, miracles, manifestations and Law of Attraction empowerment.
---
LOCATION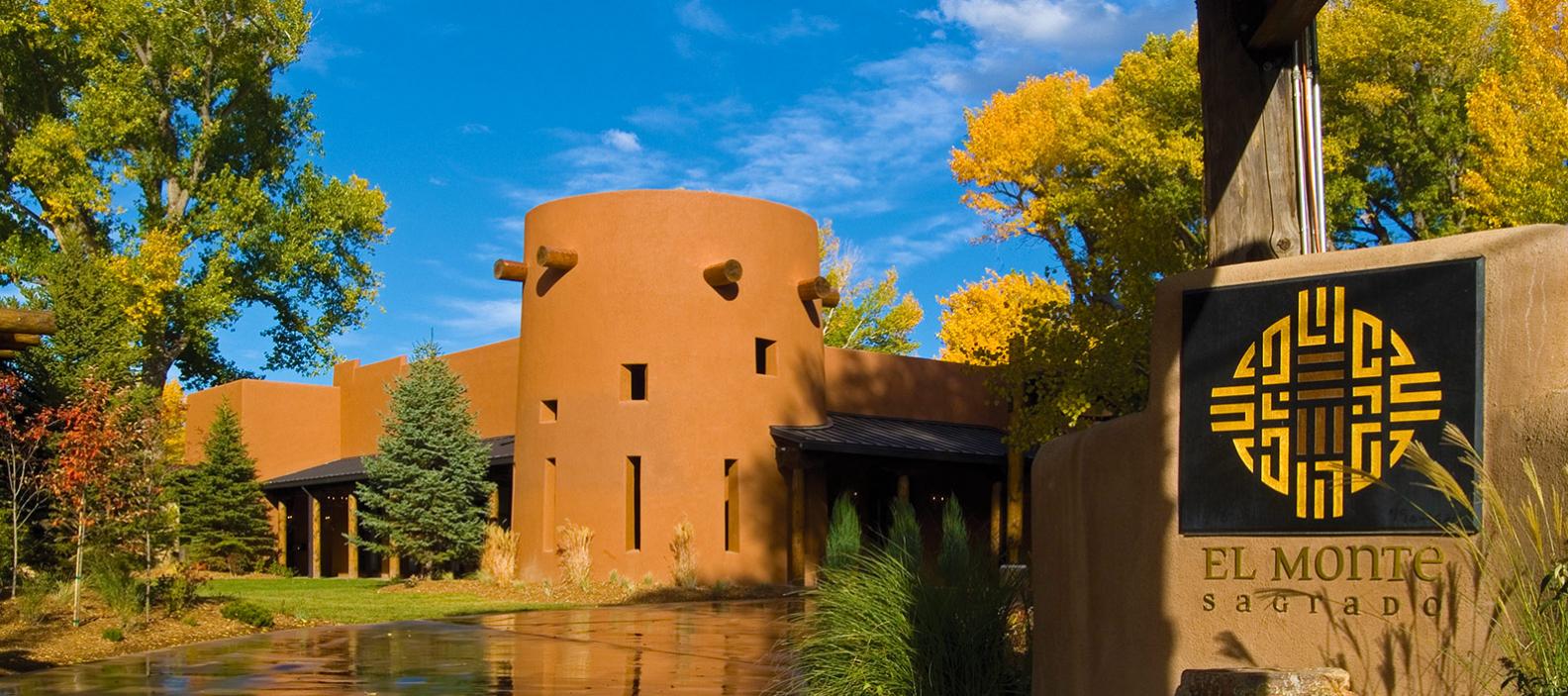 Manifesting Beyond Belief will be conducted in the gorgeous and plush El Monte Sagrado Resort in Taos, NM. The food is exquisite, and nothing less than gourmet. The rooms are themed to make every second of this life changing intensive an experience to treasure forever. The pool, spa, and gardens provide an ideal environment for assimilating the information and energy you will receive each day of this Manifesting Intensive. Be sure to book your room early to have special evenings with Robert and Rachael in the spa.
As if the El Monte Sagrado Resort was not magical enough, wait until you see Taos. The local flavor is fun, upbeat, with a beautiful southwest flavor. Local shops are filled with precious gems, local turquoise, Native American goods, sage and more.
For a wonderful spiritual experience, you must visit Taos Pueblo. This Pueblo community has been so generous to open their village to the public. Pueblo Taos is an authentic village where the Pueblo people still live like they did thousands of years ago. In 2016 Robert and Rachael were honored to break traditional Blue Corn Fry Bread with a Pueblo woman named "Gathering Wild Blueberries." They also had an amazing energetic experience with listening to the native drumming of "Running Deer".
---
WHAT TO EXPECT
The energy of Taos, NM will assist in embedding the three ancient attunements you will receive deep into the core of your being. You will not want to miss this Manifesting Beyond Belief 3 day Intensive.
Manifest Beyond Belief will awaken you to the ancient secrets of manifesting and the Law of Attraction. During this wonderful 3-day intensive each participant manifestor will receive three ancient attunements designed to open your life to manifesting powers that are literally beyond belief.
Each attendee will be given a manifestation manual that will assist in continued manifestation as you return to daily life. The manifestation manual alone is over 6 inches thick. Each attendee will also receive a special audio program not available anywhere else.
---
ANCIENT SULPHER ATTUNEMENT

Sulpher is the fiery soul that gives magnetic energy to everything. The modern equation is that of the "Soul" or "Spirit." Successful manifestors have deep unthrottled passions which are transformed to power and magnetism.
ANCIENT SALT ATTUNEMENT

All energies of the soul are animated and come to life through salt. The modern equation is that of "the body." Through the ancient salt attunement, you will literally activate dormant DNA and personal power on a cellular level. Successful manifestors have an active power body. Thier active energy field is designed to conquer obstacles and overcome challenges.
ANCIENT MERCURY ATTUNEMENT
Mercury is almost impossible to define. For our understanding, we will equate mercury with the "mind." The mind of this attunement refers to both your mind and the mind of the Infinite Source Energy. When these two minds are united as one, there is a co-creation of your reality by accessing the infinite field of possibilities.
Successful manifestors are co-creators and this attunement, more than any other will open you to unlimited choices and options within the infinite field.
---
MEET ROBERT & RACHAEL ZINK
Rachael and Robert Zink answering questions at a Ruach Healing Workshop
Miracle Mentor and Alchemy Life Coach, Robert Zink, has been the Chief Adept Teacher of the Ancient Golden Dawn Mystery School for over 30 years. His knowledge of the Law of Attraction and manifestation goes back to the days of how the Ancient Egyptians manifested so much. Robert will break down all this ancient knowledge into easy to understand steps of manifestation during this Manifesting Beyond Belief Intensive.
Robert & Rachael Zink provide a daily weekday podcast which has been on the air since 2009. This is a great resource for entering into the flow of abundance and attraction before and after the intensive. Robert and Rachael provide these free quick 15-minute motivation to keep you focused on your dreams and desires.
For those seeking further study, Robert & Rachael Zink have authored two books. The first is called "Magical Energy Healing: The Ruach Healing Method." This book explains in detail ancient secrets and how to use them for healing. The second book is called "Law of Attraction Secrets: Success and Nothing Less Science." This is an easy to read motivation book in which any chapter can be read at any time. You can pick and choose which chapters and topics interest you the most because each chapter is a complete thought.
As Miracle Mentors and Alchemy Life Coaches Robert and Rachael have helped manifestors in over 60 countries. They have seen money, love, healing, and business return to those who had almost given up. You will not want to miss this Manifesting Beyond Belief Intensive that will bring the same results to you. You are a manifestor. Join Robert & Rachael in Taos, NM for this absolutely life changing event.
---
SIGN UP NOW!
Space is limited.
SPECIAL ADVANCE TICKET PRICING AVAILABLE.
This event will sell out.
---
STAYING IN TAOS
Manifesting Beyond Belief will be held at the
EL MONTE SAGRADO - Taos, NM
317 KIT CARSON ROAD
Taos, NM 87571
Phone: 575-758-3502
Reservations Toll Free: 855-846-8267
---
ROOM RESERVATIONS
Please book your stay at the EL MONTE SAGRADO at SPECIAL RATE for the intensive. You will not want to miss any special nightly activities in the pool and lovely courtyard which will only be available if you are staying at the El Monte Sagrado Resort.
Right now, a block of rooms are set aside in the resort system for the Manifesting Beyond Belief. To receive the group rate, guests must ask to be placed within the "Manifesting" block of rooms by calling Reservations Toll Free: 855-846-8267
Reservation Office hours are:
Mon-Fri 7 a.m. - 7 p.m.
Sat 9 a.m. - 6 p. m.
Sun 9 a.m. - 6 p.m.
Please feel free to contact me should you have any questions or concerns regarding your rooms reservations. lawofattractionsolutions@gmail.com
---
GETTING TO TAOS
You can fly into Sante Fe or Albuquerque. These are the closest airports to Taos, NM. From the airport, you can drive into Taos, NM. There are two shuttles that run if you make reservations ahead of time.
Santa Fe Municipal Airport
121 Aviation Drive 
Santa Fe, NM 87507
About a 1 hour and 40 minutes from Taos, NM
Albuquerque International Sunport Airport
2200 Sunport Blvd.
SE Albuquerque, NM 87106.
About a 2 hours and 30 minutes from Taos, NM
---------------
Twin Hearts Shuttle
575-751-1201
http://www.twinheartsexpress.com/schedules--fares.html
Taos Ski Valley Airport Shuttle
575-776-2291 X2384
http://www.skitaos.com/discover-taos/airport-shuttle/
---
YOUR LOCAL TAOS, NM CONTACT
Nyna Matysiak
Owner of OptiMysm Metaphyical Gifts
129 Kit Carson Rd
Taos, NM 87571
Email: taosmetaphysicalshop@gmail.com
If you have any questions please contact us via email (lawofattractionsolutions@gmail.com) or leave a message at 1-775-298-5052