Die Pferde spiegeln dir was zwischen dir & deinen Wünschen steht, zeigen dir dies zu entfernen und eröffnen dir deinen Weg zu manifestieren.
About this event
DIE MAGIE DER ANZIEHUNG... MANIFESTIEREN LERNEN VON PFERDEN.
VIELE Sprechen darüber, nur wenige wissen es wirklich anzuwenden.
Die Pferde bieten dir die einzigartige Möglichkeit deine "Anziehungskraft" zu testen und auszubauen.
In diesem 4h Workshop lernst die Magie der Anziehung ganz leicht für dich anzuwenden und es direkt mit den Pferden zu testen in drei einfachen Schritten:
1. Deine persönlichen Blockaden des Manifestierens aufspüren
2. Deinen persönlichen Weg zum manifestieren finden & testen
3. Anziehungskraft erhöhen
Klingt einfach? Ist es auch!
Warum Pferde?
Pferde spiegeln unser Bewusstsein und Unterbewusstsein auf höchster energetischer Ebene innerhalb von Milli-Sekunden. Einem Pferd kann man nichts vormachen oder vorspiegeln, es entlarvt alle Emotionen auf alle Ebenen. Sie zeigen uns wo die Energie "fließt" und wo nicht, und ermöglicht es uns Blockaden aufzuspüren und aufzulösen.
Beim Thema manifestieren gibt es keine besseren Lehrer, weil es eine einzigartige Möglichkeit bietet um die Energie die mit der Anziehungskraft verbunden ist zu testen und zu erhöhen.
Wie läuft der Workshop ab?
Es gibt keinen fixen Ablauf für den Workshop.
Der Workshop besteht einerseits aus der Erklärung wie Manifestieren auf unterschiedlichsten Ebenen funktioniert und andererseits durch das Testen der Manifestation-Energie mit den Pferden. Der Workshop selbst entsteht durch die Bedürfnisse der Teilnehmer und dem Feedback der Pferde.
GELD-ZURÜCK-GARANTIE
100% der Workshop Teilnehmer erzählen uns dass die Workshops mit den Pferden ein unvergessliches und unvergleichbares Erlebnis waren. Der Großteil unserer Teilnehmer empfehlen uns von Herzen weiter. Aus diesem Grund bieten wir eine Geld-zurück-Garantie an - wenn du nicht bekommen hast was du erwartet hast, geben wir dir dein Geld zurück.
FAQs /
Für etwaige andere Fragen - schreib uns gerne ein Mail an hello@brandalytical.com
Brauche ich Vor-Erfahrung mit Pferden?
Keinerlei Vor-Erfahrung mit Pferden ist notwendig. Wir werden mit den Pferden vom Boden aus arbeiten, und nicht reiten. Du solltest nicht gegen Tierhaare oder Staub allergisch sein. Wenn du Angst oder Respekt vor Pferden hast, lass uns dies bitte vorab wissen, damit wir uns deinen Bedürfnissen speziell widmen können.
Für wen ist dieser Workshop geeignet?
Dieser Workshop ist für jeden der sich für manifestieren interessiert und es lernen möchte geeignet.
Wie komme ich zum/vom Workshop?
Der einfachste Weg ist mit dem Auto nach Klosterneuburg. Falls du kein Auto hast, können wir gerne einen Pickup in der U-Bahn Station 30 min vor dem Event in Heiligenstadt organisieren - bitte hierzu um Kontaktaufnahme per Email: hello@brandalytical.com
Was muss ich zum Workshop mitnehmen?
Wir werden die gesamte Zeit draussen verbringen. Bitte gutes Schuhwerk mitnehmen (keine offenen Schuhe) - und Kleidung dem Wetter angebracht. Bitte beachte, dass die Kleidung schmutzig werden kann ;).
Wir empfehlen die Mitnahme einer Wasserflasche und es wäre toll, wenn du Äpfel oder Karotten für die Pferde mitnehmen könntest.
Welche Corona-Maßnahmen sind einzuhalten?
Seit dem 10. Juni 2021 gelten neue Maßnahmen: Outdoor sind treffen mit bis zu 10 Personen ohne 3G Regel und ohne Maske gestattet. Der Mindestabstand von 1.5m kann leicht eingehalten werden. Pferde sind keine Träger oder Übermittler von Corona. Bitte beachte, dass wir keine Getränke oder Essen zur Verfügung stellen dürfen.
Wir empfehlen auf jeden Fall die Mitnahme von einer Wasserflasche.
Können Kinder auch mitmachen?
Wir veranstalten immer wieder Workshops, bei denen auch Kinder herzlich willkommen sind. Im Manifestations-Workshop gehen wir tief in eine etwas komplexere Materie die es uns leider nicht ermöglicht den Workshop Kinder-gerecht zu gestalten.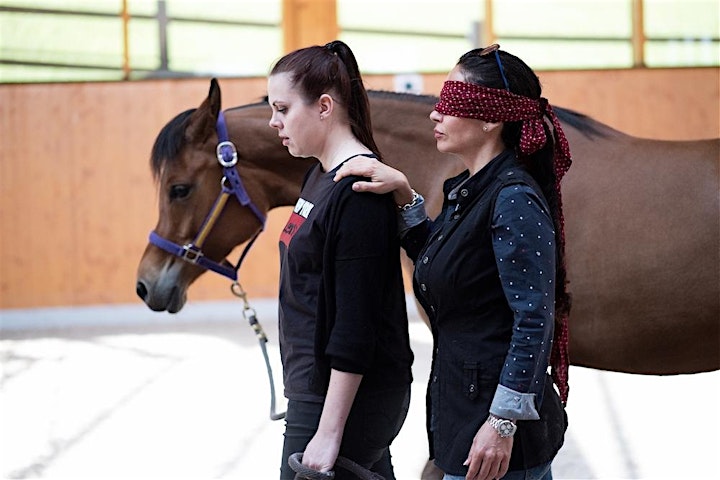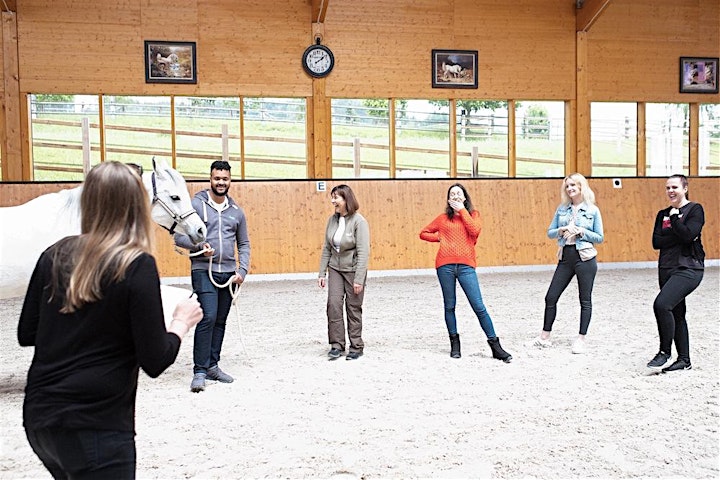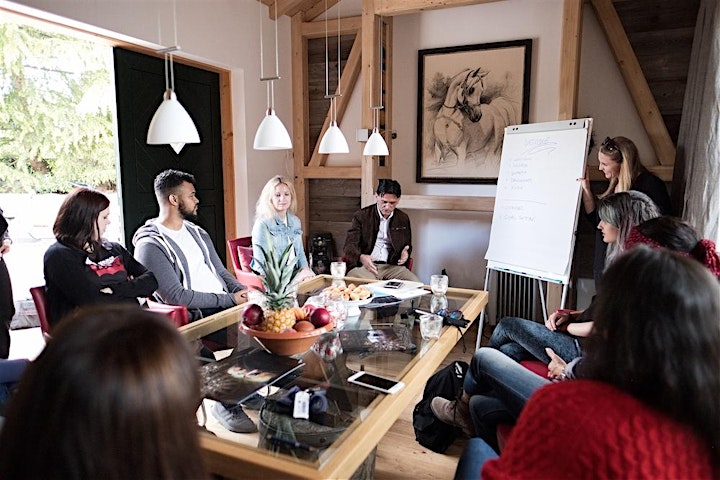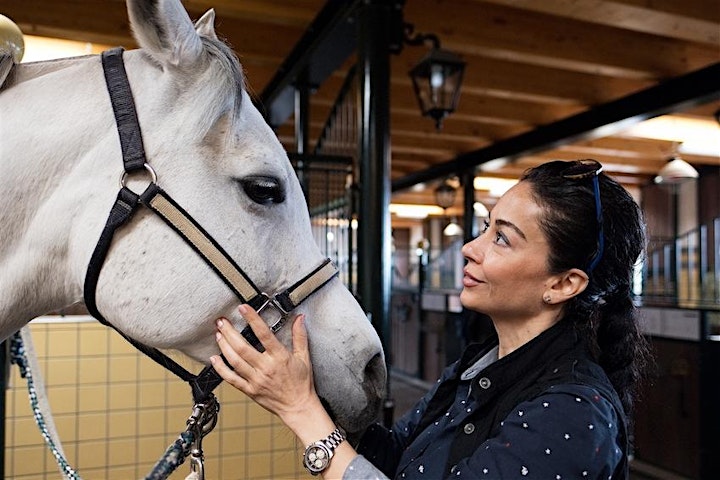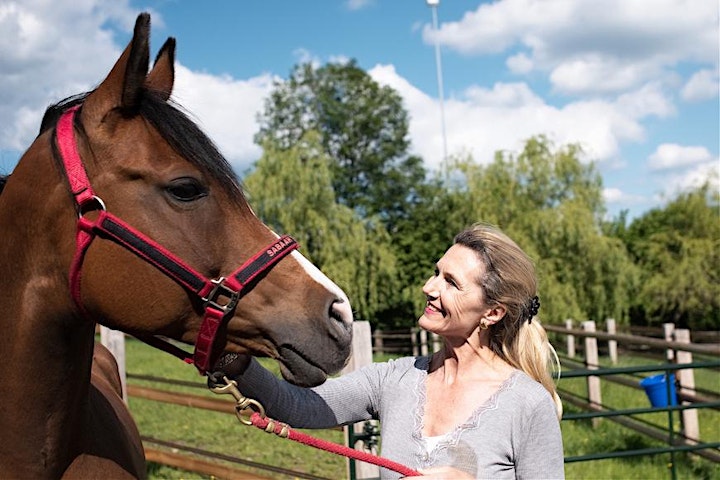 Organizer of MANIFESTIEREN MIT PFERDEN
Nadia Boersch is a serial entrepreneur, brand & marketing consultant and female leadership expert. Nadia is consulting businesses globally to manage their brand and marketing strategically, putting the customer in the centre of the business model, and to treat their brand like the hottest love affair they ever had.  Nadia has made it her mission to create powerful female leaders, that are confident and authentically themselves. She developed the methodology "Leadership by Presence", in which leaders learn to rise to the Leaders Elite by increasing their presence, their natural authority and charisma. Together with the master teachers, the horses, Nadia trains Entrepreneurs, Manager and Top-Executives. Nadia had spent 10 years in Marketing positions in Fortune 500 companies such as Nestlé, Philip Morris and Uber before founding a consulting company in Marketing and training Leaders in Leadership globally. She also runs the Global Woman Club in Vienna and speaks on the stages globally on Leadership by Presence and Branding & Marketing.