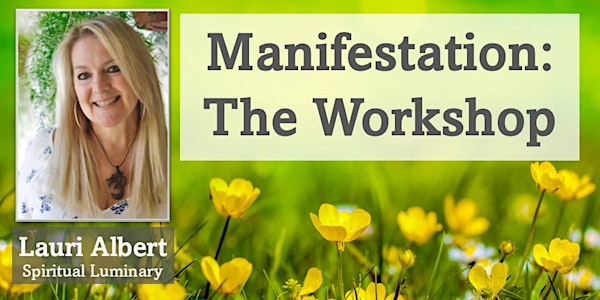 Manifestation: The Workshop
This incredibly valuable workshop will empower you with knowledge & tools to manifest a life that is fulfilling, joyful & HAPPY!
About this event
Manifestation: The Workshop will provide you with a deep exploration into Manifestation and all the essential aspects PLUS guidance and exercises that will support you in making your dreams become reality.
Master how to utilize the incredible power of your thoughts to create the life you've always imagined!
Learn how manifestation works, discover a variety of valuable manifesting techniques and create a plan of action for achieving your deepest desires and goals.
Discover how manifestation and the Law of Attraction work together to help you attract all that you desire.
This 2 hour workshop will be filled with Manifestation definitions, descriptions, tools, tips, exercises and approaches as well as a Q & A session!
You have 2 options in purchasing your ticket! You can simply purchase a ticket to the Workshop OR you can purchase a ticket to the Workshop AND secure your personal copy of Lauri's book "Manifestation Journal for Beginners."
AND when you sign up you will also have an exclusive opportunity for a discounted private session with Lauri to help plan out your individual Manifestation journey!
Lauri Albert Links
Website - LauriAlbert.com
Podcast – "In the Flow with Lauri Albert"
Instagram – @LauriAlbert_HappyMedium
Facebook - @SpirituallyLauri
About Lauri:
Lauri Albert is an internationally recognized Spiritual Medium, Certified Meditation Teacher, Empowerment Coach and Author of "Manifestation Journal for Beginners" who connects spirit with living souls through readings, meditation and divine healing.
Her podcast, 'In the Flow with Lauri Albert,' is designed to open minds and hearts through thought, meditation, absolute positivity & spirituality.
Having worked and studied with some of the greatest spiritual teachers of our time, Lauri's goal is to transcend earthly beliefs and go beyond the boundaries that restrain us from living our lives fully, completely and magically.
Lauri is a Certified Masters of Wisdom & Meditation Teacher with davidji, an internationally recognized meditation teacher, stress-management expert and author. In becoming certified with davidji, she has begun to incorporate meditation as a primary tool in her readings, workshops and sessions.
Most recently, Lauri can add author to her list of credentials with the publication in December 2021 of her first book "Manifestation Journal for Beginners" where she teaches all aspects of manifestation and the art of learning to live the life that you truly desire.