Manifest Your Vision Workshop

Friday, January 5, 2018 at 6:00 PM

-

Saturday, January 6, 2018 at 4:00 PM (MST)
Event Details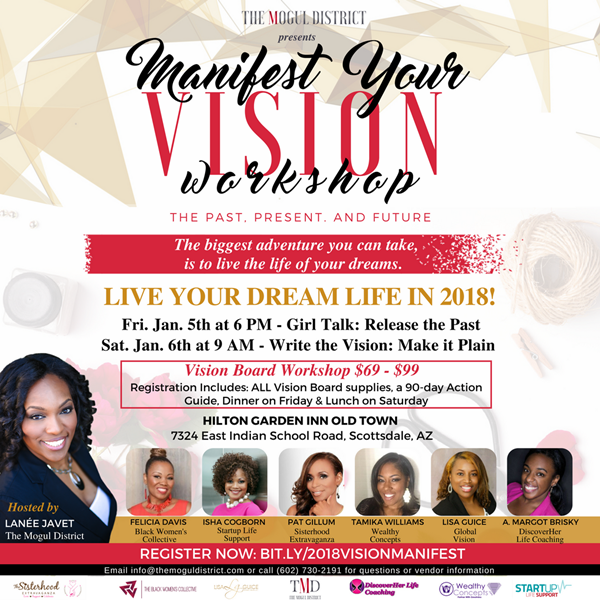 Make a Vision Board and Create a Better Life!
If you've ever attended one of my Vision Board functions you know you're in for a treat. There have been amazing connections made, quick manifestations reported (yeah...like 6 months!), good times, great food, and they're full of inspiration.
If you're looking for an event where you're going to just sit around, cut out pretty pics and slap them on a board...let me tell you now. This isn't for you.
We're all about action!!
What's the point of a pretty picture when there's no action behind it? The Manifest Your Vision Board Workshop is for ACTION-DRIVEN women who are ready to do the work to make things happen. I, along with my special guests, will help each person in attendance come up with their plan of action to start living the real life they're creating on their boards.
We don't just cut and paste. Every individual will leave equipped with tools to make their goals manifest in 2018! You'll get clarity when setting your life, business or career, and personal goals. Your customized vision board will be your road map to your DESTINY.
We'll give you insight into what has worked for us. We won't tell you what we've "heard" works...We'll tell you what we KNOW works. This one and a half-day workshop will provide useful techniques that inspire, evoke new thoughts, and transform lives. This workshop is useful to anyone that has a vision and a desire to fulfill it. We believe that the difference between realizing your dreams and not is a decision. During this workshop, we delve into the reasons why you have not reached your full potential and challenge you to develop a plan to remove the roadblocks. This workshop is also for those that are walking in their destiny and want to partake in a fun-filled time networking and making their vision visible on their vision board. It's all about living the life that you dream about.
Women need to support women, so this will definitely be an afternoon full of self-discovery and I myself will make sure everyone turns their mogul engines on! Because it takes time to help each person individually, we're limiting the seating for this event so please be sure to get your ticket early!
Bring a friend to enjoy this fun-filled purpose driven event.
---
Agenda:
Friday, January 5: Release The Past
6 pm – 10 pm Dinner buffet included
What's been holding you back from being successful?  Is it fear, rejection, past hurt, a bad relationship, a bad choice, or do you have analysis paralysis and cannot move forward because of something you cannot let go of?  Join us on Friday night to get your healing and release anything that's been holding you hostage to yesteryear. We want you to unpack everything that does not mean you any good on Friday night BEFORE we start planning the next steps of what we're going to manifest in 2018. Join us as we redefine your personal narrative through interactive experience.
Saturday, January 6: Write the Vision, Make it Plain:
The Present, The Future & Create Your Vision Board
9 am - 4 pm Morning refreshments and  Lunch provided
We're going to have a ball on Saturday! Nothing but uplifting, empowering, motivating conversations and actions plan will fill the air in the room. We'll get CLEAR on what we want to birth in the New Year, and create a PLAN of action for how we're going to achieve it. You'll leave with a full STRATEGY for how to reach your goals and see the results you want in 2018. PLUS you'll have a 90-day Action Plan to take home with you along with your  2018 -Vision Board.
Special Guests
  Isha Cogburn, Felicia Davis, Lisa Guice, Pat Gillum, Tamika Williams, & A. Margot Brisky 
---
During this workshop, we're going to:
-  Visit the Past, Present, and Future
-  Get Clarity on your goals and vision for the new year
-  Develop A Vision Strategy
-  Learn How to Create a Vision M.A.P. for your board
-  Implement an Execution plan
-  Create a 2018 Vision Board
-  Journal a 90-Day Action Plan 

 
ALL BOOKS AND MATERIALS ARE INCLUDED.

Price includes all you will need to construct your vision board - Poster boards, scissors, glue, tape, pens, markers, etc. will all be provided for you. However, you are encouraged to bring your favorite magazines, quote or pictures that you may want to include on your roadmap. You are more than welcome to bring your own supplies as well!
Your ticket price includes dinner on Friday night and lunch on Saturday.
THE FIRST 15 PEOPLE TO REGISTER (paid tickets only) WILL RECEIVE     
A SPECIAL GIFT! 
Seating is limited. Reserve Your Spot Today!
Begin 2018 with a clear VISION for your future.
ROOMS AT THE HILTON GARDEN IN ARE $99 FRIDAY NIGHT IF YOU'RE INTERESTED IN STAYING OVER...Click Here
When & Where

Hilton Garden Inn Scottsdale Old Town
7324 East Indian School Road
Scottsdale, AZ 85251


Friday, January 5, 2018 at 6:00 PM

-

Saturday, January 6, 2018 at 4:00 PM (MST)
Add to my calendar