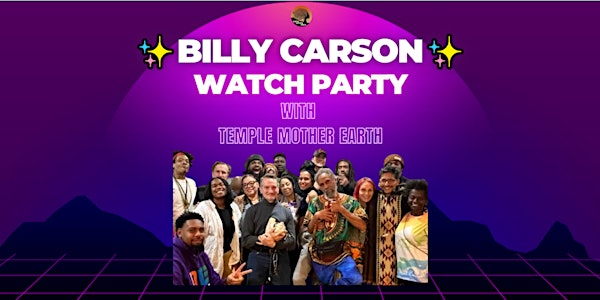 Manifest Destiny Workshop 2023 by Billy Carson✨ Watch Party With TME
Learn how to manifest your destiny in 2023 and beyond. Billy Carson will teach the science behind the power to manifest and how to access it
When and where
Location
2415 32nd St SE 2415 32nd Street Southeast Washington, DC 20020
Refund Policy
Contact the organizer to request a refund.
Eventbrite's fee is nonrefundable.
About this event
Manifest Destiny Workshop 2023 by Billy Carson✨ Watch Party With Temple Mother Earth
Date: January 29, 2023
📌📌Sign-up for only $25
Billy Carson's manifest teachings are based on ancient principles and spiritual practices, Manifest Your Destiny 2023 will teach you the process of meditation as a way to streamline your thoughts, desires, goals, and, ultimately, your life. Learn how the decisions and actions you make in your life are controlled by your ego. Are you weighted down with unresolved troubles? Do you feel out of touch with your environment? Do you complain, find fault, or take for granted more often than you appreciate your life? You can overcome these barriers with Billy Carson's techniques. Learn Spiritual principles that will teach you to develop spiritual awareness, reconnect with the world, trust yourself, accept your worth, and let go of demands. You will tap into your full potential and unleash your consciousness. Co-Host, Elisabeth Hoekstra will delve deep into mental health and psychology.
World famous life coach, Tim Storey will teach the power of self mastery! Tim Storey is an acclaimed author, speaker, and life coach, known for inspiring and motivating people of all walks of life, from entertainment executives, celebrities, and athletes to adults and children in the most deprived neighborhoods in the world.
Tim has traveled to seventy-five countries and spoken to millions of people. He often meets privately to counsel high-profile leaders in various industries. Along with a rigorous speaking calendar and private life-coaching sessions, Tim regularly appears on nationally syndicated radio and television shows.
"I CALL TIM STOREY 'THE VOICE'. HE'S A VOICE OF INSPIRATION AND HOPE THAT IS CHANGING THE LIVES OF MILLIONS."
-QUINCY JONES
"TIM STOREY IS AN ENERGETIC MAN WITH BOTH WIT AND WISDOM. HIS INFORMATION AND INSIGHT MAKE LIFE'S JOURNEY A LITTLE EASIER."
–LEE IACOCCA
"TIM STOREY IS WONDERFUL AT WALKING PEOPLE THROUGH THE BEST AND WORST OF TIMES."
–SMOKEY ROBINSON
Best selling author and Bio-Hacker, Elisabeth Hoekstra will teach on mental health and shadow work. Her assistant, Antonina will take you through a interactive trauma release protocol.