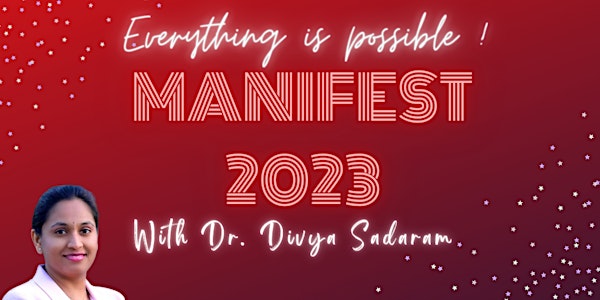 Manifest 2023 - Everything is Possible!
Discover how to harness the power of manifestation through raising your vibration in our LIVE webinar.
About this event
Manifest 2023 is a wonderful opportunity created by Dr. Divya Sadaram to support you in your life for Ushering Beautiful, Bright New Beginnings.  Choose to manifest for a more vibrant, brighter and better life as we step into the New Year. Take a moment to reflect on your past and present and notice. Are you happy, contented and joyful? Are you satisfied with everything in your life or do you wish to change? Are you contented with your accomplishments, goals and targets? Would you like to accomplish more in you life? If so, join Dr. Divya Sadaram for the Manifest 2023 webinar for a brighter beginnings this New Year
Take a step toward your best life and highest self. Please make sure to prepare your manifestations list before the webinar. Start with smaller items.
In this webinar we will :
1.    Do a cleansing ceremony to release past negative old patterns from your energetic fields.
2.    Wrap up past year 2022 and welcoming new year 2023
3.    Provide general clarifications for preparing manifesting list for 2023
4.    Learn what brings you joy and to create more possibilities.
5.    Walk through a special manifestation process to send the message out to the universe to bring in all that you are ready and willing to receive.
Join Dr. Divya Sadaram for an empowering webinar Manifest 2023 to create your reality in the best and highest way.