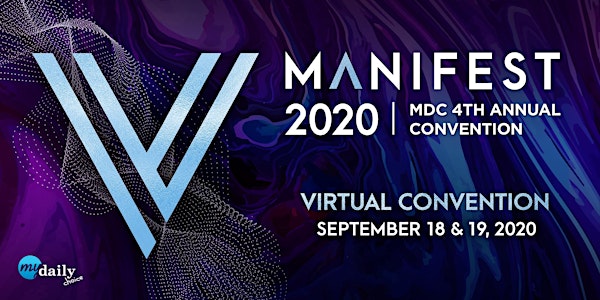 Manifest 2020 Virtual Convention
Welcome to the biggest and most exciting virtual event of the year! Join us at Manifest 2020 and bring your entire team. It's 100% Free!
About this event
If You're Already Registered, Here's How To Access The Event:
1. Virtual doors open at 7AM PST on September 18th and September 19th.
2. Go to https://www.MDCManifest.com – Google Chrome or Firefox browsers work best. Safari is not recommended. Plug in your ethernet cable for best connection if possible. 
3. Enter your First Name, Last Name and Email Address. *You must use the name and email you registered with on Event Brite.*
4. If you registered on September 17th or later, please use the guest login information in your Eventbrite confirmation.
5. Only 1 user per email. 
6. The Live Event begins at 9AM PST on both days!
Trouble Logging In?
If you have an issue logging in, please contact the Convention Login Support Line at +1-855-935-0212 *international phone fees may apply. You can also login to your back office and "Chat" with a support agent.
MDC'S 3RD ANNUAL CONVENTION RECAP
MDC's 3rd Annual Convention in Las Vegas, NV was a wild success! We gave away tens of thousands of dollars, had empowering guest speakers like Bob Proctor & Les Brown, and gave recognition to those who continue to make My Daily Choice a success. The event will be remembered as one of the greatest conventions we've ever hosted. However, this year, we are manifesting an event that will be unlike anything we've ever done before. You won't want to miss it!
BENEFITS OF ATTENDING MANIFEST 2020
State of the Union
Product Launches
Keynote Speakers
International Expansion
Leadership Training
Marketing Tools
Amazing Prizes
Workshops
MANIFESTING KNOWLEDGE
More than traditional sales training. You'll gain valuable insight and a wealth of information from the top performing affiliates in the business. Learn how to Manifest Success as you add more tools to grow your business. Our industry leaders will do more than show you the secrets to their success. They will help you master these new skills as you manifest new levels within your business.
KEYNOTE SPEAKER #1, JOHN MAXWELL
Join John Maxwell at Manifest 2020 where he will discuss how to apply the techniques from his latest best-selling book, The Power of 5, written specifically for Network Marketing.
What You'll Learn:
How To Create A Solid Foundation
Getting Prospects To Join Your Team
Leveraging Tools To Create Duplication
And many more leadership principles to grow your business!
KEYNOTE SPEAKER #2, ERIC THOMAS
ET is the epitome of hustle, drive, determination, and success. Millions of followers have been able to apply the principles revealed in his award nominated autobiography, The Secret to Success, which has scaled the social media charts with over 50 million hits. Eric will be at Manifest 2020 sharing how YOU can reach your goals and maximize your success!
KEYNOTE SPEAKER #3, ERIN GARGAN KING
Erin King is an award-winning entrepreneur, best-selling author and digital persuasion expert. She will be at Manifest 2020 talking about her Amazon best-selling book - Digital Persuasion: Sell Smarter in the Modern Marketplace. These tips and tools will help you attract more people while increasing your ability to close-the-deal!
HUGE GIVEAWAYS
Our founders Josh and Jenna Zwagil manifested their success in 2014 when MyDailyChoice was launched. Now they want to share that success with you by hosting extremely generous giveaways year after year. We've given away tens of thousands of dollars and even Josh's BMW M4 in pristine MDC blue. Don't miss the chance to win big at Manifest 2020!