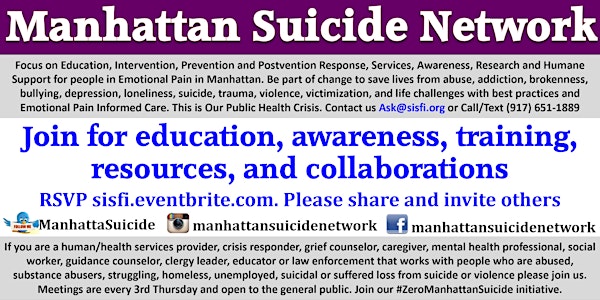 Manhattan Suicide Network, Suicide Safe Sites and Zero Suicide Initiative
Let's talk seriously about the impacts, solutions and understanding of racism that's causing deep physical and emotional pain in many of us.
About this event
We invite you to join us for The Manhattan Suicide Network meeting to focus on the latest developments and trends of completed suicides, correlation of opioids and suicide, gun violence and suicide, suicide by cop, suicide in schools, suicide in churches, suicide in children 4-9years old, increasing attempts, suicide data from the Medical Examiner's Office and Department of Health, health care services adding to increases in depression and suicide ideations, mental health service disparities, available and needed resources for depression and suicide, and networking to fill gaps in Systems of Care Services in the Borough. There are many cases of attempts and completions that are unknown to many as people suffer and struggle in silence and fear of being labeled, institutionalized and medicated. What we are seeing and hearing on the ground in communities across the borough is quite alarming and frightening. Our traditional response and treatments for suicide behaviors often exacerbates the emotional pain the person is experiencing rather than alleviating it. We are hearing more people say they would rather die than go to traditional services of the emergency room for treatment or support. We will focus on the Emotional Pain Informed Care and Suicide Informed Care models as ways to change the paradigm of services, response and care for people struggling and suffering with addiction, depression and suicide. These are some of the things we will be addressing at the network meetings to focus more specifically on the topics and solutions.
Out of all 5 Boroughs, The Bronx is where we are seeing and getting the most suicide cases from for the past four consecutive years. We invite practitioners, specialist and providers to join in the effort for collaboration and education.
Join our #ZeroManhattanSuicide initiative to reduce suicide across the Borough. No Bronxite should ever have to suffer, struggle, hurt in silence, or be afraid or ashamed to express their Emotional Pain from Abuse, Assault, Addiction, Depression, Human Trafficking, Victimization, Rape, Retraumatization, Violent tendencies or lack Love, Empathy and Support. Let's humanize each others' pain and experiences to nurture an Emotionally healthier, happier and safer Bronx for everyone.
Thank you very much and have a great day. We apprecilove your patronage and look forward to serving you with more quality human, health, psychological and emotional programs, services and resources. One Love.
~SISFI